2019 Pearcey Entrepreneur Award
The 2019 Pearcey National Entrepreneur Award was presented to Craig McDonald, CEO and Founder of Mailguard, at the annual Pearcey national Awards gala dinner on 14th November 2019 in Melbourne.
The national award recognises a recipient from among the State Pearcey winners for inspiring leadership, scale, impact, innovation and acclaim on the world stage. The award was presented by Nigel Warren, Executive Director Growth CSIRO who also were the major sponsor of the gala event along with great support from Technology One.
Craig McDonald
Commenting on Mr McDonald's win, Rick Harvey (Chief Judge, Pearcey Foundation) said, "Craig McDonald is an outstanding entrepreneur who epitomises what it takes to successfully take all-Australian technology to the world. Since founding Mailguard in 2001, Craig has painstakingly grown his company to be an international leader in email security, with over 500 partners globally, including Microsoft using the technology to protect Office 365. In security, it is so incredibly hard to stay ahead of the threats, especially with technology moving so fast and the ever-increasing sophistication of hackers. More broadly, Craig is passionate about increasing security awareness and spends a lot of voluntary time in the industry, speaking, advising and even writing a book on cyber-safety trying to help keep us all safer."
For more details about Craig, please see 2019 Pearcey Victorian Award.
2019 State Pearcey Entrepreneurs
Photo: Tim Neale (Qld), Matt Wilson (ACT), Rob Nathan (WA), Craig McDonald (Vic), Kelly Hutchinson, Ashik Ahmed (NSW), Wayne Fitszimmons, Rick Harvey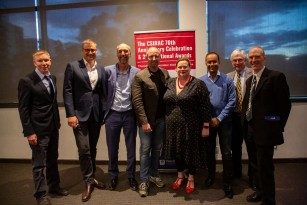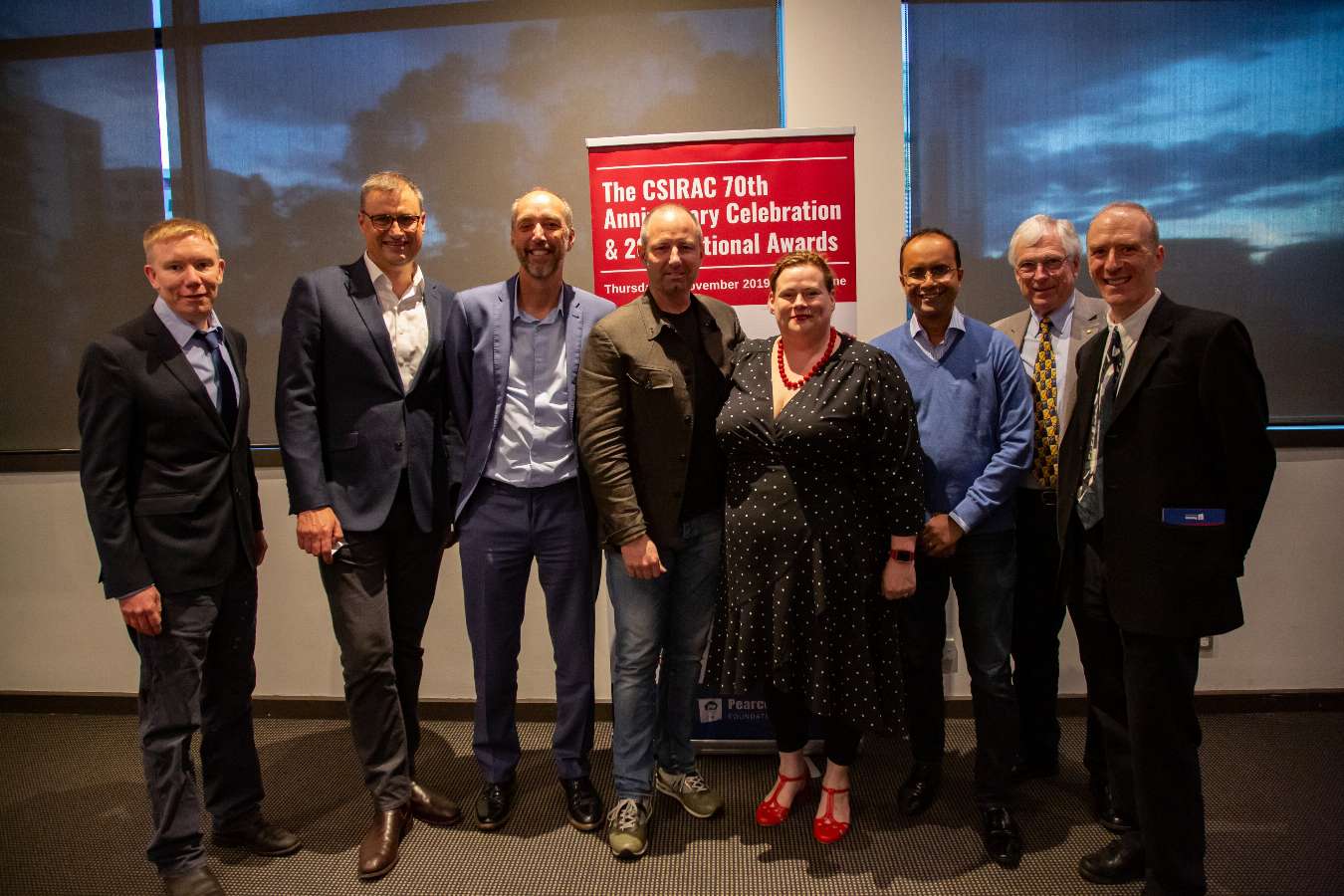 McDonald (Vic), Kelly Hutchinson, Ashik Ahmed (NSW), Wayne Fitszimmons, Rick Harvey
ACT: presented to Penten CEO Matthew Wilson.
NSW: won by co-founder, CEO and CTO of Deputy, Ashik Ahmed.
QLD: awarded to Toowoomba-based founder of DataFarming Tim Neale
VIC: awarded to Craig McDonald, CEO and founder of MailGuard and BlackEvents
WA: presented to Robert Nathan, CEO and founder of Australian Tenders, as part of the WAITTA Incite Awards
Summary of Entrepreneurs
Entrepreneur
Background
Photo

Ashik Ahmed

Co-founder and CEO, CTO Deputy
(NSW)

Deputy was founded in 2008 from the software Ashik built to manage rostering & managing casual staff at people intensive service business, Aerocare, after realising the software could help many other businesses with their workforce management. The business bootstrapped it's way to $10m turnover and 28,000 clients before raising $33m in 2017, and then 2018's largest Australian raise of $111m. Deputy continues to rapidly grow and now serves 165,000 customers all over the world. In Industry, Ashik promotes innovation, equality and the great opportunities of software-based businesses.
More info: LinkedIn, Pearcey 2019 NSW Award




Craig McDonald

Founder and CEO Mailguard
(Victoria)

Craig founded MailGuard in 2001 after an email-borne virus caused havoc for his company. Since then, MailGuard has become an international leader in today's vast challenge of email security and real-time protection from email-based scams and phishing attacks. Mailguard is now in 27 countries with 500 channel partners including Microsoft to protect Office 365. Mailguard has proudly kept their R&D base in Melbourne with ongoing collaboration with local universities. Craig is passionate about cyber safety and a highly respected voice/champion, author and advisor to state and federal governments on cyber security.
More info: LinkedIn, Pearcey 2019 Vic Award




Matthew Wilson

Co-founder and CEO of Penten
(ACT)

Matthew is a serial technology entrepreneur in cyber security and communications related businesses. In 2012, his M5 Network Security company sold to US defence contractor Northrop Grumman. In 2015 his M5 Networks start-up was sold to a US business communications provider which is now part of Mitel, Inc. In 2016, Matthew co-founded Penten which has grown to 60 engineers supporting Defence and national security clients in Australia, UK, Canada and NZ in the areas of advanced cyber deception and secure mobility technologies. In industry, Matthew is on several Boards and advisories.
More info: LinkedIn, Pearcey 2019 ACT Award




Nick Molnar

Co-founder and CEO Afterpay
(NSW, carried over from last year)

Nick is a serial entrepreneur with extensive experience in online retail. Nick is co-founder and CEO of Afterpay Holdings Ltd, which has brought a new dimension of retail payment options to end-customers and resulted in one of Australia's fastest growing fintech companies. Afterpay listed on the ASX in 2016 and now has over 5 million customers, 35,000 retail merchants and a market capitalisation of about $6.5B. Prior to Afterpay, Nick brought the leading American online jeweller, Ice.com, into Australia under the local brand Iceonline.com.au which become Australia's largest online-only jewellery and watch retailer.
More info: LinkedIn, Pearcey 2018 NSW Award




Rob Nathan

Founder and CEO Australian Tenders, Co-founder and MD Vocus Upstart
(WA)

Rob is iconic in WA for helping small companies. He founded Australian Tenders in 2009 to help SME's get comprehensive data and insights on upcoming tenders and finding tender opportunities that they would otherwise have not known about. In 2016, Rob founded an accelerator now known as Vocus Upstart, which has funded and mentored over 25 founders of 14 different early stage IT startups. Rob is highly active in industry, including being a mentor at the Founder Institute, an active Angel Investor and a regular presenter, judge and advisor in the WA startup community.
More info: LinkedIn, Pearcey 2019 WA Award




Tim Neale

Co-founder and MD Data Farming
(Queensland)

Tim co-founded DataFarming in 2017 to build a web platform for farmers and agronomists to manage their crops and pastures using real-time satellite imagery. DataFarming has grown quickly with 12,000 farms already using the system with more than 7m hectares of paddock data processed across Australia, UK, Africa, the Middle East, USA, and Canada. Tim was won several agtech awards and has presented at over 50 national and international conferences on sustainable farming and agriculture technology. Tim is also active in academia supervising PhD students and taking on work experience students.
More info: LinkedIn, Pearcey 2019 Qld Award