2019 NSW Award
The 2019 NSW ICT Entrepreneur of the Year award was presented to Ashik Ahmed, co-founder, CTO and CEO of Deputy. The award was presented at a special Pearcey Awards event at the NSW Startup Hub on 10 October 2019.
The annual award, now in its 21st year, was presented by the NSW Minister for Finance and Small Business, the Hon Damien Tudehope MLC. The Pearcey Award recognises entrepreneurs for taking a risk, making a difference and inspiring others in the development of the Australian information and communications technology industry.
The MC for the evening was Jo Burston, MD Job Capital, CEO Rare Birds, NSW Pearcey Award winner 2012.
A Media release is available here.
Ashik Ahmed
Deputy was spawned from the software Ashik built to manage rostering & managing casual staff at people intensive service business, Aerocare, after realising that many other businesses had the same issues.
"Ashik has been recognised by the Pearcey Foundation as someone who has quietly achieved greatness, growing his company to be another Australian-led global leader, while continuing to inspire and nurture a great team culture that attracts and keeps the best in the industry," said Anthony Woodward, chief judge of the Pearcey Foundation's NSW Judging Panel.
 
"Winning this year's NSW Pearcey Award is a validation of Deputy's sound business model, of doing one thing really well and making a lasting difference to the Australian ICT landscape."
 
Deputy is a global cloud-based workforce management platform for employee scheduling, timesheets and communication. The business bootstrapped its way to $10m turnover and 28,000 clients before raising $33m in 2017, and then Australia's largest Series B funding round of $111 million in 2018. Deputy continues to sustain incredible growth and now serves 165,000 customers all over the world.
 
The powerful culture Ashik has created at Deputy is driven by what Deputy means to his customers. To Ashik, when customers choose Deputy to manage their workforce, he sees this as the customer entrusting Deputy to be their second in command.  His strong belief in always 'putting yourself second' is deeply infused throughout the business, and reflects a deeply caring and nurturing culture where individuals are encouraged to think about the success of their colleagues, their teams and their customers first.
NSW Hall of Fame
Photo: Pearcey NSW 2019 Hall of Fame with Phil McCrae (Pearcey) and Hon Damien Tudehope MLC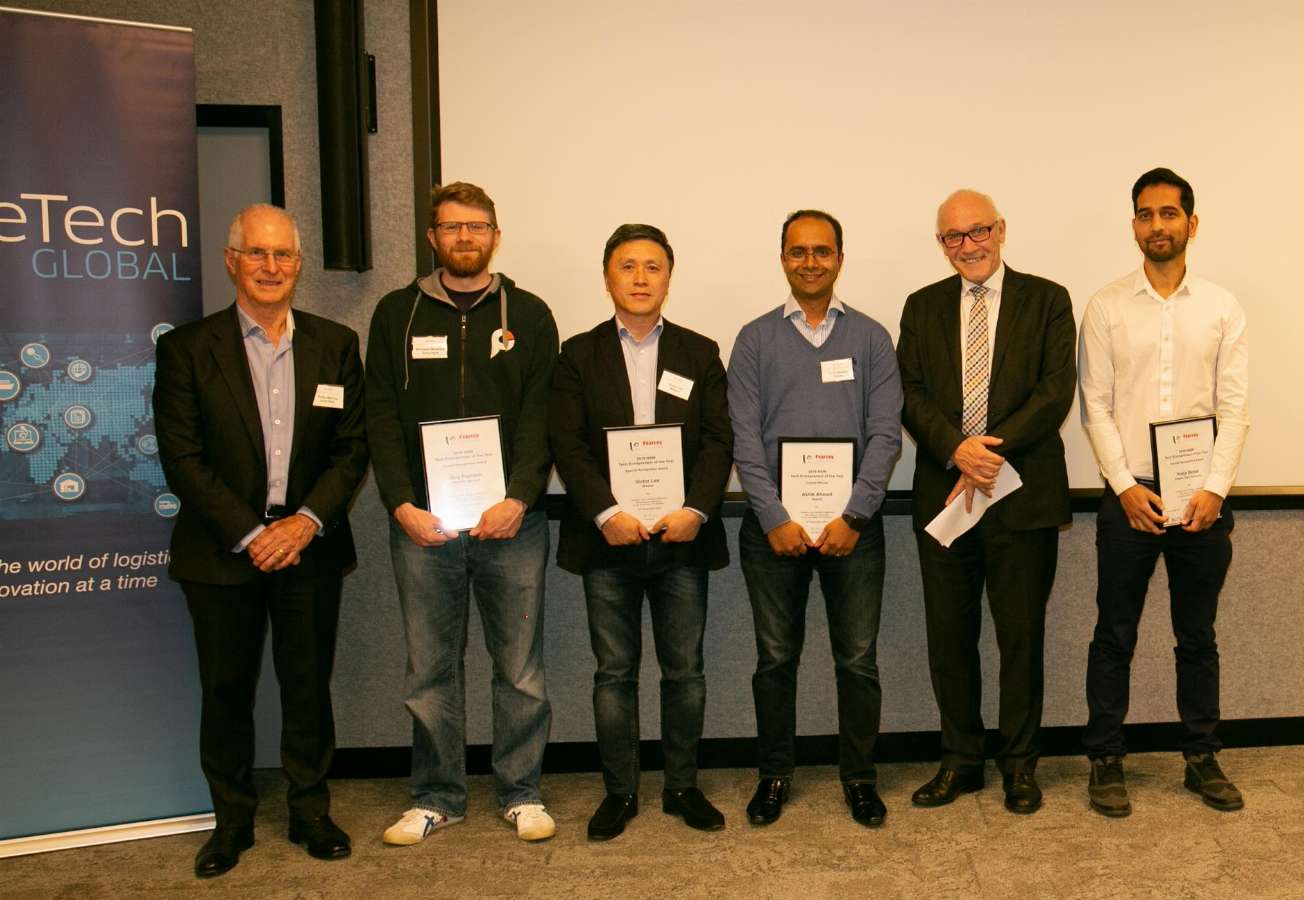 Pearcey NSW 2019 Hall of Fame with Phil McCrae (Pearcey) and Hon Damien Tudehope MLC
The Pearcey Foundation also recognised the achievements of other NSW technology entrepreneurs at the event by inducting them into its NSW Hall of Fame.
Victor Lee, Mwave
Katja Bejtat, Healthcare Innovate
Guy Pearson, Practice Ignition
Ashik Ahmed, Deputy
Guy Pearson
An accountant by trade, Guy saw an opportunity to provide a transparent software solution for accountants and bookkeepers to connect and support clients. Practice Ignition allows professionals to manage their practices in the cloud and automate time-consuming work including creating digital contracts. These contracts then connect to workflow, invoicing and payment systems - creating complete transparency. With over 3000 firms being serviced globally, the company has doubled in size over the last few years to 60, and successfully raised $26m in Series B funding, led by Tiger Global Management and including Right Click Capital and MYOB co-founder and Xero Board member, Craig Winkler. Guy Pearson also spends time mentoring young company founders, and also invests in the space.
Katja Beitat
Katja founded Health Care Innovate in 2015 with the mission to make a real difference in helping doctors to communicate better with each other. The latest product, Clinivid, puts the mission into play with a market-leading App. Before that, Katja worked for almost a decade for the NSW Heath Care Complaints Commission, where she was responsible for stakeholder relations and experienced first hand the consequences of inefficient communication in health care. During this period, she also completed her PhD on trust and incidents looking at the impact of incidents and related communication on the relationship of patients and doctors. Katja has also been involved with NGO Radiology Across Borders for nearly four years - including as Company Secretary.
Victor Lee
Victor is a pioneer of the esports, gaming and online tech community in Australia, with over 20 years in the industry. He founded Mwave in 2006 to help Australians connect with technology to work smarter and play harder. Prior to Mwave, Victor founded tech distributor Anywhere Computer Accessories which he exited in 2010. Mwave has continued to ensure that the ICT industry is supplied with the largest range of technology items in Australia. Victor's continued efforts to bring the latest and greatest gear to market ensure Australians are not simply choosing a from a sub-standard selection of entry level products. Mwave are reknowned for their ability to continue to re-imagine what retail execution in Australia should look like, showing how to excite a passionate community. Mwave continues to sponsor industry events.
University Incubator Pitching Competition
Photo: Ben Lindsay, Solushin (USYD)

The 2019 NSW Pearcey Awards event also featured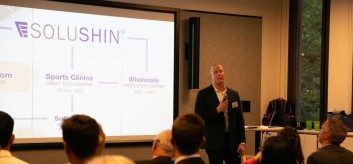 a pitching competition between companies from incubators at NSW universities.
Ben Lindsay, Solushin (USYD)
The competition this year was won by Ben Lindsay from the University of Sydney whose company, Solushin, provideds a solution for the treatment of shin splints.
The competition was hosted by Brendan Elliott, Client Engagement Advisor for Startups NSW Government. The judging panel consisted of Jeri Childers (UTS), Marjukka Maki-Hokkonen (ABSIA, EY), Cheryl Mack (ACS), James Posnett (ASX), Brian Dorricott (CSIRO ON Accelerator).
Each contestant had to give a 3 minute pitch and then 1 minute for questions.
Rylan Kolb, V-DAQ (UoW)
Matt van Breugel, Redback Systems (MACQ)
Diego Casares Silva, Aviaggio (UNSW)
Ben Lindsay, Solushin (USYD)
Sebastian Chaoui,  Arlula (UTS)
The judging criteria included: Clarity of idea/concept, articulation of benefit, understanding of market, presentation quality, and summing up "X" Factor. Cash prizes were $3K (1st), $2K (2nd) and $1K (3rd).
Pia Allen (year 6 Greenwich Public School)
High School Presentation
Photo: Pia Allen (year 6 Greenwich Public School)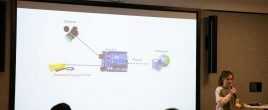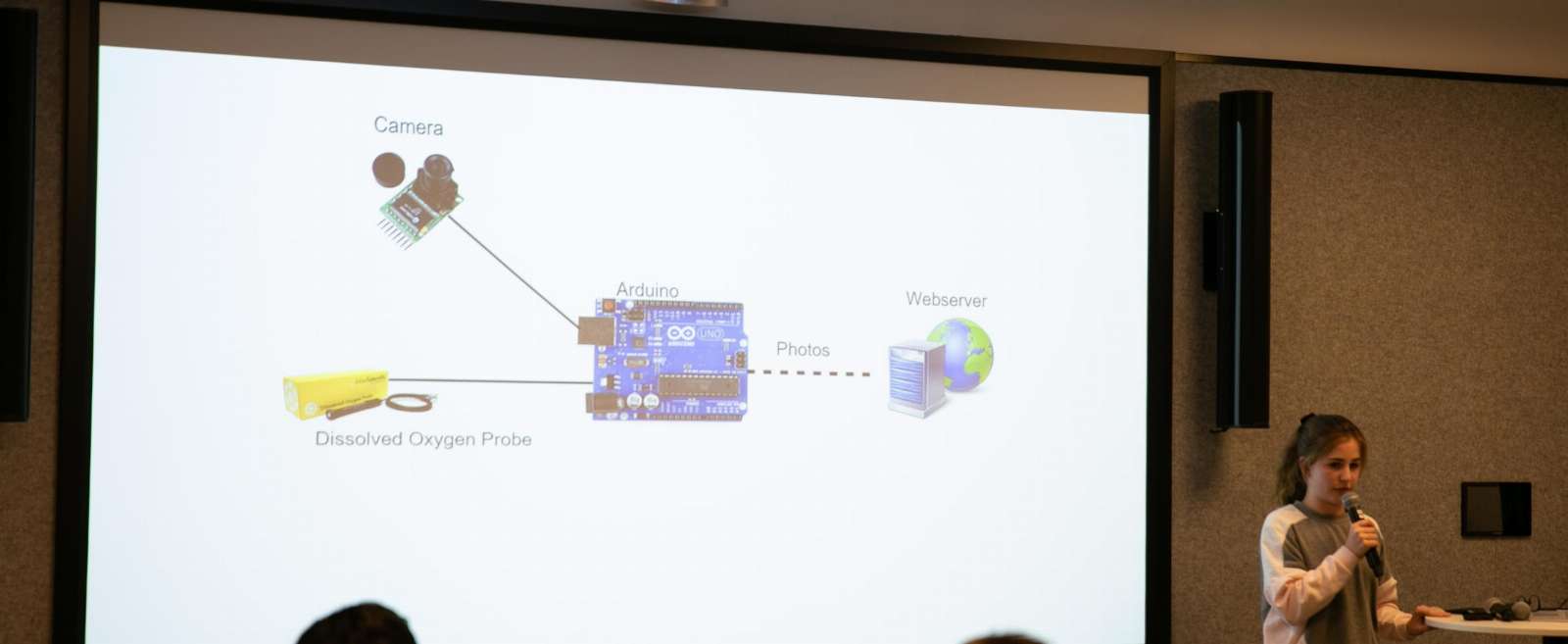 The evening commenced with an inspiring presentation by Pia Allan, winner of the 2019 NSW Young ICT Explorer initiative for school children.
Pia is in year 6 at Greenwich Public School. Her presentation "Healthy Waterways" described a device she built which allows remote monitoring of the health of our river systems.
She even did a live demonstration of her Arduino based device, which features:
Continually monitors the dissolved oxygen (DO) level of a waterway
Take photos at regular intervals
Remotely monitored: photos and DO level visible on the Internet
Automatically alerts if DO level too low
Sponsors
The NSW Pearcey committee would like to thank our major sponsors: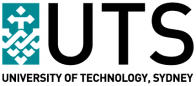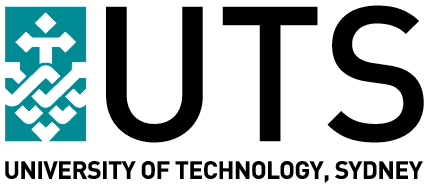 and also the following organisations for their support: