2014 NSW Award
NSW 2014 TECH Entrepreneur of the Year Award
The 2014 NSW Tech Entrepreneur of the Year Award was presented to Ben Richardson and Dave Greiner, founders of Campaign Monitor and Tim Power, managing director for 3P Learning.
The awards were presented on the 6th November 2014 at NSW Parliament by the Hon Dominic Perrottet, NSW Minister for Finance and Services, on behalf of the Pearcey Foundation
Earlier this year, email marketing solutions firm Campaign Monitor was the recipient of the largest ever venture capital investment into an Australian technology startup, when US firm Insight Ventures put US$S250 million in to the business.
In July, 3P Learning, well known for global products such as Mathletics, successfully listed on the Australian Stock Exchange raising A$285 million in the process.
The Hon Dominic Perrottet said ""This year's winners represent the fabulous talent that exists in our country. They have been extremely successful, taking different paths to build global businesses, but in the process maintaining their Australian roots and heritage. They prove Australian innovation and entrepreneurship is much very alive and well.
Head of the Judges Philip Takken of Deloittes said "This year we had a tremendous array of nominations, all highly successful entrepreneurs and great role models in different ways. The votes of the judges, all previous winners, were finely balanced across all the award recipients. Ben, Dave and Tim won by the pinnacle award narrowest of margins".
PHOTOS AVAILABLE VIA FLIKR [1]
Finalists
Alec Lynch:Designcrowd Internet / crowd
Genevieve George: OneShift
Ben Richardson & Dave Greiner: Campaign Monitor
Jeremy Levitt: Service Seeking
Mike Ford: SiteMinder
Tim Power: 3P Learning
Young ICT Explorers
Young ICT Explorers (YICTE), a collaboration between SAP and the NICTA-hosted Digital Careers program, encourages Australian school students to create and innovate with ICT. The program aims to promote a greater understanding of the real-life applications of technology and the career paths it enables. Now in its fifth year, YICTE has inspired over 950 students to innovate in ICT-related projects. This year students from the recently held NSW YICTE judging event to attend and present their projects.
Sponsors:
Photo: 2014 NSW Sponsors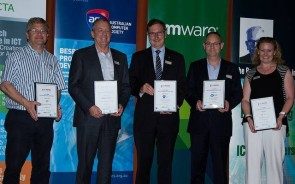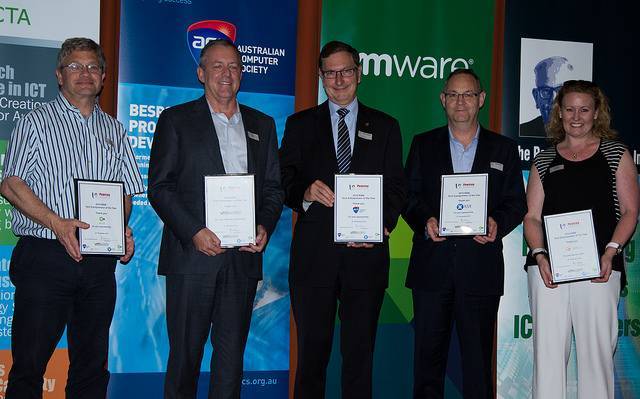 We are indebted to the following sponsors who make this event possible:
NSW Committee
The awards process is a joint initiative of the Australian Computer Society, the AIIA, and the Pearcey Foundation. The committee comprises
Charles Lindop (Co Chair)
Phil McCrea (Co Chair)
Peter Dunphy (ACS)
Helen McHugh (ACS)
Liz Carroll (ACS)
Kevin Harris (AIIA)
Hamish Hawthorn (ATP Innovations)
Len Rust (Rust Report)
Anthony Woodward (Bulletproof)
Philip Takken (Deloitte)
Derek Pola (NSW TAFE)
All previous Winners participate in the judging process.
For more information on the NSW Pearcey Awards please call co-chairs
Phil McCrea (0411 102 548), or
Charles Lindop (0419 224 214)