2023 NSW Award
The 2023 Pearcey Entrepreneur of the Year award for NSW was presented to Emma Weston, co-founder and CEO of AgriDigital, on 4 October at ASX (Australian Securities Exchange).
"We are delighted to announce Emma Weston as the Pearcey NSW 2023 Entrepreneur of the Year," said Benjamin Chong, partner at Right Click Capital and chair of the NSW Pearcey judging committee.
"Emma's groundbreaking work at AgriDigital demonstrates an unwavering commitment to innovation in agtech, showcasing exactly the kind of entrepreneurial spirit this award aims to recognise. Her achievements serve not only to advance her field but also to inspire the next generation of tech entrepreneurs. Emma embodies the forward-thinking, impactful leadership that the Pearcey Foundation values, making her an exceptional choice for this honour. I'd also like to extend heartfelt congratulations to our other esteemed finalists, who have each made significant contributions to the tech industry."
The Pearcey NSW Entrepreneur Award is presented to an outstanding individual who has "taken a risk, made a difference and is an inspiration to others" in the NSW ICT industry. The process draws on nominations from the public and the Pearcey Foundation network. Selection is made in consultation with past award recipients to ensure the continued integrity and quality of this peer-based recognition.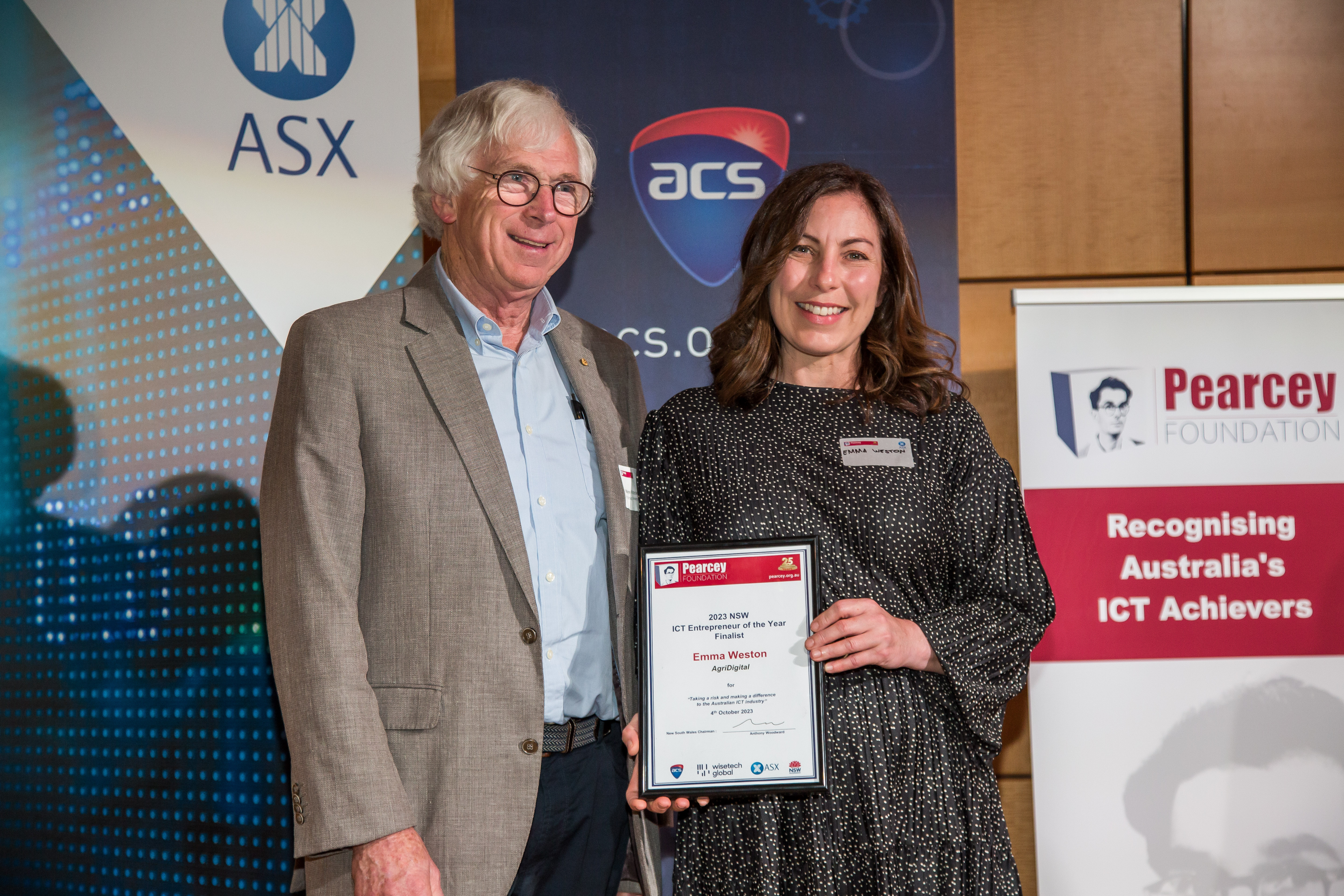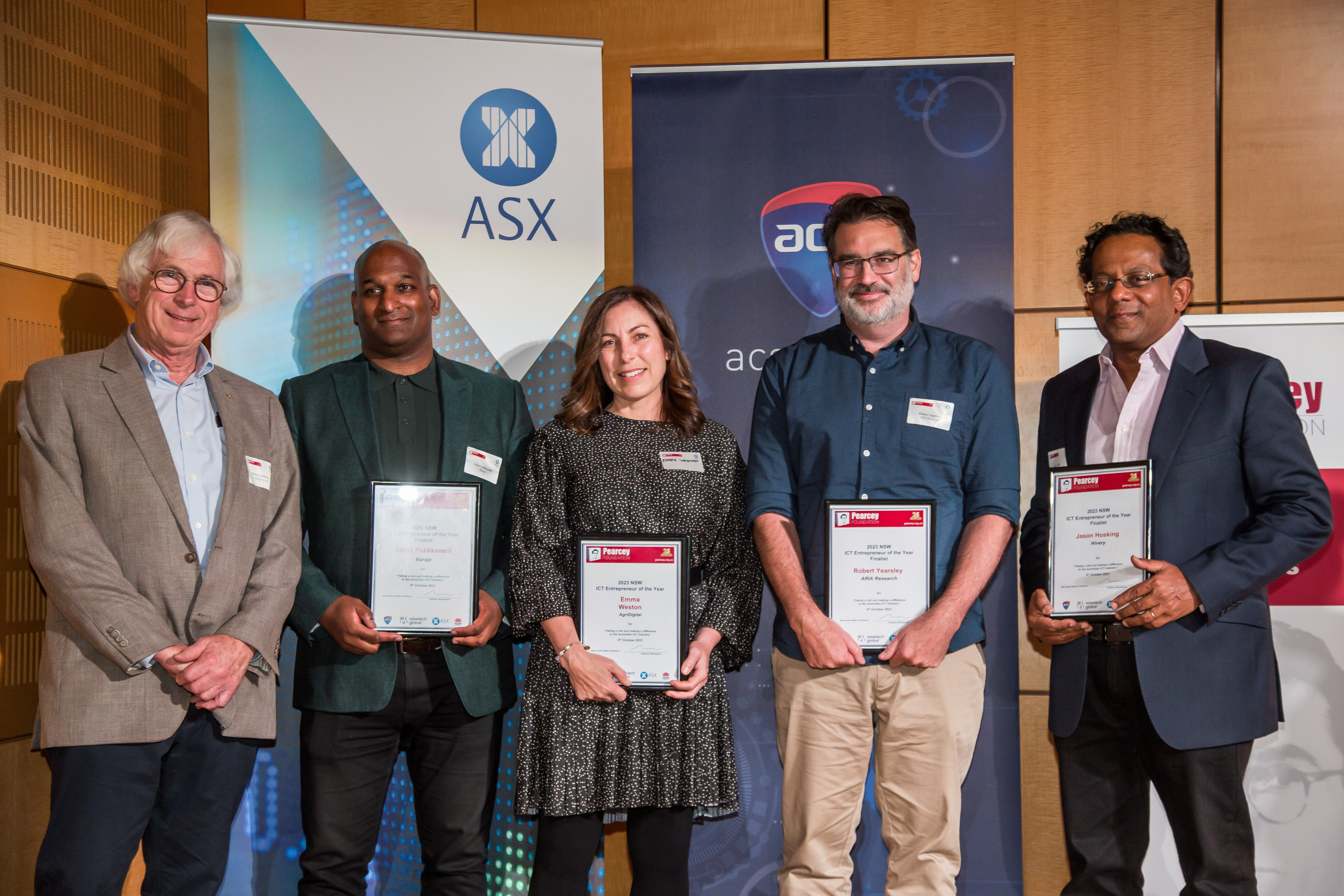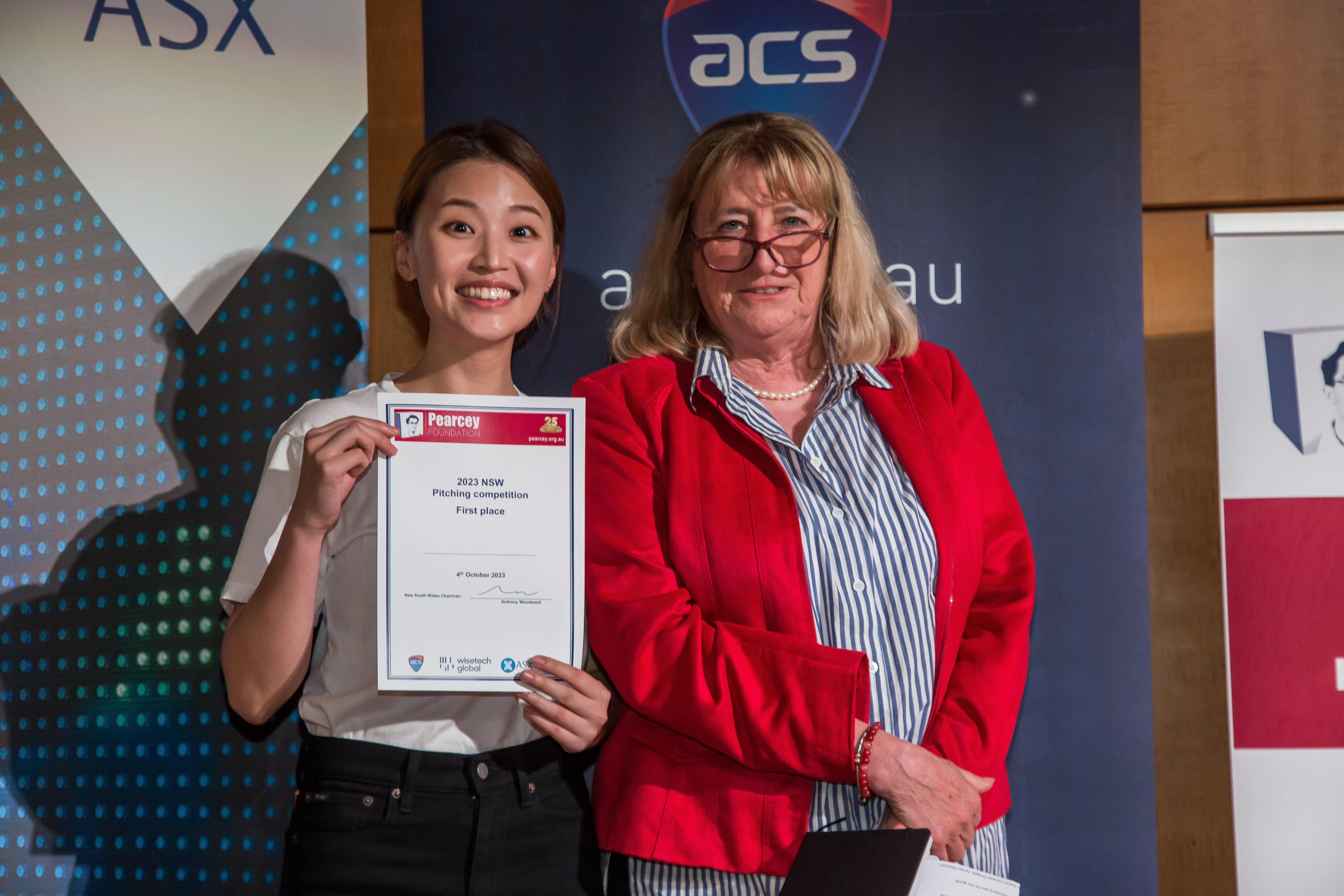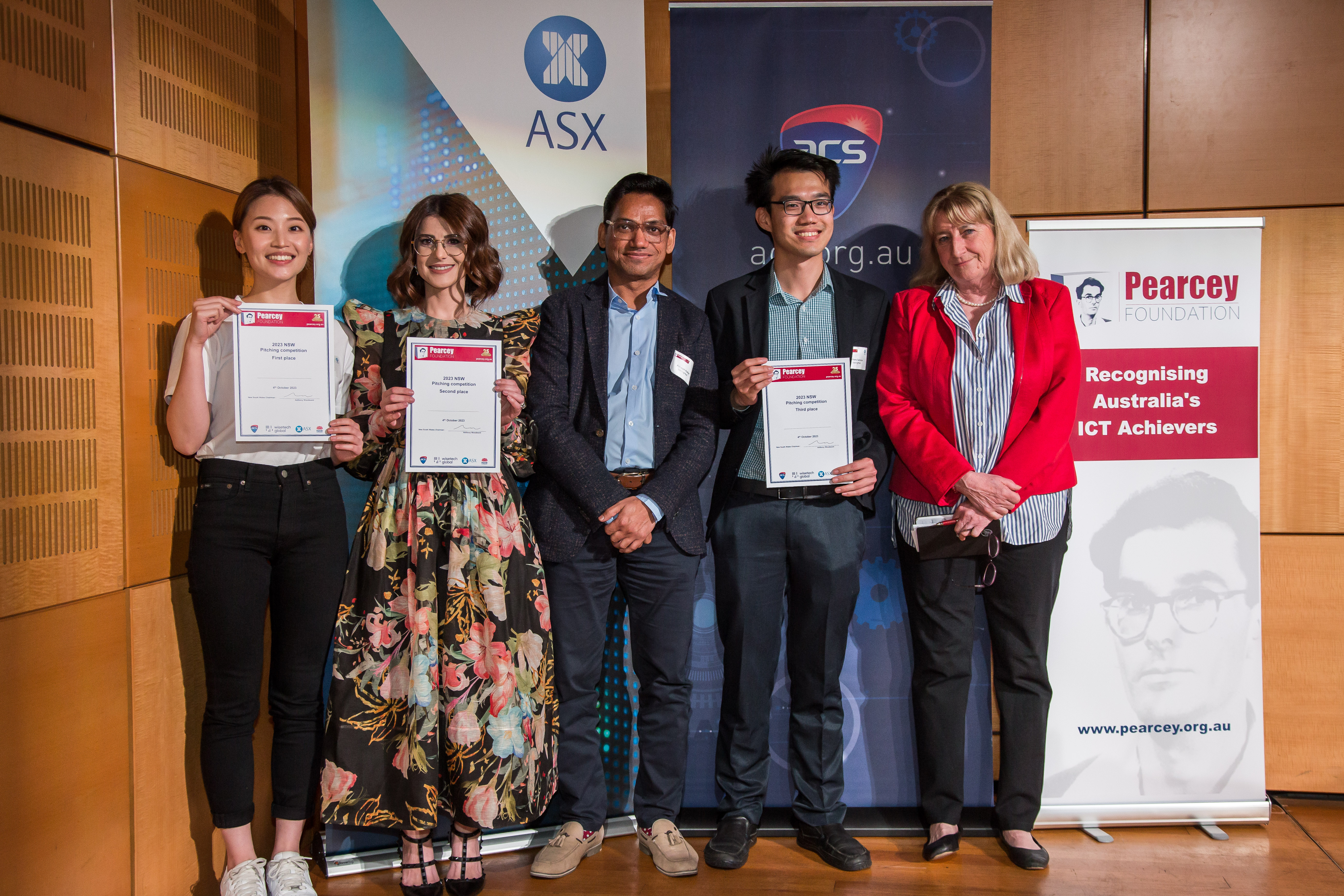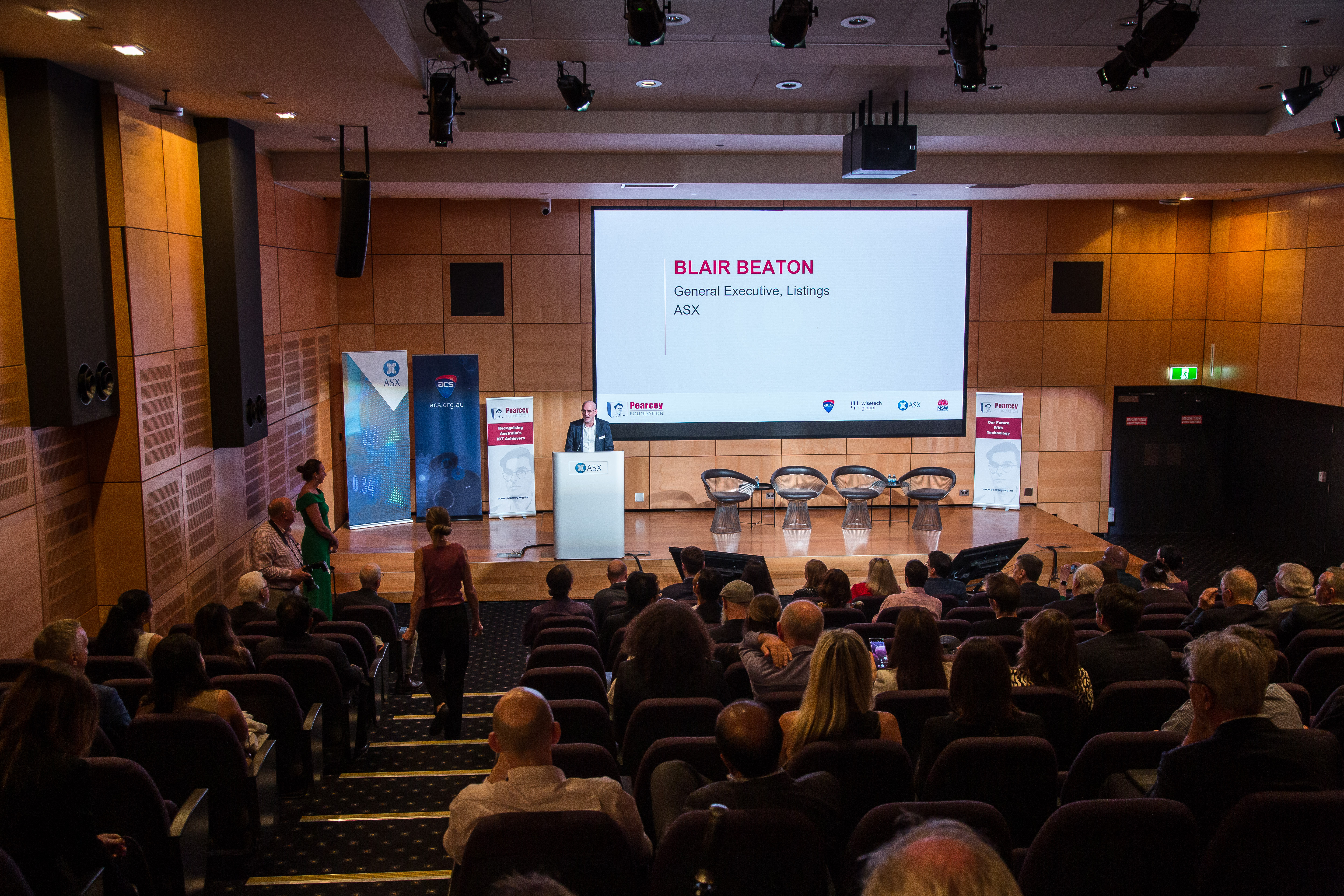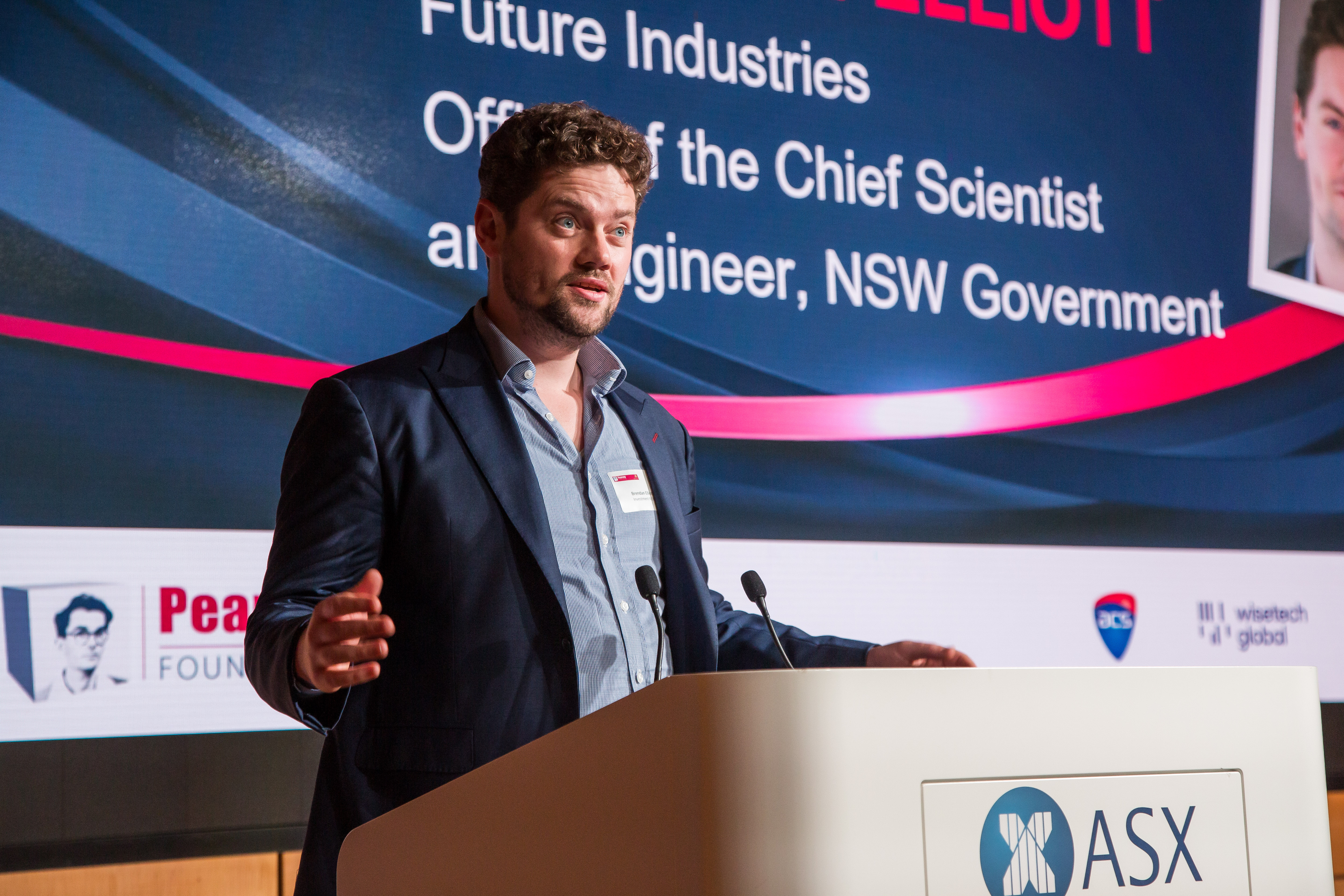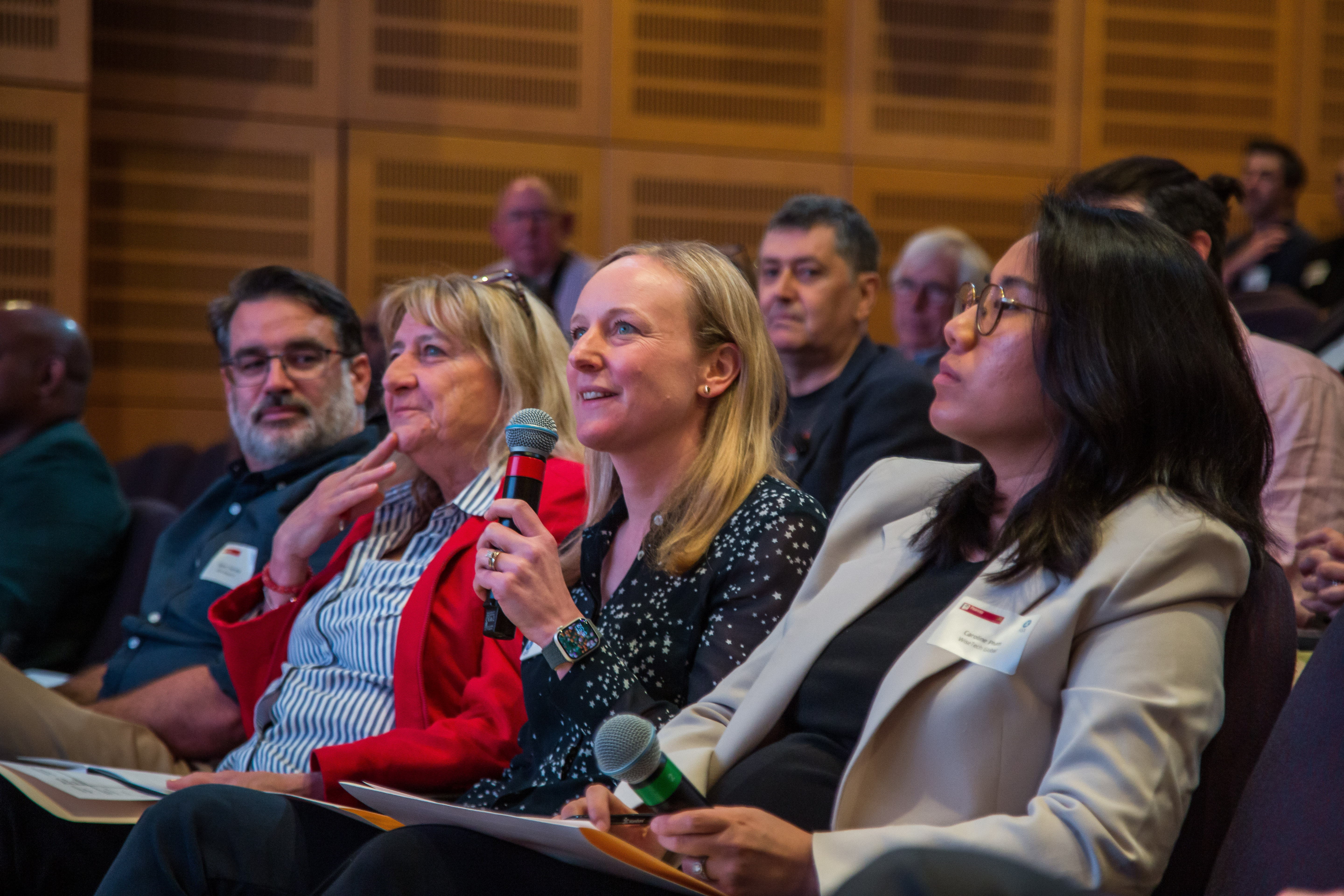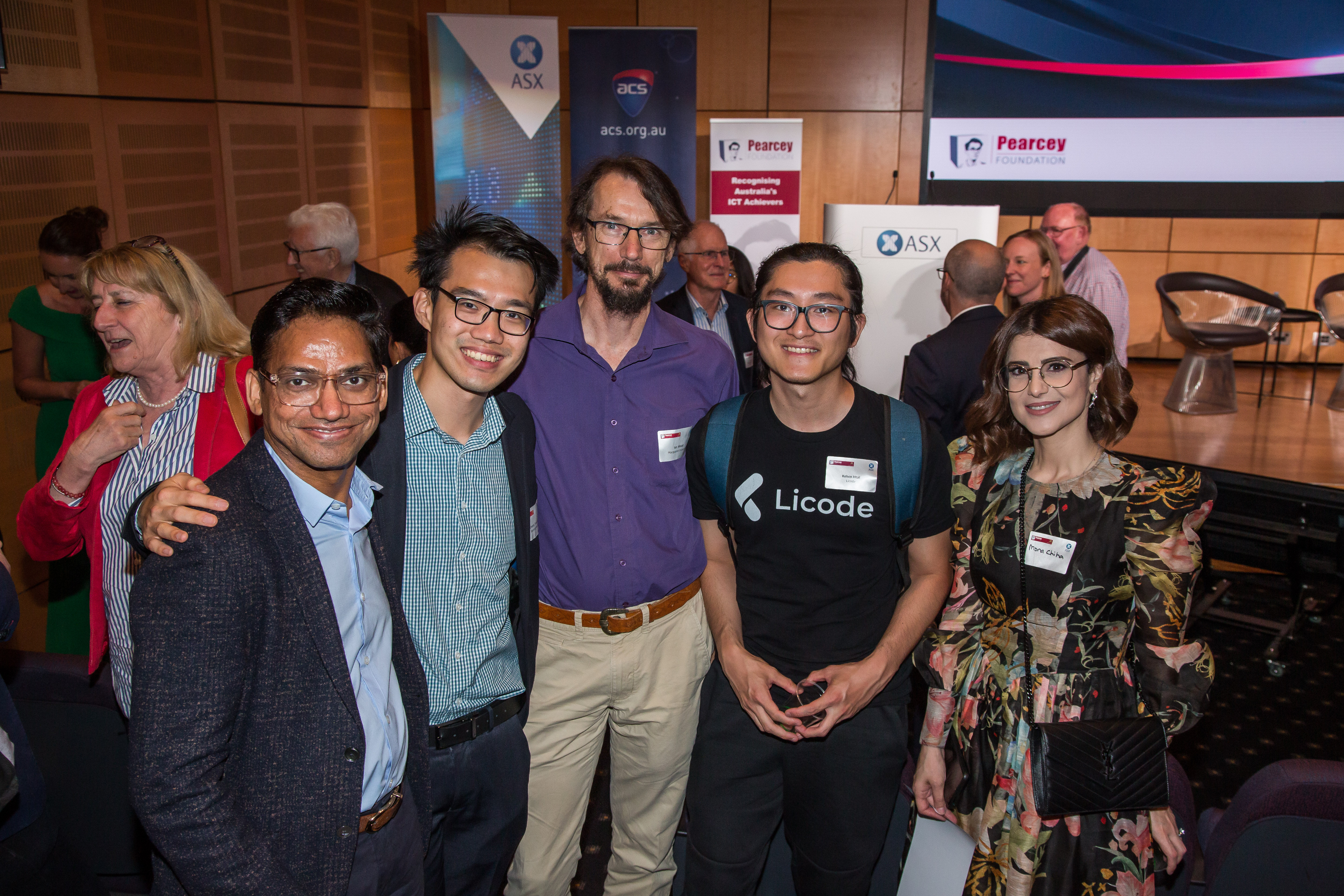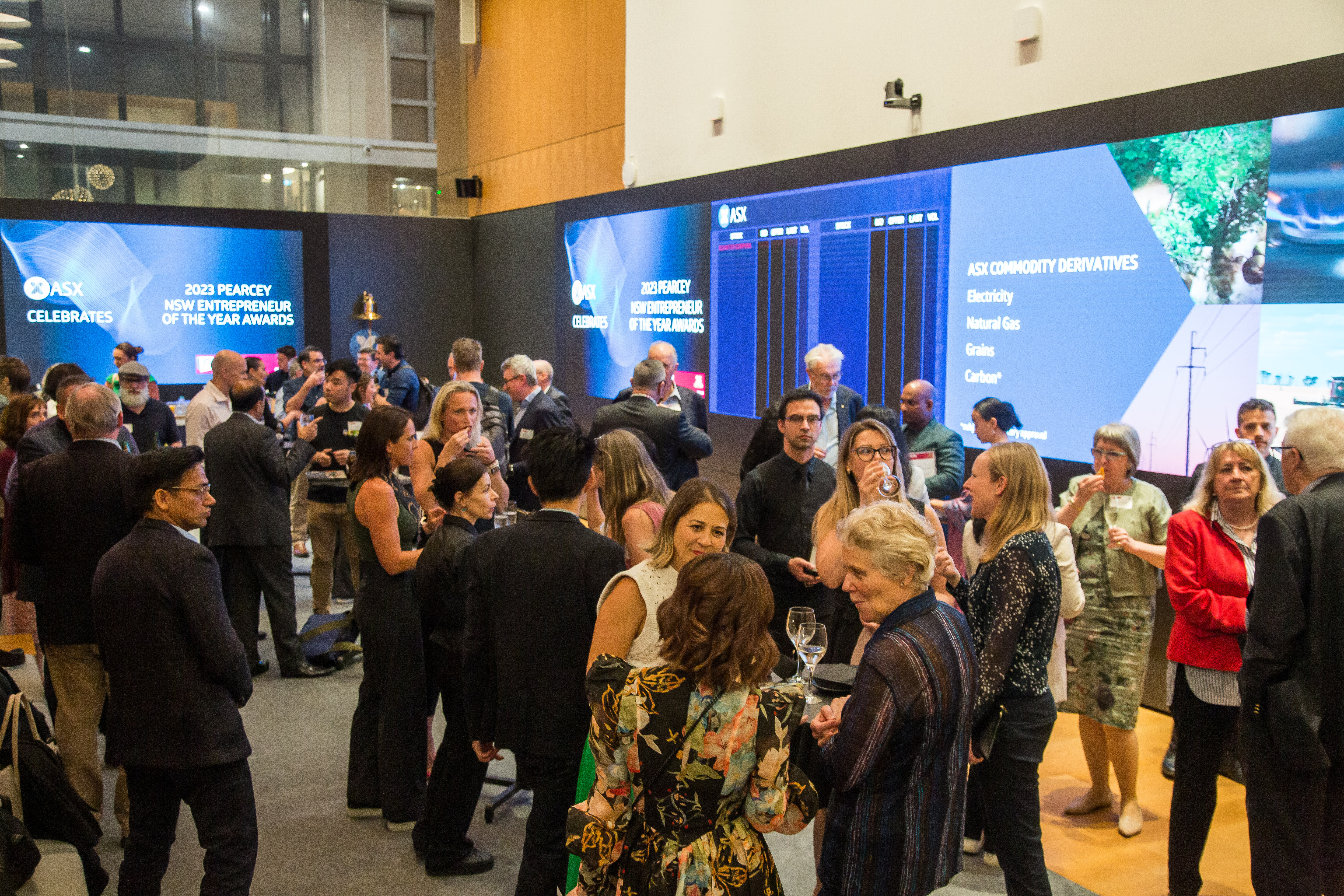 Award Event
The Pearcey Foundation ran the event at ASX. The event attracted over 120 people with many special guests.
Wayne Fitzsimmons OAM, presented the 2023 NSW Entrepreneur Award to Emma Weston noting the long road that entrepreneurs travel to meet their aspirations. Wayne also gave tributes to the other finalists Cibby Pulikkaseril of Baraja, Jason Hosking of HIVERY, Justin Webb of AgriWebb, and Robert Yearsley of ARIA Research, who all will be entered into the Pearcey NSW Hall of Fame.
Prior to the main presentation, a University Pitching competition was run. First place was won by Sydney University's Ohlive Health represented by Su Park, with second place going to UTS's JurisTechne represented by Mona Chiha and third place to UNSW's BantingMed represented by Dr Anthony Sunjaya.
In addition, a lively panel discussion that sought to uncover "AI: An Entrepreneurs' Boon or Bane?" was held, with Anthony Woodward, Gabby Fredkin of ADAPT, Gordon Campbell of Rich Data Co, and Bill Simpson-Young of Gradient Institute.
Emma Weston
Emma is the CEO and a co-founder of AgriDigital which launched its digital supply chain platform in 2017 bringing efficiency and transparency to global grain supply chains. Emma holds an MBA from the Australian Graduate School of Management, a LL.B. (Hons) and B.A. from the University of Melbourne and is a director of the Australian Government's Digital Skills Organisation Ltd, a member of Australia's National Farmers' Federation Farm Data Code Working Group and Grain Trade Australia's IT Advisory Committee, as well as an advisor to Geora Pty Ltd and Inspiring Girls Australia. Emma farms with her family in New South Wales and is motivated personally and through AgriDigital to ensure global rural communities are sustainable, that agriculture is a valued career choice and to build connection between consumers and their food.
Emma has made a significant impact on modernising the agricultural supply chain. With a background in Australian grain broking and marketing, Emma's nuanced understanding of the industry's complexities has led her to develop a technology-driven solution for the sector. Her leadership in assembling a diverse, global team has positioned AgriDigital as a crucial platform that underpins digital and capital infrastructure in agriculture.
The decision to disrupt an industry controlled by a few powerful corporations required both audacity and strategic risk-taking. Emma understood the challenges ahead and went on to build AgriDigital with the unwavering conviction that technology could level the playing field in the agricultural sector. The risk was considerable, but so was the payoff; her pioneering work has begun to decentralise the global grain trade and introduce efficiencies that have long been needed.
What sets AgriDigital apart is the multidisciplinary approach Emma has championed. Recognising that technological innovation alone wouldn't suffice, she assembled a global team consisting of farmers, coders, finance innovators, and creatives. This unique blend of expertise has allowed AgriDigital to build comprehensive solutions that are tailored to the real-world needs of agricultural businesses, making them more efficient and competitive in a tightly held market.
Emma's journey is an inspiring example of how dedicated leadership can tackle industry-wide challenges. She didn't just identify problems; she set out to solve them through a combination of technology and teamwork. Her conviction and resolve in the face of formidable industry giants have not only resulted in a successful venture but have also served as a rallying call for others to innovate and evolve the agricultural sector. Emma's work exemplifies impactful entrepreneurship, demonstrating that with the right team and technology, even the most entrenched industries can be disrupted for the better.

Event Sponsors
| | |
| --- | --- |
| Platinum Sponsors | |
| Gold Sponsors | |
The Pearcey Foundation is most appreciative of our loyal sponsors.
If you would like to sponsor future events, please get in touch.