2016 NSW Award
The NSW Pearcey Tech Entrepreneur of the Year Awards were presented in a packed NSW Parliament House on Tuesday 18th October at NSW Parliament House, at 5.30pm by the Hon Victor Dominello, NSW Minister for Innovation and Better Regulation. The overall winner, was Richard White, Founder and CEO of WiseTechGlobal with Hall of Fame Awards going to the founders of Avoka, Digivizer, Expert360, Invoice2Go, Saasu, Sentral Education, Showpo, Tyro and WiseTech Global.
The Event
The evening celebrated ICT entrepreneurship in NSW in 2016 at three levels:
Entrepreneurs - which recognises outstanding tech entrepreneurs in NSW for "taking a risk", "making a difference" and "being an inspiration".
Tertiary Students and Researchers - who participated in a pitching competition where they pitch their business plans and ideas before a panel of industry judges.
High Schools students - Winners of the Young ICT Explorers (YICTE) competition held in NSW schools presented their projects
The Hon Victor Dominello said "This year's winners represent the fabulous talent that exists in our country. They have been extremely successful, taking different paths to build global businesses, but in the process maintaining their Australian roots and heritage. They prove Australian innovation and entrepreneurship is much very alive and well."
Secretary for the Judges, Simon Foster, Founder of Shoeboxed Australia said "This year we had a tremendous array of nominations, all highly successful entrepreneurs and great role models in different ways. It's an absolute privilege to be in the company of these individuals."
Previous winners of the awards, held since 1999, are a "who's who" of almost 100 talented entrepreneurs including the founders of Atlassian, Big Commerce, Campaign Monitor, Freelancer, Google Maps, MenuLog, PC Tools, Society One and Vocus to name but a few.
Overall Winner
Richard White, Founder and CEO of WiseTechGlobal, was the overall winner, as judged by the cohort of previous Pearcey winners over the years. He is pictured (right) being congratulated by the Hon Victor Dominello, NSW Minister for Innovation.
Since 1994 the company has helped logistics companies efficiently manage the movement of goods and information. Their leading product, CargoWise One, which provides a comprehensive end-to-end logistics solution and forms an integral link in the global supply chain, is used by over 6000 customers in 125 countries.
"Not only has Richard and his team built a fantastic software company, floating it on the ASX and worth over $1.5bn, they have truly "given back" to the industry, including a lot of work to support students studying IT at primary, secondary and tertiary levels" said one of the previous winners, Anthony Woodward of Bulletproof Group Limited.
Hall of Fame
The following NSW entrepreneurs were induced into the Hall of Fame for "taking a risk", "making a difference" and "being an inspiration":
Geoff & Peta Byers - Sentral Education
Geoff and Peta Byers are the founders of Sentral Education, one of the leading Educational software companies in Australia. Their flagship product Sentral was launched in 2006 as a unique integrated solution specifically designed to meet the needs of K-12 schools. The Sentral solution has been implemented in over 1,500 schools across Australia with international markets throughout Asia currently under development. (More)
Phil Copeland - Avoka
In 2002 Phil Copeland co-founded Avoka, a provider of digital business platforms to financial services and government. Avoka has digitized over 100 million transactions spanning more than 16,000 sales and service projects. Prior to launching Avoka, Phil founded Jarrah Technologies in 1990, which became the leading vendor of Client Server application development tools throughout Australia and also won many awards include Byte Magazine's 1994 Application Development Tool of the Year. Avoka has offices is Sydney, Denver and London and has won numerous industry awards. (More)
Marc Lehmann - Saasu
After a successful career in finance and banking, Marc Lehmann founded Saasu in 2000. The business matured from a side project to a full time business and in 2007 become one of the first online accounting software vendors. Rather than take on early capital, Saasu is privately owned and funded allowing it to invest surplus cash back into R&D and creating value for its small business customers. It has customers in over 50 countries globally and partners include OFX, PayPal and Westpac. (More)
Emma lo Russo - Digivizer
Emma lo Russo founded Digivizer in 2010 to help organisations create better experiences for their customers by using social media to learn more about people and what they care about. Emma's career has spanned C-level management, go-to-market strategy development, planning, and senior marketing leadership roles working at companies including Altium, where she was President & COO, Macquarie Bank and MBF. Emma is passionate about helping other women succeed in technology businesses, and has been involved in Head Over Heels mentoring, and is a sought after speaker. (More)
Bridget Loudon and Emily Yue - Expert360
After working together at Bain & Company, Bridget Loudon and Emily Yue founded Expert360 in 2013, with a vision to connect the world's top freelancers with the world's most interesting companies. Expert360 gives every company, from large corporates to not-for-profits to ambitious start-ups, the ability to engage top consultants for as little as $1000, and for consultants to do meaningful and great work that they care about, anywhere, anytime. While not yet 30, this is Bridget's second business having sold her first business aged 21 in her native Ireland. Emily trained as a lawyer, and has also packed a lot of experience into a few short years, having worked with the board and executive of The Smith Family on their 5-year strategic plan and with Endeavor Global in New York on support entrepreneurs in developing economies. Expert360 has so far raised over $5 million, and has offices in Sydney, San Francisco and New York. (More)
Jane Lu - Showpo
Showpo was founded in 2010 and boomed after it hit a perfect niche market within the crowded e-commerce scene, offering popular, affordable options with fast delivery. It recently reached a $25m ARR with 35% of sales being international. Company CEO, Jane Lu, made the switch from KPMG and EY business analyst to full-flown fashion queen while clearly bringing a wealth of business smarts with her. With a combined approach involving bricks and mortar stores and an online store, it has expanded to a similar scale as established labels and outlets. (More)
Jost Stollman, Andrew Rothwell, Peter Haig, Paul Wood - Tyro
Tyro is well known as one of Australia's leading fin tech innovators. It was founded in 2003 by ex-Cisco engineers Andrew Rothwell, Peter Haig, Paul Wood with a view to bringing TCP/IP technology to the Australian payments market, with Jost Stollman joining as a seed investor and now CEO. In 2005 Tyro became the first and only company to obtain an acquirer bank license, setting them on a course to disrupt the Australian banking industry. Tyro recently raised $100m to further take on the banks in SME business finance. In addition, the founders have made a significant contribution back to Australia's fintech scene through the launch of Tyro's FinTechHub, Australia's first dedicated fintech co-working space. Whilst the founders are recognised together, it should be noted Jost founded and grew the German system and network integrator, CompuNet Computer AG into a US$1B company, selling to GE Capital in 1996. Jost then became Germany's Federal Shadow Minister of Economy and Technology. From 2002 until 2004, Jost, his wife and 5 children sailed a custom built yacht around the globe before settling in Sydney. (More)
Chris Strode - Invoice2Go
Chris Strode is the founder and CPO for Invoice2go, the mobile platform that enables small businesses to easily manage their invoicing, expenses and operations. As a small business owner, Chris founded Invoice2go in 2002 out of frustration with the lack of simple invoicing options available. It was one of the first mobile apps to launch following the App Store. Under his leadership, the business has grown to become the #1 invoicing app globally. (More)
Richard White - Wisetech Global
Richard founded WiseTech Global in 1994. The company is an innovative, multi-award winning global developer of cloud-based software solutions for the international and domestic logistics industries. The company helps logistics companies efficiently manage the movement of goods and information. With over 6,000 customers and 150,000 module users across 7,000 sites in more than 125 countries. Their leading product, CargoWise One, provides a sophisticated and comprehensive end-to-end logistics solution and forms an integral link in the global supply chain. In 2016 WiseTech Global successfully floated on the ASX. The value makes WiseTech's listing the second largest tech IPO on the ASX to date. A recent major contract win with DHL adds to WiseTech's other big clients, which include Australia Post and Toll. Richard is a strong promoter of the IT industry, encouraging high school and university students to undertake IT careers. He has done so as a volunteer and support of the ACS Foundation, and working with various universities including delivering the 2015 UTS Graduation Speech. (More)
Young ICT Explorers
The evening included four winners from the Young ICT Explorers competition:
Wahroonga Public School - Neurokinetic Technological Arm - Sequoia Avtarovski
Roseville College - Interactive Playground - Chloe Morris, Madeleine Jury
Knox Grammar school - The Pi-Net Project - Jason Codd, Lachlan Hwang
Mosman High School - Hi- Viz: A bike safety system like never before - Callum and Declan Predavec
"We have to engage our youth in order to build our technology industry, so providing these young adults with the opportunity to meet senior business personnel is really important; to get businesses investing back in our schools" said Katie Rowe, Manager, Digital Careers, Education and Outreach at CSIRO.
University Student Business Pitching Competition
Photo: Student Pitching Competition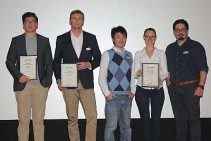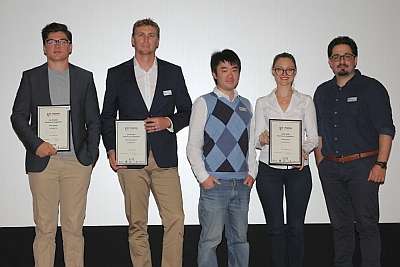 The awards also included a very lively business pitching competition, where students from the Universities of Sydney, Wollongong, UTS and UNSW competed for the kudos of winning, and cash prizes.
"These young business leaders prove there is a great spirit of entrepreneurship in Australian universities. It shows they have depth and vibrancy; budding entrepreneurs with burning aspirations and business ideas of great promise" said Ian Oppermann, Chair of the Pitching Judging Panel and CEO and Chief Data Scientist at NSW Government Data Analytics Centre.
In the pitching competition 8 Groups of students from 4 Universities participated in a pitching where they spruiked their business plans to a panel of savvy judges. The winners were:
| | | |
| --- | --- | --- |
| First | Will Pazos | "Moments", UNSW |
| Second | Benjamin Coman | "Halo", UoW |
| Third (equal) | Solange Cunin | "Cuberider", UNSW |
| | Saber Mostafavian, Sao Ian Leong | "Sooma", UoW |
Sponsors
The Pearcey Foundation would like to think the following sponsors for making these Awards possible.
Platinum Sponsor:
Gold sponsors: