2013 NSW Award
On 23th October 2013 the 2013 NSW Pearcey Entrepreneur of the Year Awards were presented by Mr Paul Toole, Parliamentary Secretary for the Deputy Premier, to joint winners Simon Clausen, founder of Startive Ventures and PC Tools, and Naomi Simson, founder of Red Balloon.
The awards were held at NSW Parliament in front of 180 leaders of the ICT and Digital Media industries, to celebrate technology entrepreneurship in NSW, expose the wealth of talent, and encourage others to do the same.
"This year's winners and finalists have been selected by industry peers for their outstanding efforts to contribute to NSW." Mr Paul Toole MP said. "The digital revolution is well underway and our digital capability has quickly become a critical tool for the sustainability of many, if not all, businesses."
Head of the Judges and Bulletproof Networks founder Anthony Woodward said: This year we had an amazing array of nominations, all highly successful entrepreneurs and great role models in different ways. The votes of the judges, all previous winners, were finely balanced across all the Hall of Fame recipients (see below). Simon and Naomi won by the narrowest of margins".
Simon Clausen
"Simon (Clausen) shot to attention when his business PC Tools, which he founded in 1998 with Peter McKow, received a $20m investment from James Packer in 2005 for a 20% stake. In 2008 it was acquired by Symantec for $300m. After this Simon started Startive Ventures, with an early investment being the backing of Matt Barrie and Freelancer. We know this isn't the last we will hear from Simon and he has a lot to offer through Startive Ventures in the future.
Naomi Simson
Photo: Naomi Simson and Mr Paul Toole (Parliamentary Secretary)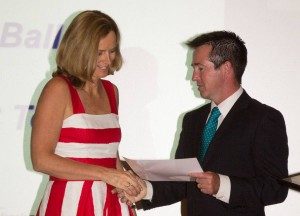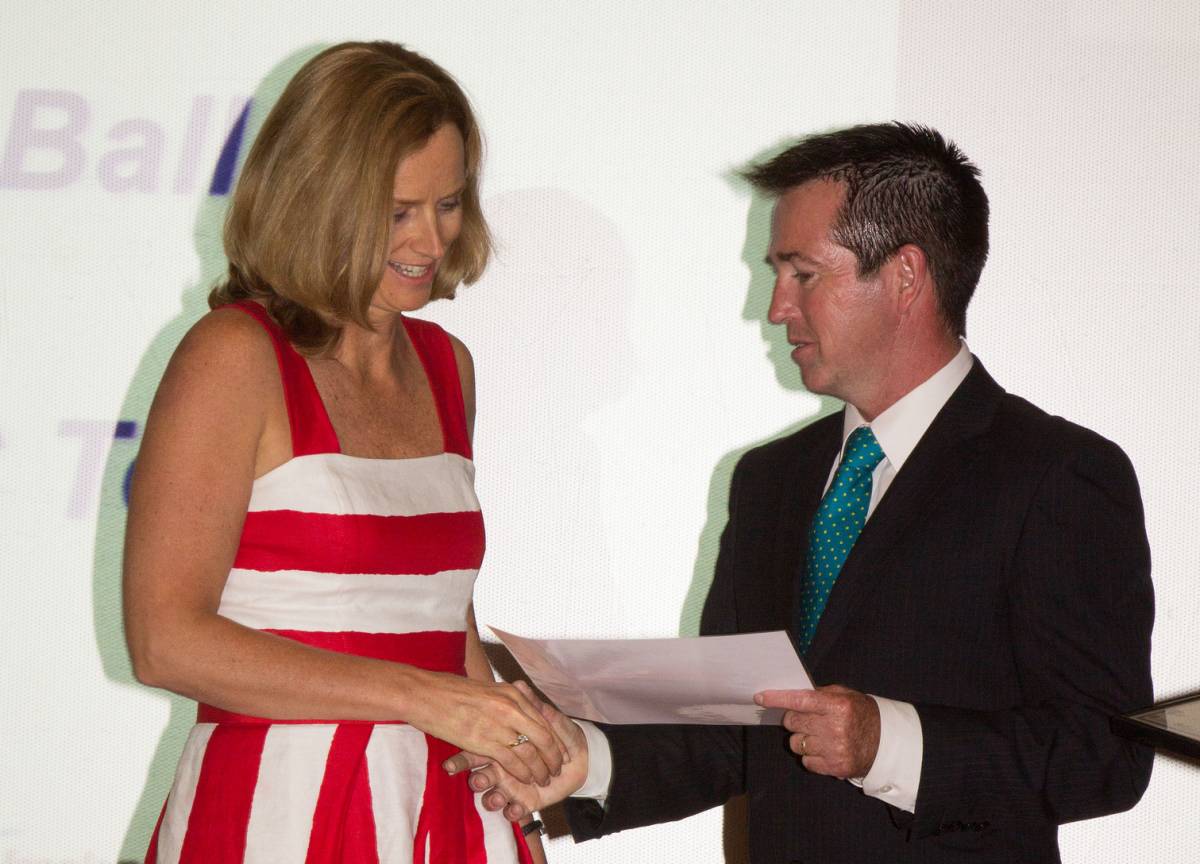 "Naomi's (Simson) entrepreneurial career started in 1997 when she founded Bright Marketing. She started Red Balloon in 2001, now a leader in the online gifts marketplace. It took 10 years for Red Balloon to issue 1 million gift vouchers, but the 2nd million has just been achieved (October) in only two years. In addition, in 2013, BRW Magazine voted Red Balloon one of Australia's best places to work for the 5th year running. Naomi is a great role model for female entrepreneurs."
For a photograph gallery of the night, see here.
Special Recognition Awards
In addition to the winners, Special Recognition Awards were given to recognise the very significant achievements of 13 entrepreneurs including:
Brandon Cowan, Crazy Dog Apps Mobile Apps
Daniel Jarosch, Brands Exclusive Internet / eRetail
David Jones, StreetHawk Internet / Various
Jennifer Zanich, Paloma Mobile Cloud / Mobiles
Jodie Fox, with Mike Knapp and Michael Fox, Shoes of Prey Internet/eRetail
John Anstey, Elcom Web Content Management
John-Paul Syriatowicz Squiz Web Content Management
Julian Tol, Brandscreen Digital Advertising
Justin Simpson, Inovia Online Patent Filing
Mike Aston, Distra Payments Software
Ric Richardson, Uniloc Inventor
Richard White, WiseTechGlobal Integrated Supply Chain Logistics Mgt Software
Scott Frew, iasset.com Distribution Central IT Distribution Software
Student Pitching Competition
The awards included a very lively student pitching competition, where 8 student teams from across 5 NSW universities gave 90 second business elevator pitches, competing for $7,000 prize money.
Dr Michelle Deaker, Chair of the Pitching Judging Panel and Managing Partner for One Ventures and said 'The students prove there is a great spirit of entrepreneurship in Australian universities. They show we have depth and vibrancy: budding entrepreneurs with burning aspirations and business ideas of great promise".
The pitching competition was won by Hassan Ahmad (UNSW) with his business Conscious Step, with 2nd place going to Toby Li (UNSW) for Re:Align and 3rd place to Felix Lawrence (University Sydney) with Speakeasy.
Mike Williams (University Sydney) pitched JobsGPS to win the SIRCA People's Choice Award and the Smart Services CRC Incubator Award.
Sponsors
The NSW Pearcey Award is generously sponsored by VMware, NICTA, CSIRO, Australian Computer Society, Freelancer, NSW Trade & Investment, Ninefold, Sirca, Service Rocket.
About the Entrepreneur Award
The NSW ICT Entrepreneur Awards are awarded annually to the most outstanding ICT and digital media entrepreneurs, through an open peer recognition system.
Last year the awards were won by Jo Burston from new-age professional services firm Job Capital, and Mitch Harper and Eddie Machaalani, founders of e-commerce platform company BigCommerce. Prior winners include Steve Frisken and Simon Poole from Engana/Finisar (2011) and Lars and Jens Rasmussen of Google Maps fame (2010).
Previous winners include Ian Gardiner, Viocorp (2009), Scott Farquhar and Mike Cannon-Brookes, Atlassian (2008), Jeff and Pia Waugh, Open Source Community (2007), Matt Barrie, Sensory Networks and now Freelancer.com (2006), James Dalziel, Melcoe (2005). Hugh Durrant-Whyte, Centre for Autonomous Systems and now NICTA (2004).