2015 NSW Award
The 2015 NSW Tech Entrepreneur of the Year Awards were presented at NSW Parliament by the Hon Victor Dominello, NSW Minister for Innovation and Better Regulation, on behalf of the Pearcey Foundation and the technology industry with the pinnacle award, the winners special recognition award, going to Melanie Perkins, co-founder and CEO of Canva.
The Hon Victor Dominello said "This year's winners represent the fabulous talent that exists in our country. They have been extremely successful, taking different paths to build global businesses, but in the process maintaining their Australian roots and heritage. They prove Australian innovation and entrepreneurship is much very alive and well.
Melanie Perkins
Melanie is well known as the founder of online marketplace Canva a disruptive online graphic design platform that allows anyone to create professional quality designs.
In 2015 Melanie has raised $21m for Canva at a significant valuation ($165m), with investors including high profile individuals and funds in Silicon Valley and Australia.
An excellent role model for female entrepreneurs, Canva is Melanie's second venture. Her first, Fusion Books, an online design system for schools to create their yearbooks, is now the largest yearbook publisher in Australia and recently expanded to France and New Zealand.
This award is a peer group recognition award given by NSW's top tech entrepreneurs and recognises Melanie's entrepreneurial endeavours and role model qualities.
2015 NSW Pearcey Event
The awards were presented at NSW Parliament House at 5.30pm followed by drinks and canapes 7- 8pm. The event was booked out, with approximately 150 people from all areas of the ICT industry. The event showcased entrepreneurship in NSW at 3 levels: entrepreneurs, tertiary and high schools.
Entrepreneurs of the Year
Photo: Entrepreneur Winners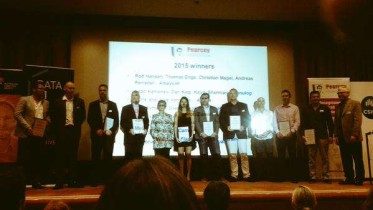 There were seven winners in the 2015 NSW Tech Entrepreneur Awards. These outstanding tech entrepreneurs in NSW are recognised for "taking a risk", "making a difference" and "being an inspiration".
Rolf Hansen, Thomas Enge, Christian Magel, Andreas Perreiter, Peter O'Connell - Amaysim
Chris and Julie Vonwiller - Appen
Melanie Perkins - Canva
Catriona Wallace - Flamingo, Fifth Quadrant
David Vitek / Roby Sharon-Zipser - HiPages
Leon Kamenev, Dan Katz - Menulog
Matt Symons / Greg Symons - SocietyOne
James Spenceley - Vocus
Tertiary Students and Researchers
A University student pitching competition was held where students from the Universities of Wollongong, UTS and UNSW competed for the kudos of winning, and cash prizes. They pitched their business plans and ideas before a panel of industry judges. The competition introduced participants to the dynamics of pitching and hitting the key messages for investors, distributors, and customers.
This year's entrants were:
Emma Earley, UTS: LuxLifeForLess
Pasha Rayan & Albert Kurniawan, UNSW:
ThriveTide
Sina Ameli, University of Wollongong:
Objective Fitness measurement
Roslyn Coutinho, UTS: Generator (Audience choice)
Rory San Miguel, UNSW, Propeller (Winner)
The judges were:
Adrian Turner, Data61
James Posnett, ASX
Mike Zimmerman, Bondi Ventures
Tanya Davies, MP
High Schools
Photo: Young ICT Explorers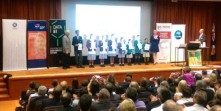 Four winners of the recent Young ICT Explorers (YICTE) competition held in NSW schools presented their projects:
Arden Anglican School (Year 3-4) with SAFECROSS Driveway Warning - by Jessica Clark, Tyler Jackson & Rachel Gibson
Roseville College (Year 5-6) with Sushi Train Timer - by Rachel Barrie, Stella Phipson & Isabella Savage
Roseville College (Year 5-6) with Track Your Hearing - by Bella Ryan
St Philip's Christian College (Year 11-12) with Network Household Controller - by Hayden Glover & Dean Smallwood
More Details
For full details please see PR: 2015 NSW Pearcey Entrepreneur Awards.
The awards could not have happened without the support of the Australian Stock Exchange, Data61, the Australian Computer Society and a significant anonymous donation from a previous winner.
For more information, contact Mr Charles Lindop on 0419-224-214 or charles@ktmcapital.com.au