2015 Nsw Technology Entrepreneur Of The Year Awards
Press Release. The 2015 NSW Tech Entrepreneur of the Year Awards were presented tonight at NSW Parliament by the Hon Victor Dominello, NSW Minister for Innovation and Better Regulation, on behalf of the Pearcey Foundation and the technology industry with the pinnacle award, the winners special recognition award, going to Melanie Perkins, co-founder and CEO of Canva.
This award is a peer group recognition award given by NSW's top tech entrepreneurs and recognises Melanie's entrepreneurial endeavours and role model qualities. Winner awards were also given to the founders of 7 other technology businesses, Amaysim, Appen, Fifth Quadrant, HiPages, Menulog, SocietyOne and Vocus.
The Hon Victor Dominello said "This year's winners represent the fabulous talent that exists in our country. They have been extremely successful, taking different paths to build global businesses, but in the process maintaining their Australian roots and heritage. They prove Australian innovation and entrepreneurship is much very alive and well.
Secretary for the Judges, Philip Takken of Deloitte said "This year we had a tremendous array of nominations, all highly successful entrepreneurs and great role models in different ways. It's an absolute privilege to be in the company of these individuals.
2015 NSW Pearcey Entrepreneur Winners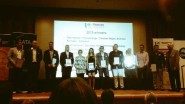 Photo: Entrepreneur Winners
The full list of 2015 winners is provided below:
Rolf Hansen, Thomas Enge, Christian Magel, Andreas Perreiter - Amaysim
This team of four e-commerce and telecommunication entrepreneurs founded the European low cost mobile phone operator Simyo and then brought it to Australia as Amaysim, an MVNO that has changed the landscape of the mobile market in Australia through very effective use of digital technologies. They recently floated the company on the ASX and it is now valued at a market cap of $400m
They have also been foundation supporters of the DigiCit initiative that aims to bring together the entrepreneurial community in Sydney.
Chris and Julie Vonwiller - Appen
Julie and Chris Vonwiller, founded Appen, a multi-award winning speech and text recognition technology company in the spare room of their Gordon home in 1996. They now count the United States government and Microsoft as key clients. The company listed on the ASX in January 2015 and now has a market cap of $100m.
Julie is a highly regarded linguistics expert and Chris has been very active in promoting Australian technology business, as chair of the Chair of the Warren Centre for Advanced Engineering, University of Sydney, and Fellow of ATSE and Engineers Australia.
Melanie Perkins - Canva
Melanie is well known as the founder of online marketplace Canva a disruptive online graphic design platform that allows anyone to create professional quality designs.
In 2015 Melanie has raised $21m for Canva at a significant valuation ($165m), with investors including high profile individuals and funds in Silicon Valley and Australia.
An excellent role model for female entrepreneurs, Canva is Melanie's second venture. Her first, Fusion Books, an online design system for schools to create their yearbooks, is now the largest yearbook publisher in Australia and recently expanded to France and New Zealand.
Catriona Wallace - Flamingo
A serial entrepreneur, Catriona's latest venture Flamingo is a cloud-based solution for vendor relationship management. She also founded a customer experience design firm, Fifth Quadrant, and a market research firm, ACA Research.
Applying digital technologies, Catriona is an expert on the future of Customer Experience, focussing on macro trends related to customer behaviour, the rise of personalisation, disruptive innovation and what happens when customers control their own data.
She is a cited industry and media commentator, and with Anne Summers to hosts the sell-out In Conversation series. A mother of 5, Catriona is also the founder of Philanthropic funds - Indigo Express Fund which funds Indigenous Literacy; Kids in Philanthropy which mobilises children to have a broader social consciousness and fund children in need; and Out & Up an employment Program for Women Prisoners, Refugees and Asylum Seekers.
David Vitek / Roby Sharon-Zipser - HiPages
The HiPages Group was started in a garage in 2004. Founders, David Vitek and Roby Sharon-Zipser, were dissatisfied with the ability of consumers to find and choose great quality local businesses and vice versa. To address the issue they created specialist sites in areas they are passionate about: Natural Therapies and Home Improvements.
HiPages has grown significantly and leads their genre in Australia, with over 1.5 Million monthly visitors to their sites and a job being posted every 45 seconds.
Leon Kamenev, Dan Katz, Kevin Sherman - Menulog
Leon, Dan and Kevin co-founded Menulog in 2006, merged it with the Leibovich's EatNow in January 2015, and then sold it the UK's JustEat Group in May 2015 for $855m.
Leon and Dan met at HotelClub, a business Leon started in 1997, and which was subsequently sold to Orbitz Worldwide.
Whilst Dan continues to run Menulog, Kevin and Leon moved on and cofounded Matific, a global cloud and apps company focussed on K to 6 online maths education.
Matt Symons / Greg Symons - SocietyOne
Matt and Greg (no relation) are the co-founder of SocietyOne, Australia's first fully compliant P2P lenders, a maker of the whole P2P market in Australia, and backed by Consolidated Press Holdings, News Corp Australia, and Reinventure (Westpac).
Prior to returning to Sydney Matt was the CEO of Memetrics Ltd a profitable, rapid growth data and analytics technology business based in San Francisco. After managing the successful sale of Memetrics to Accenture in 2007 Matt spent 4 years for leading Accenture's marketing data management and analytics team from San Francisco.
Greg is a driven lifetime entrepreneur, specialising in web-based, industrial grade financial banking and origination systems. Prior to co-founding SocietyOne in 2011, Greg was based in New Zealand where he and his technology team developed the first online retail lending system in the country in 2000. With ClearMatch™, he continues to pioneer disruptive and globally relevant SAAS P2P investment and lending platform models for both consumers and institutions.
James Spenceley - Vocus
James Spenceley is the founder of Vocus, a company changing the face of telecommunication is Australia.
James was a Pearcey winner in 2010 however the judges felt that he should be re-nominated on the basis of his achievements since, which has included numerous acquisitions, a merger with Amcom, and now a proposed merger with M2 Telecommunications. Listed on the ASX Vocus has a market cap of $1.45bn, compared to approximately $45m when James was last nominated!
In addition, James is a strong advocate for our local technology industry. As his official bio says "an archetypal maverick. Never afraid to challenge the industry, he's won the trust and respect of the business and financial community with his open, transparent and refreshingly straightforward approach to business dealings".
James is an elected member of the APNIC Executive Council, a founding director of the Australian Network Operators Group, AusNOG.
Young ICT Explorers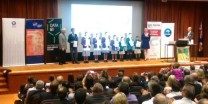 Photo: Young ICT Explorers
The evening included four winners from the Young ICT Explorers competition:
Arden Anglican School (Year 3-4) with SAFECROSS Driveway Warning - by Jessica Clark, Tyler Jackson & Rachel Gibson
Roseville College (Year 5-6) with Sushi Train Timer - by Rachel Barrie, Stella Phipson & Isabella Savage
Roseville College (Year 5-6) with Track Your Hearing - by Bella Ryan
St Philip's Christian College (Year 11-12) with Network Household Controller - by Hayden Glover & Dean Smallwood
"We have to engage our youth in order to build our technology industry, so providing these young adults with the opportunity to meet senior business personnel is really important, to get these businesses investing back in our schools" said organiser Greg Miller, Partner VP for SAP ANZ.
University Student Business Pitching Competition
The awards also included a very lively business pitching competition, where students from the Universities of Wollongong, UTS and UNSW competed for the kudos of winning, and cash prizes.
"These young business leaders prove there is a great spirit of entrepreneurship in Australian universities. It shows they have depth and vibrancy; budding entrepreneurs with burning aspirations and business ideas of great promise" said Adrian Turner, Chair of the Pitching Judging Panel and CEO for the newly combined CSIRO NICTA Data61 organisation.
About the Awards
The NSW Technology Entrepreneur Awards are awarded annually to the most outstanding technology entrepreneurs, through an open peer recognition system.
Last year the awards were won by Ben Richardson and Dave Greiner, founders of Campaign Monitor and Tim Power, cofounder of 3P Learning.
Prior winners include Naomi Simson from Red Balloon and Simon Clausen from Startive Ventures (2013), Jo Burston from Job Capital and Mitch Harper and Eddie Machaalani, founders of BigCommerce (2012), Steve Frisken and Simon Poole from Engana/Finisar (2011) and Lars and Jens Rasmussen of Google Maps fame (2010), Ian Gardiner, Viocorp (2009), Scott Farquhar and Mike Cannon-Brookes, Atlassian (2008), Jeff and Pia Waugh, Open Source Community (2007), Matt Barrie, Sensory Networks and now Freelancer.com (2006), James Dalziel, Melcoe (2005), and Hugh Durrant-Whyte, Centre for Autonomous Systems and NICTA (2004).
About the Pearcey Foundation
The Pearcey Foundation is a not-for-profit that works to foster the aims and achievements of the Australian technology community and industry. As well as awards of recognition, Pearcey runs Australia 3.0, a digital innovation colloquium for industry, academia and government. It is also working to establish an economics studies institute for the digital economy.
The Pearcey Foundation is named in memory of Trevor Pearcey, who in Sydney in 1949 built CSIR1, the world's fifth stored program computer and the first in the world to play music. Now located in the Melbourne Museum and celebrating its 66th anniversary, CSIR1 is the oldest surviving computer in the world.
Partners
The awards could not have happened without the support of the Australian Stock Exchange, Data61, the Australian Computer Society and a significant anonymous donation from a previous winner.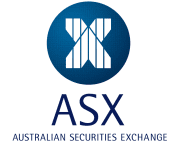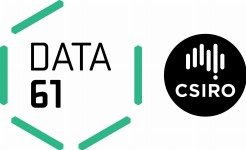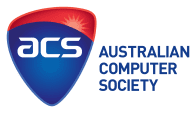 More Details
For more information please visit pearcey.org.au/nsw or contact Mr Charles Lindop on 0419-224-214 or charles@ktmcapital.com.au