2019 Qld Award
The 2019 Pearcey Queensland Entrepreneur Award was presented to Tim Neale, co-founder and managing director of agtech company DataFarming. The award event was held in Brisbane on 15 October 2015 in collaboration with CICTA (Council of ICT Associations in Queensland).
The award was presented by the Hon. Mick de Brenni MP, QLD Minister for Housing and Public Works; Minister for Digital Technology and the Minister for Sport, and Wayne Fitzsimmons, Chairman of the Pearcey Foundation.
Tim Neale
Tim co-founded DataFarming in 2017 in Toowoomba in regional Queensland with his wife and fellow precision agriculture specialist Peta, investing in the development of a web platform that could assist farmers and agronomists with precision agriculture solutions to improve the management of their crops and pastures using real-time satellite imagery from the European Space Agency. DataFarming is now one of the fastest growing agtech companies in Australia, with over 12,000 farms already using the system with more than 7,000,000 ha of paddock data processed across Australia, UK, Africa, the Middle East, USA, and Canada.
 
"Tim combines exactly the spirit, enthusiasm and dedication that Trevor Pearcey invoked those 70 years or so ago. He has successfully coupled his entrepreneurial enthusiasm for risk-taking with the perception of what space technology and imaging could do for the agricultural sector when mixed with advanced IT systems. DataFarming is a unique and world-leading product servicing a vital national industry," said Bill Caelli, chief judge of the Pearcey Foundation's QLD Judging Panel.
 
"However, it is in the man himself, like Trevor Pearcey, in which the real spirit lies, giving a strong example to other young Australians about just what can be done with IT - in Tim's case for our farming and allied national resource sectors - even with the financial and business risks involved in creating a viable commercial product. Moreover, Tim's leadership to export such high-value, advanced technology products to the world means that he truly does stand in Pearcey's footprint."
 
DataFarming has seen unprecedented rates of adoption in the agtech industry by focussing on ensuring the platform is simple to use, low cost, and easy to access. DataFarming has taken a collaborative approach with commercial, government and academic partners, and is an integration partner with eight other software companies.
 
After spending nearly 25 years helping farmers across Australia and internationally, Tim reflects that the most rewarding part is working in an industry that is like 'one big family'. He was named 2018 Rural Consultant of the Year at the Australian Farmer of the Year Awards for his services to the agricultural industry. Tim has presented at over 50 national and international conferences on sustainable farming and agtech; including the World Congress on Conservation Agriculture in Canada. Tim has worked internationally in Africa with developing agriculture projects, and has been an active supervisor to PhD students from the University of Southern Queensland and the University of Queensland. DataFarming is also committed to developing the next generation, regularly taking on work experience students.
The Hon Mick de Brenni MP, Brad Moran, David Lacey, Wayne Fitzsimmons OAM
Finalists
Photo: The Hon Mick de Brenni MP, Brad Moran, David Lacey, Wayne Fitzsimmons OAM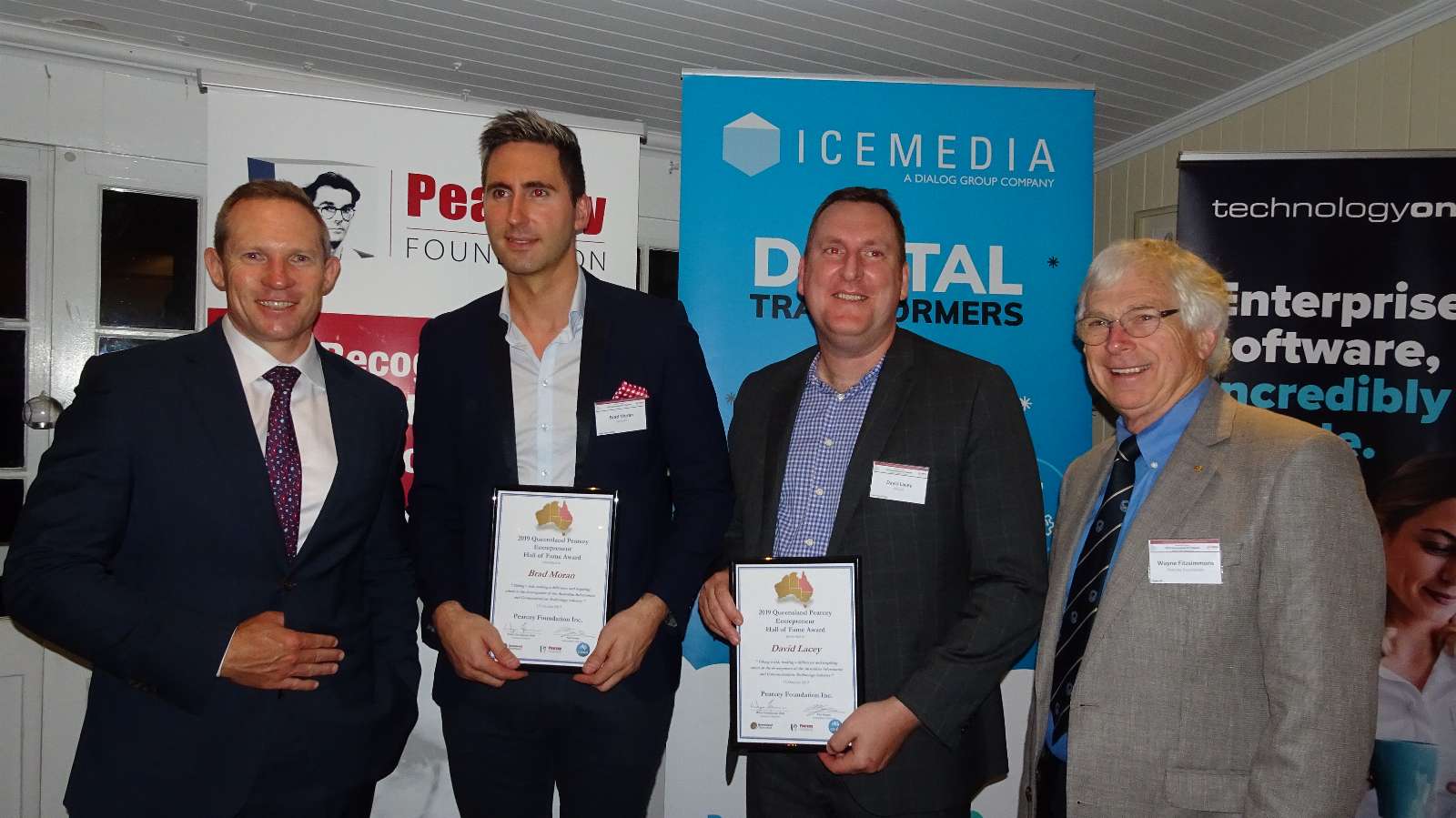 There were many excellent nominations in 2019. The other finalists were:
Brad Moran, CEO, CitrusAd
David Lacey, Professor in Cyber Security & Managing Director IDCARE
Stan Kaine, founder and CEO of Point Duty
For more details about the nominees please see - 2019 Queensland Pearcey Nominees
CICTA winners 2019
The event was also an opportunity to recognise other QLD industry association award winners for 2019, a number of whom attended the dinner.
Association
Winner
Category
ACS
BDO Australia
Skills Transformation of Work Teams - (Small, under 20)
AIPM
Project Bell, DVConnect
ICT Telecommunications
AIIA
Felix (merit)
iAwards - Business Service Markets
AIIA
Pain ROADMAP - MNHHS, CSIRO & UQ (merit)
iAwards - Research & Development Project of the Year
& Data Insights Innovation of the Year
AIIA
Collective Care - Seton College (winner)
iAwards - Senior Students
AISA
Scott Ballantyne
Cyber Security Law Enforcement Officer
APSCo
Kate Conrad, Davidson
Risk Management Award
SIBA GITA
Land Solution Australia/Monitum, QLD
Spatial Enablement Award
SIBA GITA
StartSapphire Productions
People and Community Award
SIBA GITA
Bennett + Bennett, QLD
Technical Excellence Award
SIBA GITA
DataFarming and Spatial Vision (winner)
Immersive Robotics (special commendation)
Innovation and Commercialisation Award
WiT
Mandy Ross (winner)
Carla Wall (highly commended)
ICT Outstanding Achievement Award
WiT
Megan Avard
Sue Wickenden Entrepreneurial Award
WiT
Emily Entwistle
ICT Young Achiever award
WiT
Kelly Pedler
ICT Rising Star
WiT
Angela Jones
ICT Professional Award
WiT
Lisa Gillinder
Life Sciences Rising Star Award
WiT
Rebecca McDonald (winner)
Robyn Bull (highly commended)
Community Award
WiT
PWC (winner)
Hall and Wilcox (highly commended)
Employer of Choice
Sponsors
We gratefully thank our sponsors ICEMEDIA and TechnologyOne.