2018 Qld Award
The 2018 Pearcey Queensland Entrepreneur Award was presented to Peter Laurie at an ICT Awards night hosted by the Pearcey Foundation with the Queensland ACS and CICTA (Council of ICT Associations in Queensland).
The event was held at the St Lucia Golf Club in Brisbane on Wednesday 10 October 2018. The presentation was made by Wayne Fitzsimmons AO, chairman of the Pearcey Foundation.
Peter Laurie
Peter is the director of Junta Pty Ltd, a 15-year-old boutique consulting company that specialises in applying software engineering and innovation to business opportunities. Junta has worked with Suncorp, Energex, Telstra, NAB and others. The primary role for Junta has been as a software development leader or architect.
Peter has other roles outside of Junta, they include entrepreneur in residence roles at UQ's ilab, and River City Labs Accelerator. He provides formal mentoring/coaching/training. For the last 12 years, Peter has also been giving a presentation entitled "Six Key Things of Software Development". This presentation covers: source code control, formal releases, automated builds, developer tests, continuous integration, and collaboration tools.
He is Mission Lead for the Youth Mission of Startup Catalyst. For the last four years they have selected twenty young people aged 18 - 29 with technical skills and taken them to San Francisco and Silicon Valley. These bright young things then know and believe they are as good as anyone in the world.
https://www.linkedin.com/in/pjlaurie/
Pearcey Queensland Hall of Fame 2018
Photo: Wayne Fitzsimmons, Jenine Beekhuyzen, Yvette Adams, Victor Vicario, Peter Laurie, Sarah-jane Peterschlingmann and Joe Hoolahan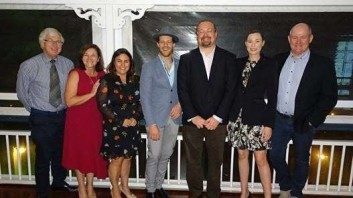 The Pearcey Foundation also recognised the following outstanding nominations as members of the 2018 Queensland Pearcey Entrepreneur Hall of Fame.
Yvette Adams, The Creative Collective
Josh Cameron, Tanda
Peta Ellis, River City Labs
Gavin Keeley, Search365
Emily de la Pena, Coding Kids
Sarah-jane Peterschlingmann, ATechnology International
Victor Vicario, Arc Hardware Incubator
Wei Xiang, James Cook University
For more details about the nominees please see - 2018 Queensland Pearcey Nominees
CICTA winners 2018
Photo: Marie Boden, Alison Rice, Jenine Beekhuyzen, David Abramson, Sandra Slater, Katie Richards and Nick Tate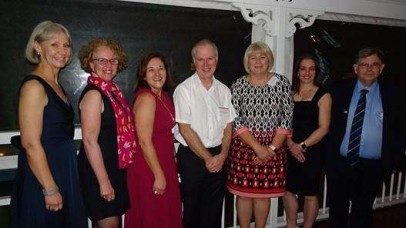 The 30 state winners of the national awards for ACS, AIIA, AIPM, AISA, APSco, ICSC, ITFGC, ITSMF, ISACA, SIBA GITA and WiT were also recognised.
Pictured right is Marie Boden, Alison Rice, Jenine Beekhuyzen, David Abramson, Sandra Slater, Katie Richards and Nick Tate.
Alison is Co-President of WiT and Nick Tate is Chair, Queensland Council of ICT Associations.
| | | |
| --- | --- | --- |
| ACS | Canstar | Skills Transformation of Work Teams - (Medium Teams 21 - 200) |
| ACS | David Rudduck, Insane Technologies | Skills Transformation of Work Teams - (Small Teams under 20) |
| ACS | David Abramson, UQ | Service Transformation for the Digital Consumer (Government) |
| ACS | Marie Boden, UQ | Service Transformation for the Digital Consumer (NGO/NFP) |
| ACS | Marcus Foth, QUT | ICT Researcher of the Year |
| | | |
| --- | --- | --- |
| ITFGC | Dani Storey, Smarter Technology Solutions | Personal recommendation by ITFGC |
| | | |
| --- | --- | --- |
| ICSC | Chandi Perera, Typefi Systems | Technology Award Winner, 2017 Sunshine Coast Business Awards |
Sponsors
We gratefully thank our sponsors ICEMEDIA and TechnologyOne