2010 ACT Award
Fullbright Scholar Dr Raymond Choo was presented the 2010 ACT Pearcey Award by Senator Kate Lundy, Parliamentary Secretary to Prime Minister & Cabinet, at a gala dinner held at 'The Boathouse' in Canberra on 16 September 2010.
Speaking at this Australian Computer Society's (ACS) annual award's dinner, Senator Lundy commended Dr Choo "for making his mark in the burgeoning cyber security arena where he has focussed on cyber-crime and anti-money laundering".
Dr Raymond Choo
Photo: Dr Raymond Choo, Dr John O'Callaghan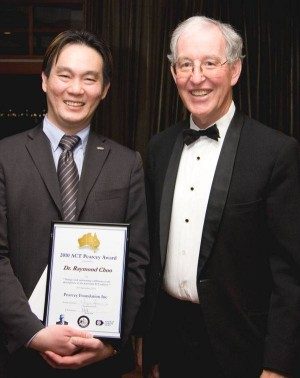 Dr Choo, a senior researcher with the Australian Institute of Criminology (AIC), is one of the leading thinkers in the burgeoning area of cyber security. He has developed a significant and substantial profile in both the academic community and in the ICT industry. This award now qualifies Dr Choo as a finalist for the 2011 Pearcey National Award to be selected from the winners of each state and territory Pearcey Awards.
During the evening proceedings which were the ACS ACT Branch annual awards evening, Dr John O'Callaghan, the 2005 Pearcey Medallist, spoke of his personal contact with Dr Pearcey and gave some anecdotal and personal history of Dr Pearcey's contribution to the Australian ICT industry.
The ACT Pearcey Award is aimed at encouraging and rewarding fresh and innovative talent in the ICT profession. It is awarded to an individual earlier in their career who have "taken a risk and made a difference" within the ICT industry. The award was sponsored by the ACT Government and the ACT Branch of the ACS.
See Press Release - Raymond Choo awarded 2010 ACT Pearcey Award
Follow-up
April 2017 - ACS article.