2016 ACT Award
At a gala dinner held in the Gandel Hall at Australia's National Gallery in Canberra, Dean Spaccavento was awarded the 2016 ACT Chief Minister's Pearcey Award.
In presenting the award, the Hon Megan Fitzharris, the ACT Minister for Higher Education, Training and Research commented that "Dean Spaccavento, through his company Reposit Power, is disrupting the energy sector. It is particularly pleasing to see a Canberra-based company kicking real goals throughout the country - and to be attracting real interest from the international market".
New energy systems have overcome the inherent intermittent nature of renewable energy sources and Reposit is at the forefront of the looming wave of distributed storage. The company's core intellectual property is their Internet-connected Linux-based management system that:
(a) optimises energy flows within a customers premises - between household usage, solar generation, the grid, battery storage - providing the user with a sophisticated portal to monitor;
(b) subject to the customer's consent, orchestrates a distributed array of small storage systems into a resource that can offer valuable services to the electricity networks - voltage stabilisation, etc - with monetary returns to the customer.
Photo: Dean Spaccavento receiving the 2016 ACT Pearcey Award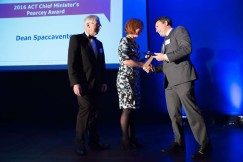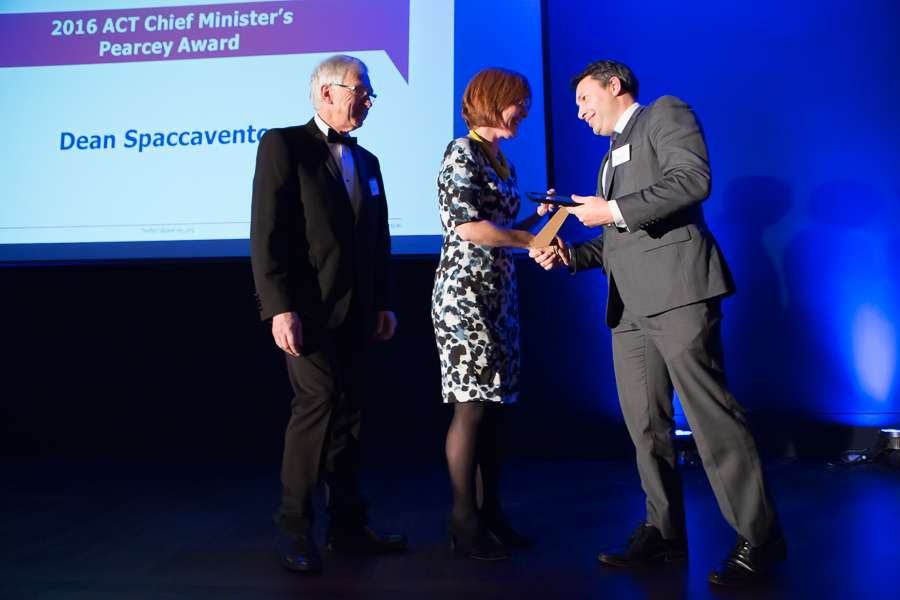 Coupled with these technical capabilities is a shift in customer sentiment - with growing concern for environmental sustainability, sensitivity to rising electricity prices and an emerging interest in reducing total reliance on the grid, Reposit Power is pioneering the move to maximise the efficient use of electricity on consumer's own premises. Dean's efforts are disrupting the existing players in the energy business with a highly competitive business model. Dean epitomises the role model of our new generation of well-educated young entrepreneurs across Australia.
Dean is founder, Chief Product Officer and CEO of Reposit. He holds a First Class Honour's Science Degree in Business Information Technology (1998 - 2002) from the University of New South Wales.