2014 Pearcey Hall Of Fame
At the 2014 iAwards Gala dinner held on Friday evening 29 August 2014 at Melbourne's Exhibition and Convention Centre, three eminent Australians were elevated to the Pearcey Hall of Fame - Mary O'Kane AC, Peter Vogel and Dr Bob Frater AO.
Mary O'Kane AC
(For details, see 2014 National Medal)
Peter Vogel
Wayne Fitzsimmons, Peter Vogel, Hon Paul Fletcher
At age 60, Peter can be described as a true Australian pioneer in electronics and and software who is certainly not afraid of controversy. He obtained his first patent (for a telephone trunk barring device) at the age of 16, and has been named the inventor on many patents issued since then.
By the age of 23, with his school friend Kim Ryrie, Peter had developed the world's first commercial sound sampling electronic musical instrument, the Fairlight CMI. During the eighties, the Fairlight was used by many of the world's leading recording superstars including Stevie Wonder, Kate Bush, Herbie Hancock, Peter Gabriel and most of the other big names of that time. New Scientist magazine said Peter is one of "three men who changed the sound of music… Modern music would probably sound very different without Bob Moog, Peter Vogel and David Smith… their ground-breaking work in musical technology led to three inventions that gave pop, rock and classical musicians unprecedented creative freedom." UNESCO says the CMI "transformed the music, post-production and broadcast industries, and helped position them on a course through the next century."
Peter has also designed a wide range of consumer and industrial devices, including "Vitalcall", a personal medical emergency alarm which 20 years later is still the market leader and continues to save many lives.
He has been particularly prolific in the television field. His inventions were directed at making television viewing more enjoyable, for example, by providing an on-screen program guide (EPG). His inventions included an effective device for removing commercials from TV recordings, which decades later brought him into conflict with television broadcasters. In 2003, he founded IceTV, which provided Australia's first subscription based electronic program guide for television, offering a TiVo-like service including the use of mobile phones and web browsers to remotely schedule digital video recorders to record. In 2006 IceTV was sued by the Nine Network who alleged that IceTV's EPG breached their copyright. The case was fought all the way to the High Court of Australia, which in 2009 ruled in IceTV's favour. The decision has been described in legal circles as a significant landmark in Australian copyright law. His expertise in this field saw him give evidence as an expert witness in a patent dispute in the UK high court in 2014.
In 2009, Peter announced that he would be producing a prestigious limited edition remake of the Fairlight CMI to celebrate the thirtieth anniversary of the first CMIs sold. The CMI-30A started shipping in 2011 and Peter's company is now developing lower cost keyboard instruments.
As well as developing new musical instruments, Peter Vogel is also: • Developing new technologies to make independent living safer and more enjoyable for the elderly, as CTO of Vitalcare Pty Ltd. • Advisor to Living PlanIT, a privately owned Swiss firm specialising in "Urban Operating Systems" aimed at improving the quality of life in cities through sustainable technologies based on the "internet of things". • Co-founder of Echidna Energy Pty Ltd, a start-up concentrating on providing renewable energy for Australia's remote and regional communities and industries. • Freelance journalist and blogger, having written opinion pieces for newspapers and magazines on subjects ranging from hybrid cars to government R&D policy • Technology Consultant to Mallam Lawyers Pty Ltd, a boutique Technology Media and Telecommunications law practice. (Peter is also studying law at the University of Sydney). • Developing a new type of baby monitor which makes the baby's heartbeat audible - an invention inspired by the birth of his 5th child in 2013.
As well as his contributions to the arts and technology, Peter has had long standing passion for social and environmental causes. In the 1970s and 1980s he was involved in campaigns which played a significant role in the eventual banning of cigarette advertising in Australia, notably BUGAUP. Peter also helped Rev. Ted Noffs establish "Life Education", which is now Australia's largest, independent health and drug education provider for school children.
Dr Bob Frater AO
Photo: Dr Robert Frater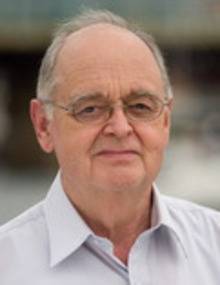 Bob Frater AO PhD DScEng Hon DSc (Macq) FAA FTSE
Robert (Bob) Frater AO began his career with AWA in 1954 as a trainee engineer in the Valve Company. He started as "battery boy" with the grave responsibility of keeping the batteries charged on the test equipment around the factory and setting the clocks. Later, he worked with the Applications Laboratory on aspects of design and manufacture of vacuum tubes, radio and television including his first transistor circuit design. He was a wireless and audio nut who used the Radiotron Designers Handbook as a bible, built the latest circuits from Radio and Hobbies and bugged the AWA engineers when he had a problem.
He completed his Science and Electrical Engineering degrees at Sydney University in 1959 and joined the Overseas Telecommunications Commission (OTC). He was then recruited to the electronics company Ducon by Ray Darnell, who had been his boss at AWA, to work on radio and TV design.
In 1961 he was invited back to Sydney University as a Nuffield Fellow to work on the electronics for the Mills Cross Radiotelescope - a role where he was able to undertake a PhD. During this time, he also contributed to Hanbury Brown's Stellar interferometer and the CSIRO Radioheliograph.
Bob then directed the electronics development for the Fleurs Radiotelescope and went on to be an academic in Electrical Engineering. The computer he used during his PhD was Silliac (1955) at Sydney University, Australia's second ever computer (to CSIRAC 1949). As he describes it, Silliac is 1 million times bigger than an iPhone and an iPhone is 1 million times faster than Silliac.
In 1981, Bob was appointed Head of CSIRO Radio Physics where he obtained the funding and built the Australia Telescope in Narrabri NSW. He was appointed to the CSIRO Executive in 1988 as Institute Director then Deputy Chief Executive.
Bob Frater has been awarded many honours for his work including Fellow of the Australian Academy of Technological Science and Engineering (FTSE), Fellow of the Australian Academy of Science (FAA) and in 1996, Officer of the Order of Australia.
Never one to sit still, Bob moved out of the public service in 1999 to advising many government and academic bodies (Australian Square Kilometre Array, CRC Committee, Macquarie University, RMIT Council, Sydney University, NICTA and many more). Currently he is CTO at Innovation Capital, Vice President for Innovation at ResMed Ltd and holds other consulting, advisory and Board positions.
Throughout his distinguished career Bob has consistently shown a willingness to share his knowledge and experience in assisting young scientists, engineers and entrepreneurs build their careers and businesses.