2019 Pearcey Hall Of Fame
Professor David Abramson, Sonja Bernhardt OAM and Bob Beaumont were elevated to the Pearcey Hall of Fame at the annual Pearcey National Awards dinner held on Thursday 14th November 2019 in Melbourne.
Prof. David Abramson
(See 2019 Pearcey Medal.)

Sonja Bernhardt OAM
Sonja Bernhardt is a champion of women in IT and an innovator behind results-achieving women in science and technology groups across Australia since the 1990s. Notably she co-founded both Women in Technology (WIT) in Queensland and AWISE (Australian Women in IT and Science Entity), a national Australia umbrella group. She continually stretches herself and her sphere of influence well beyond a regular work role, to inspire and engage others to deliver wide-scale programs creating professional and academic development opportunities for women in technology.
Sonja was awarded a Medal of the Order of Australia (OAM) for services to the IT industry (2011). In addition, she is the first Australian inducted into the Women in Technology International Hall of Fame (Silicon Valley 2005). Her peers recognize her as an action-oriented, results-achieving, role model who consistently delivers benefits through her innovation. Along with this recognition, she demonstrates a spirit of pioneering achievement and collaborative contribution to the development of the technology industries.
A disruptor behind the sometimes controversial - but always ground-breaking and effective - campaigns to raise awareness and encourage girls and women into technology careers. Bernhardt initiated community projects including "Screen Goddess IT Calendar", which featured 20 female role models in poses inspired by famous movies, "IT's Million $ Babes Award" recognising successful Australian female entrepreneurs, and "Doing IT Around the World", a diary and series of e-booklets featuring the work and lives of 36 women in technology across 24 countries on 11 August (chosen as the date Hedy Lamarr was awarded the spread spectrum patent). She truly believes "you cannot be what you cannot see".
Sonja has taken on a variety of volunteer positions to advance the world of tech she so passionately believes in. In 2010, she served as a technical, committee member of the Aged Care Industry IT Council. In 2009, she was elected as a foundation member of Aged Care IT Vendors Association. In 2008, United Nations supported International Taskforce for Women appointed coordinator for the Global Women and Technology Asia Pacific regional centre. In 2007, she volunteered as a member of APEC Digital Forum committee. Until 2005, she was both a member of the Federal ICT Summit Advisory Group and the Australian Government's Business Higher Education Round Table. In 2004, she left her appointed position in the Queensland Government ICT Ministerial Advisory Group in Industry Development after serving in that capacity for four years.
An active member of the Gold Coast ICT industry, she founded software development house ThoughtWare Australia in 1999. As CEO she launched ionMy governance, risk management, compliance platform in 2008 and the business has focused on the aged, community, disability and indigenous care sectors. Responding to an ageing population and the NDIS ionMY meets an increasing need for integrated accreditation, quality and HR. Before founding ThoughtWare Australia, she held a position as a consultant for Mincom Limited.
Sonja holds three management and information technology related degrees, a BA majoring in abstract algebra and psychology (University of Qld 1987), a Graduate Diploma in Human Resource Management (Qld University of Technology 1989) an MBA (Qld University of Technology 1992) and is a Certified Developer of Enterprise (CDE).  Bernhardt also researches and writes on the topic of gender equality in the tech sector. "Women in IT in the New Social Era: A Critical Evidence-Based Review of Gender Inequality and the Potential for Change" in 2014 and a follow up book co-authored with Patrice Braun and Jane Thomason.
Sonya believes in recognising excellence in the IT industry for both companies and individuals. She has been a judge for numerous awards in Queensland with WIT and the Australian Institute of Project Management. Internationally in 2002 with Asia Pacific ICT Awards (APICTA) and the 2002 World Congress "Secrets of IT Innovation" Awards and the Anita Borg Institute Social Impact Award Committee in 2009 and 2010.
Sonja continues to advocate for technology as a resident 'geek girl' on ABC Radio 91.7 Coast FM sharing technology news, hints and tips. Topics such as VR virtual tours and blockchain in aged care, AI and health demonstrate she continues to push the boundaries ensuring that society benefits from emerging technology.
Bob Beaumont
Photo: Nigel Warren (CSIRO), Bob Beaumont and Wayne Fitzsimmons (Pearcey)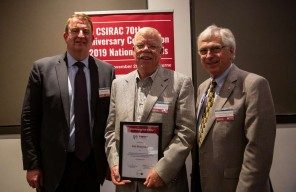 Bob Beaumont is a champion of "young at heart" technology entrepreneurs and innovators. He has always had a focus on the future of our nation and is the quintessential Australian 'quiet achiever'.
After a distinguished education in Australia and decorated military service he moved to the USA for further education and a first career in banking & finance. In the USA he built his own company in materials engineering which he grew and sold successfully, launching him into a career in venture capital. One of the first generation of Silicon Valley venture capitalists, Bob became an international authority on investing in and growing technology ventures. When Bob returned to Australia he was determined to create an Australian business environment to commercialise Australian innovation "for our nation and for our kids".
An untiring advocate for Australian ICT related innovation, he has supported hundreds of Australian technology start-ups directly who know him affectionately as "Uncle Bob". As a key adviser to our national and state governments, Bob was influential in the reforms to structure and operation found in the 2001 Corporations Act, which better enabled innovative companies to start, grow and thrive as large corporates.
Bob pioneered Angel investing in Australia in the early 1990s when he convinced the Federal Government and the Victorian Employers Chamber of Commerce and Industry (VECCI) to invite him to start Australia's first Angel Network. VECCI Business Angels Services ran for five years, made 100+ investments and raised over $130m, successfully tackling all the market barriers and cultures that had stifled entrepreneurship and the lack of seed capital. In collaboration with Robert Gottliebsen (Founder & Editor) BRW Magazine and Small Business Editor, Amanda Gome, for five years Bob ran the popular weekly "Angels Wanted" feature matching Angels with entrepreneurs. After VECCI Bob founded successor Angel group, Tech Angels Australia, to invest and advise some of the biggest ICT successes (Unicorns) in Australia, e.g. Aconex. An internationally respected adviser and contributor, Bob wove a global network of opportunity with governments, venture capitalists and Angel investor communities across Europe, UK, New Zealand, South East Asia and the USA, all for the benefit of Australian technology ventures.
He designed, developed and delivered programs for city, state and federal governments to promote and grow a successful innovation sector, with a particular passion for the ICT opportunities. Programs for which he was a key architect and director included Commercialising Emerging Technologies (COMET), Building on IT Strengths (BITS) and Commercialisation Australia (now Accelerating Commercialisation) at the national level and Victorian Employers' Chamber of Commerce and Industry's Venture Capital Access Program (VCAP) & Business Angels program, at the state level. He started the Australian Equity Association to address risk cultures and regulatory barriers.
Always passionate about the application of ICT to enable new and innovative businesses, Bob personally built the international bridges to facilitate Australian technology entrepreneurs understanding and gaining market entry to overseas markets with initiatives such as the VECCI Venture Capital Access Program, the UCLA Global Access Program (UCLA - GAP) and the HAAS Executive Venture Capital courses (San Francisco).
Bob's diverse career has seen him involved in family-based businesses in manufacturing, rural machinery, farming enterprises and print media while pursuing an early career in development, resources and asset finance with the Commonwealth Development Bank and Custom Credit Corp in Australia and a variety of International/UK/USA Investment Banks. He was CEO for Custom Credit, a Senior Lending Officer for Commonwealth Development Bank and held senior positions for US Capital and Pacific Venture Group.
A hallmark of Bob's untiring contributions has been a selfless, altruistic aim to "make Australia better". He has never sought recognition nor accolades, content with being a truly humble and quiet achiever, working behind-the-scenes for the benefit of Australia. He has done great things for our nation and he has been a source of inspiration, mentorship, advice and encouragement for thousands of Australians in the ICT sector.