2009 NSW Award
he 2009 NSW ICT Entrepreneur of the Year was awarded to Ian Gardner, founder of online video and digital media specialist Viocorp.
The award was presented by the Hon Ian MacDonald MLC, Minister for State Development, Primary Industries and Mineral Resources at NSW Parliament this evening and including many of Australia's top entrepreneurs, business leaders, politicians, students and academia.
Ian Gardner
"Not only has Ian built a great company, he has been a strong supporter for the industry and other entrepreneurs, including being a co-founder of the Innovation Bay." Said Charles Lindop, Chair Pearcey Foundation NSW and MC for the awards evening. "This year's awards demonstrate the global impact of entrepreneurial talent in NSW. The Pearcey Foundation has once again proven Australia has innovators equal to the world's best, and with the global reach of the internet, we are seeing our innovators able to fully capitalise on their capabilities and conquer the world".
"Our judges had a very difficult time in choosing a winner from such a talented pool and we are giving recognition awards to all of them. In the end Ian Gardiner pipped the others because of the scale of his voluntary industry contribution, technology innovation and commercial successes. Having said that, all these entrepreneurs are amazing and great role models" said Silvia Pfeiffer, CEO of video technology firm Vquence and chair of the judges. "We wish all of them the very best of endeavours in their careers, and thank them for already having done so much for our industry".
Special Recognition Awards
Photo: 2009 NSW Special Recognition Winners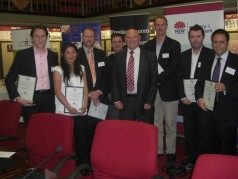 Such is the depth of entrepreneurial talent in NSW we have instigated a "hall of fame" series of special recognition awards. Winners have to demonstrate not only entrepreneurial talent, but innovation, commercial success, local/global impact on their chosen profession, and a contribution beyond the requirements of their "day job".
The following people received special awards.
Elias Bizannes, Vast.com - founded "Silicon Beach" a web2.0 community of Australian entrepreneurs. Now pursuing entrepreneurial ventures in Silicon Valley.
Scott-Bradley Pearce, Executive Producer One in Ten Productions, who has contributed enormously to the development of the digital media community in NSW.
Robert Castaneda, founder Customware, one of Australia's fastest growing global web and IT services businesses.
Tarik Hammadou, founder of award winning video camera analysis/global security firm, Digisensory.
Bart Jellema and Kim Chen, founders of the highly successful Web coupon business Tjoos, and tireless supporters of the Australian StartupCamp and BootCamp entrepreneur workshops.
Ryan Junee, an Australian silicon valley-based entrepreneur, who sold his business Omnisio to YouTube in 2008 for $US15m.
Robi Karp, founder of software firm Fluffy Spider and open source industry supporter, whose technology is now in hundreds of millions of embedded devices worldwide.
Ben Keighran, a silicon valley based serial entrepreneur and founder of venture capital backed mobile phone social media company Bluepulse.
Aidan Williams, technologist and founder of Audinate, one of the most successful spinouts from Australian research organisation NICTA
Jonathon Wolfe, serial entrepreneur and founder of several spinouts from ICT research institutes at Sydney University, Macquarie University and the Smart Services CRC
Anthony Woodward, technologist and founder of Cloud Computing / hosted infrastructure firm Bullet Proof Networks
Young Guns Debate
Photo: 2009 NSW Young Guns Debate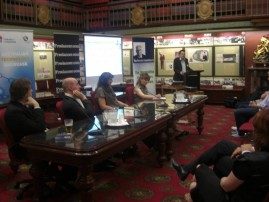 The awards included a very lively "Young Guns" debate on how to turn the youth of today into the industry leaders of tomorrow, "There is a great spirit of entrepreneurship in Australia but still much that government, academic and industry leaders can do to foster this and turn Australia into the clever country" said the debate chair Mark Jones of Filtered Media and the Australian Financial Review.
Debate discussion points included:
The important opportunity created by the National Broadband Network and Web2.0 - Senator Kate Lundy MLC
The need for favourable environment for entrepreneurs including taxation of equity and options, and for an improved visa system - Matt Barrie and Mike Cannon-Brookes
Failures in secondary education ;leading to a lack of knowledge of the ICT industry amongst the youth of today - Silvia Pfeiffer
Failures in secondary and tertiary education leading to a poor understanding of entrepreneurial ventures - Silvia Pfeiffer, Matt Barrie amd Mike Cannon-Brookes
As a follow up, Mark Jones (Financial Review) did a couple of interviews around "The Future of ICT Education" with Senator Kate Lundy; Pia Waugh (ICT Policy Advisor for Senator Lundy) Matt Barrie (CEO and founder, Freelancer.com) and Silvia Pfeiffer (CEO and co-founder, Vquence).
Finally, the evening included a discussion on eDemocracy. Led by Senator Kate Lundy and Penny Sharpe MLC, the discussion looked at how web 2.0 social media technologies is changing the way governments and businesses can interact directly with broad constituencies. Here's a copy of Kate's slides - Kate Lundy Presentation(PDF, 381 KB).
Sponsors
Photo: 2009 NSW Sponsor Thank You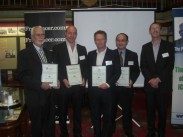 Many thanks to our sponsors! The ICT Entrepreneur of the Year award includes a cash grant, and was supported by NSW Industry and Investment, the Australian Technology Showcase, NICTA, the Australian Computer Society and Freelancer.com. The Pearcey Foundation wishes to thank its sponsors, without whom the debate and awards evening could not have taken place.





About Pearcey NSW
The Pearcey NSW committee consists of a series of volunteers crossing all aspects of the ICT and digital media industry, including industry associations ACS, AIIA, AIMIA.
Winners are also members of the committee.
NSW Pearcey Committee
Charles Lindop (Co Chair)
Phil McCrea (Co Chair)
Len Rust
Darren Besgrove
Annette Dockerty
Rachel Slattery
Barry Wong
All Previous Winners (see below)
For more information on the NSW Pearcey Awards please call co-chairs
Phil McCrea (02 9209 4600)
Charles Lindop (0419 224 214)