2015 Pearcey And Benson Awards
Celebrating those who create their own path, the Pearcey Awards were held in conjunction with the ACS Disruptors Awards at the gala dinner held on Tuesday 17 November 2015 at the Sydney Star.
2015 Pearcey Medal and Hall of Fame
David Merson, Geoff Huston and Adrian Di Marco were elevated to the Pearcey Hall of Fame. David Merson was presented the 2015 Pearcey Medal by Hon. Victor Dominello, MP, NSW Minister for Innovation and Better Regulation.
Dr David Merson BEng University of Qld 1963, B Econ. 1968 Univ of Qld and retired CEO of Mincom. David has been prominent in the national ICT scene for many years and a highly visible leader in Queensland. He currently is a board member in two startups in Queensland.
2015 Benson Entrepreneur Award
Photo: Adrian Turner, Tim Power and Rick Harvey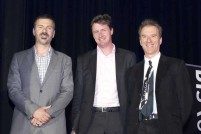 The 2015 Benson finalists were Greg Boorer (ACT), Wayne Gerard (Qld), James Rigall (Tas), Alison Hardacre (Vic), Clinton House (WA) with the 2015 Benson Entrepreneur of the Year awarded to Tim Power (NSW) presented by Adrian Turner from Data61 CSIRO. View the full program here(PNG, 475 KB).
Tim Power is MD and founder of 3P Learning, an online education company that listed on the ASX last year valued at over $300m. He is behind some of the world's leading learning communities and events in including the World Education Games, Mathletics, Spellodrome, Into Science and ClickView across 13 countries.
2015 Pearcey Oration
Photo: John Grant giving the 2015 Pearcey Oration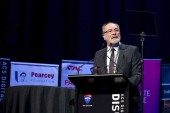 The evening also the Pearcey oration delivered by Mr John Grant, Managing Director of Data#3 and Chairman of the Australian Rugby League Commission. Although well known as a national sporting identity, John has been involved with ICT for most of his professional career and was recognised by his peers for his lifelong contribution to our industry when awarded the Pearcey Medal in 2010. During his term as Chair of the Australian information industry Association (AIIA) he worked closely with Ian Birks, the then CEO of AIIA who sadly passed away this year. John recognised Ian's service to our industry and remembered their time promoting the digital economy through forums such as the Australian Government's IT Industry Innovation Council. Ian's foresight and industry leadership will be sorely missed.
Please see 2015 Pearcey Oration for a full transcript.