2012 NSW Award
The Pearcey NSW 2012 "Entrepreneur of the Year" Award was jointly presented to Mitch Harper and Eddie Machaalani (founders of BigCommerce) and Jo Burston (founder of JobCapital and other companies).
This prestigious award is aimed at encouraging and rewarding fresh and innovative talent in the ICT and Digital Media professions. The award goes to an individual during his or her career who has demonstrated innovative and pioneering achievement and contribution to technological development in NSW. The winner is typically in "mid career" and is selected through peer judging by previous winners of the award and members of the NSW Pearcey committee.
The 2012 Award presentation took place on Wednesday 17 October 2012 at the NSW Parliament Theatre 5.00pm-7.30pm with special guest the Deputy Premier, the Hon Andrew Stoner. This year there were joint winners, with the presentation being made to Jo Burston, founder of "new age" professional services firm Job Capital, as well as Mitch Harper and Eddie Machaalani, founders of e-commerce platform company BigCommerce.
For full details see Press_Release - 2012 NSW ICT and Digital Media Industries Entrepreneur of the Year.
Head of judges and ATP-Innovations CEO Hamish Hawthorn said:
Photo: Pearcey NSW 2012 Audience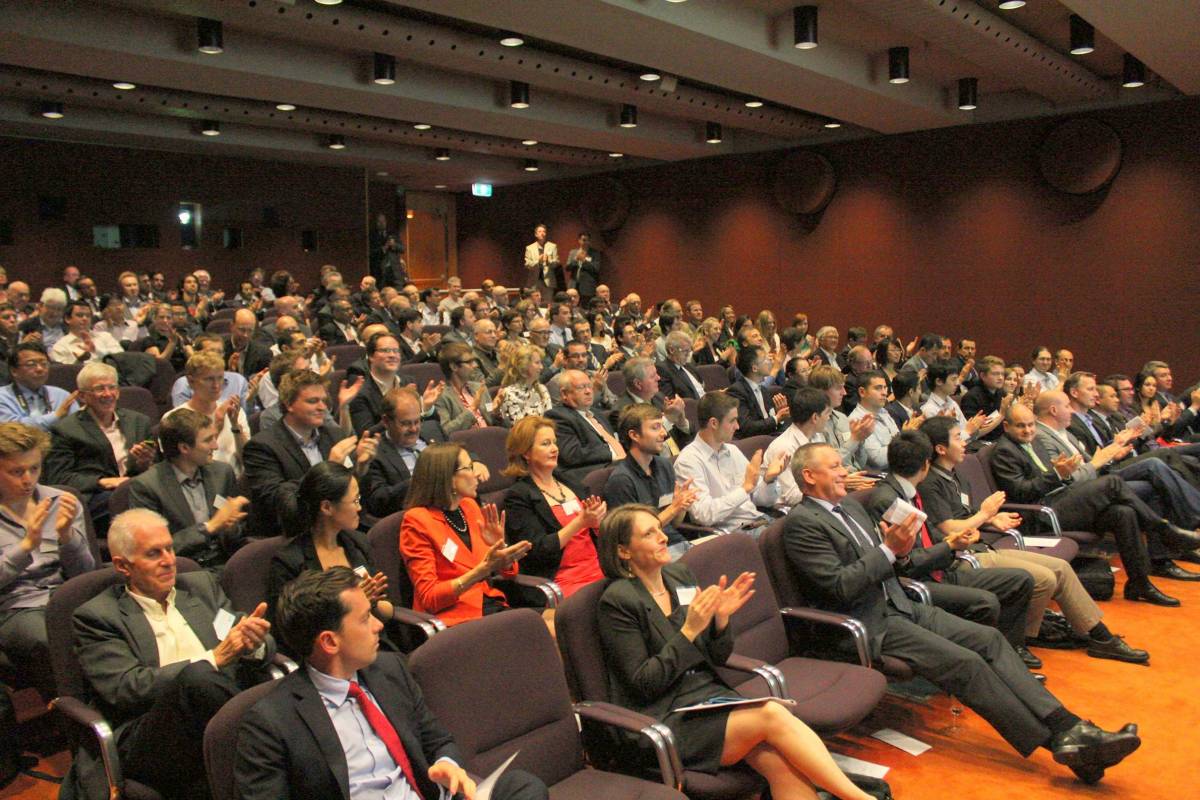 "Mitch (Harper) and Eddie (Machaalani) have boldy gone where many have failed, and established a highly successful software business, in a very competitive market segment, taking the US by storm. In the process, they were courted by top US venture capitalists, resulting in $35m investment from General Catalyst. Keeping their Sydney roots, they prove we have talent equal (or superior) to that in the US, and are an inspiration to a whole generation of entrepreneurs and startups."
"Jo (Burston) on the other hand has focussed on the local market, developing an innovative "technology-led" delivery model for well-established services around personnel, taxation and payroll. Her achievement has been to build a very large and successful business with excellent growth, and in particular, to prove woman make re-eminent entrepreneurs. It is unfortunate that most entrepreneurs seem to be male. We need people like Jo to encourage other females, to pick up the gauntlet, and create outstanding businesses. 85% of the economy is in services; Jo, and firms like Job Capital, prove the power of technology to change and enhance business service delivery and outcomes."
Hall of Fame
Inducted into the Pearcey Hall of Fame and receiving special recognition awards for their entrepreneurial talents and industry contribution were (alphabetic sequence):
Aidan and David Tudehope Macquarie Telecom
David and Aidan Tudehope were amongst the first people to capitalise on the deregulation of Australia's telecommunications industry in 1992. Keen to exploit the chance to compete with incumbent carrier Telstra, the brothers - then in their early 20s - cofounded Macquarie Telecommunications and set about carving out a niche in a rapidly evolving market. The company listed in 1999.
As CEO, David Tudehope is responsible for general management and the strategic direction of the company. Meanwhile Aidan is managing director of the company's hosting business. The company was an early entrant into the cloud computing market and has invested millions of dollars establishing a series of cloud-ready hosting facilities in Australia and are aggressively courting potential customers.
Alex Brooks, Tobias Kaupp, and Alex Makarenko Marathon Targets
After developing an autonomous live fire robotic training system for the Australian SAS, the founders spun the technology out of the University of Sydney (from the Centre for Field Robotics) - forming Marathon Targets. Their first customer was the US Marine Corp, with a potential order of $50m of robots. They have continued to build out the product range with all-terrain robots, and achieved sales to other military organisations around the world.
The founders have been active contributors to the commercialisation ecosystem - sharing their experiences of successfully spinning technology out of a university. They actively mentor and recruit early career researchers and engineers and are leading the charge in commercial applications of autonomous vehicle technology.
Bardia Housman StartupHQ and Business Catalyst
After starting Business Catalyst in 2004, he took the company over to the US and built it into a successful business. The company grew market share and traction, and in 2009, it was acquire by Adobe. The product is now a key part of Adobe's SME portfolio. After leaving Adobe in 2011, he bought a building in Soma, San Francisco and created StartupHQ - a coworking space for startups.
Through StartupHQ, Bardia has built an ecosystem to support startup companies and in particular, a launch pad for Aussie entrepreneurs to enter Silicon Valley. He is hugely supportive of Aussie entrepreneurs and leverages his connection to help those following in his footsteps.
Ben Keighran and Cathy Edwards Chomp (now part of Apple)
Founders of Chomp - an apps search engine. In February 2012, Apple bought the company for a reported $50m in cash and rolled the technology into the iTunes Apps Store. The company had grown to 20 employees and raised $2.5m in venture funding from notable Silicon Valley investors.
Have led the charge for Aussie startup entrepreneurs into Silicon Valley. With the exit of Chomp behind them, they are active in the Valley helping Aussies get connected and to launch their ventures into the US market.
Dave Stevens Brennan IT
Dave Stevens is the founder and MD of Brennan IT - one of the fastest growing technology businesses in Australia. The company is a leading provider of ICT and infrastructure solutions targeting the mid-market sector. Prior to founding Brennan IT in 1997, Dave worked in IT consulting, specialising in the rollout and management of large-scale infrastructure projects.
Dave had built a great business that continues to grow rapidly, providing opportunities for the ICT sector here in Australia. With its leading position in the market, the company is leading the transition to cloud-based technologies.
Jo Burston Job Capital, SignEzy
Jo founded Job Capital in 2006 and has built the business into a highly successful company, providing a range of payroll and salary packaging services. She is now onto her next startup with SignEzy. Jo's achievements include being named as one of Australia's Top 30 female Entrepreneurs by SmartCompany. Job Capital also won the inaugural StartupSmart - Fastest Growing Business in Australia in 2011. She was a nominee for E&Y Entrepreneur of the Year for 2012.
From its launch in 2006, Job Capital, has turned over $26 million in 2010 - 12, and is on track for a $40 million turn over in 2012. The company's continuous growth is a testament to Jo's leadership and her ability to inspire the team to achieve and continuously innovate her business.
Luke Janssen & Oliver Palmer Tigerspike
Tigerspike is a personal media (mobile and tablet devices) technology company. After building a ringtone company, Luke and his co-founder Oliver Palmer started Tigerspike with $10k in startup capital, building a business that has had 100% growth year on year for the last 8 years. The company secured a strategic investment last year and has offices in Sydney, Melbourne, London, New York, San Francisco, Singapore and Dubai. Luke was a finalist for the E&Y Entrepreneur of the year in 2012.
Whilst currently in Singapore, Oliver and Luke speak at schools about entrepreneurship, sharing their experiences and the journey he has travelled. They also participate in MIG, MEGA and ADMA. They are committed to building an entrepreneurial culture within Tigerspike and more broadly in the ICT industry. In 2008, Tigerspike set up its Innovation Lab - developing the next generation of technologies in the encryption and compression space - disrupting the whole mobile sector.
Mitch Harper and Eddie Machaalani BigCommerce
Harper and Machaalani's startup company, BigCommerce provides an e-commerce platform for 25,000 online stores and is expected to turn over $20 million this year. Last year BigCommerce's business secured a $15 million investment from major US venture capital group, General Catalyst, with a follow-on investment (from Floodgate's Mike Maples) of $20m completed recently.
BigCommerce now has offices in Sydney as well as Austin, Texas, employing 130 people with plans to double their staff in the next two years. With 680 per cent growth last year alone, BigCommerce is now the fastest growing e-commerce platform in the world. The founders are committed to building the industry here in Australia and have kept their core engineering and product development teams in Australia.
Nick Holmes a Court Buzz Numbers
Nick Holmes a Court is the founder of BuzzNumbers - a company that help large companies track, measure and understand what people are saying about them online - across news, sites, blogs, social media and networks, and websites. He built the company from startup, seed funding, customer traction and on to exit through the sale of the business to Sentia Media in 2012.
Nick is a tireless contributor to the NSW ICT industry. An active mentor in the Startmate and Pushstart seed accelerators, he has been generous with his time and experience to help others in the industry. Passionate about the sector, he has lead the development of analytics and analytical tools to leverage new media technologies.
Niki Scevak Startmate, HomeThinking
After a successful transition to the US with Jupiter Research, Niki started his own company - HomeThinking - in New York. HomeThinking helps home owners find a realtor based in the realtor's past performance and reviews. In 2010 he returned to Sydney and founded Startmate - Australia's first web and mobile seed accelerator - offering mentoring and seed investment to engineering-led teams.
Startmate has helped 13 startup launch, with notable success including Grabble's acquisition by Wal-Mart Labs; FlightFox being accepted into Y Combinator; Scriptrock securing Peter Thiel as an investor; and NinjaBlocks running a hugely successful Kickstarter campaign. He is now expanding his activities in the venture capital sector with the establishment of Blackbird - an early-stage VC fund back by successful entrepreneurs
Robert Yearsley CollusionApp
Founder of CollusionAps - an iPad productivity and collaboration app that focuses on converting the iPad into a media creation tool. Ran a very successful Kickstarter campaign to fund the development of the product, leverage social media techniques to drive customer engagement.
Not only is he making big waves with his current startup, he is also an active altruist as a co-founder of a Sydney incubator, doing great work encouraging entrepreneurs. In the past he ran a company which got to term sheet stage with Intel at $150 mill valuation
University Pitching Competition

Photo: Winners of the University Pitching Competition - Luke Marshall and Sam Killin from UNSW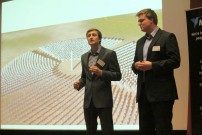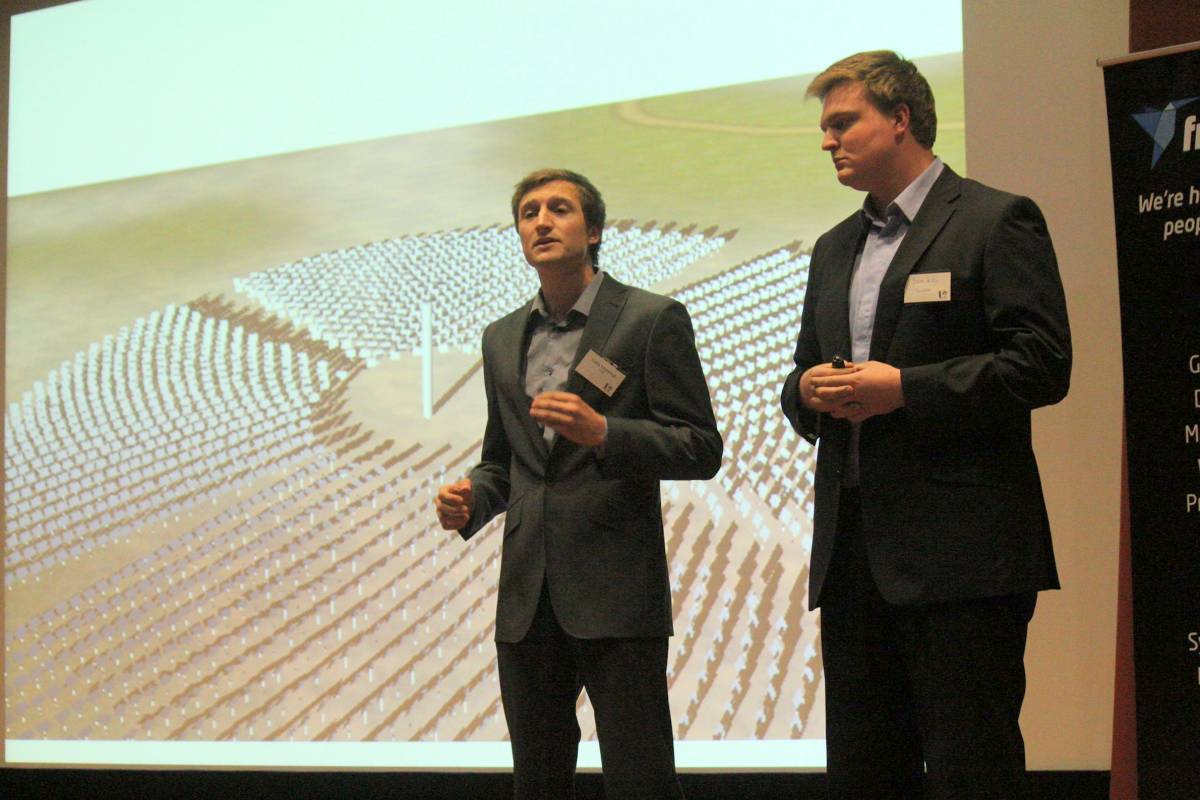 Winners of the University Pitching Competition - Luke Marshall and Sam Killin from UNSW
Prior to presenting the award a Pitching Competition was held where researchers from NSW Universities got a chance to spruik their business plans and ideas before a panel of industry judges and a savvy audience of technology movers and shakers. There were 10 entries in all, with the results as follows:
First place: Luke Marshall, Sam Killin (UNSW) - software tools for large-scale solar thermal power plants
Second place: Anthony Simonetta, Parth Gandhi, Chris Micheli, Nicolas Davies (USyd) - SimplyTrade: Workforce automation for Tradesmen.
Equal Third place: Mandy Zhang from Chain-die forming (UoW) - revolutionary technology to produce advanced high strength steel structural parts of motor vehicles.
Equal Third place: Angela Mariani, Emila Yang, John Haire, Nicholas Tong, Ramona Morad (USyd) - The Don't Panic Button: A Device for the aged & elderly.
Audience prize: Yan Shvartzshnaider, Tasnuva Chowdhury, Mei Ling and Weiwei Zhao (USyd) - InfoSell: an opt-in marketplace for users to profit from their personal data.
Sponsors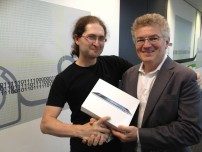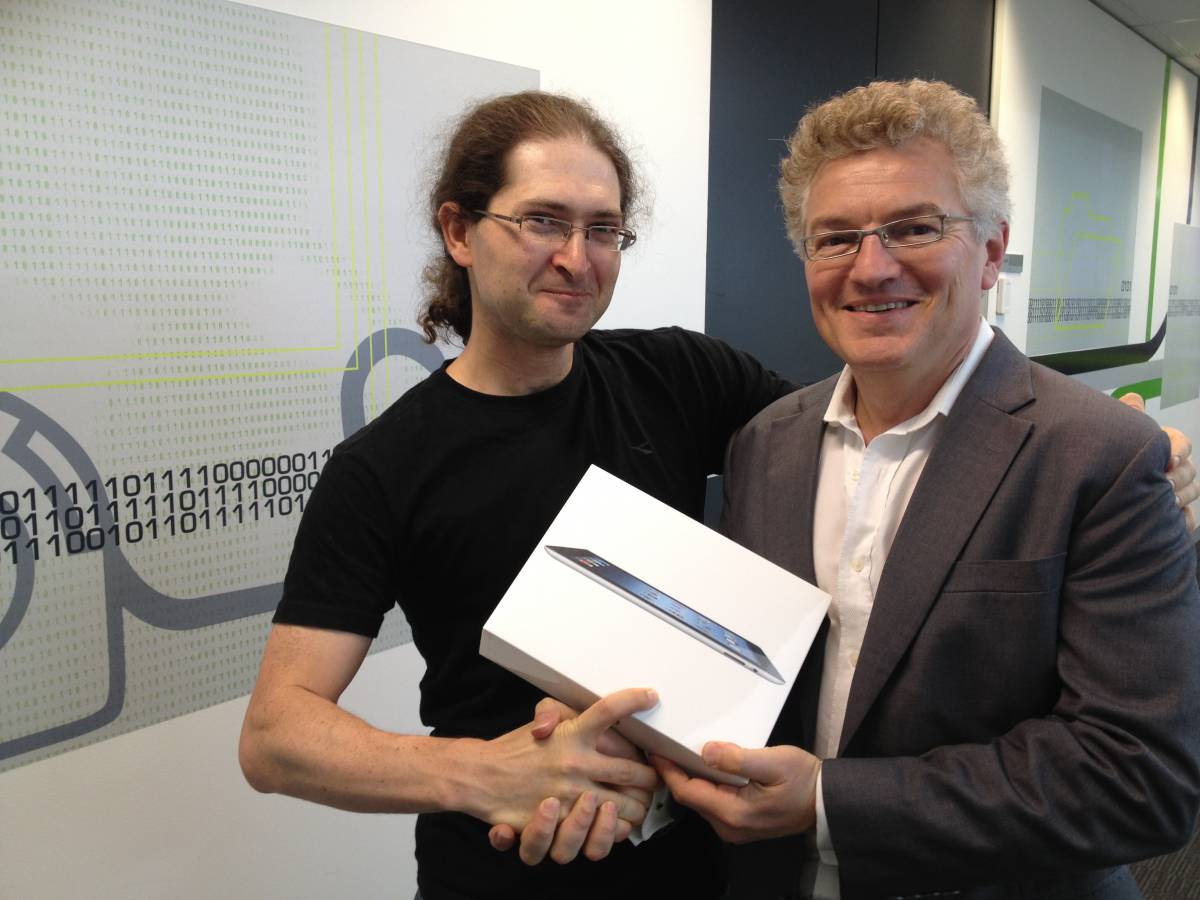 Photo: Yan Shvartzshnaider receiving his iPad (courtesy of Optus) for the Audience Prize from Dean Economou
A big thank you to our sponsors for this year: