2021 SA Award
The 2021 Pearcey Entrepreneur Award was presented to Mohan Koo, co-founder and Chief Technology Officer of world leading cybersecurity provider DTEX Systems. The Award was presented at a small ceremony on 15 November 2021 at Lot 14 in Adelaide, attended by Pearcey Committee members, previous Pearcey Entrepreneur Awardeees, and special guests Andrew Nunn, SA Chief Entrepreneur and Alan Noble, ex CTO, Google.
Mohan Koo
Mohan was born and grew up in Adelaide. Early on in his career, he noticed businesses moving from paper to computers without security and all based on trust. Following a role to track down fraud within a company, Mohan foresaw that there were emerging opportunities in cybersecurity. This was in the late 1990s, long before cybersecurity became recognised as an ever-growing problem.
After co-founding DTEX in Adelaide in 2000, he pursued customers with a need for enterprise-scale cybersecurity solutions driven by behavioural science - firstly in Australia, then the UK and Silicon Valley - all the time developing more technologically sophisticated whole-of-enterprise solutions. Mohan returned to Adelaide in 2018, coinciding with his appointment by Premier Steven Marshall to South Australia's inaugural Entrepreneurship Advisory Board.
DTEX has grown to be a significant global security company with customers including Fortune 500, government and military organisations. The firm's speciality is in one of the most difficult areas of cybersecurity - detection of insider threats and the proactive prevention of data loss incidents. DTEX has pioneered a privacy-by-design approach to enterprise data collection, understanding employee behaviour, real-time feedback of security risks and how to improve security operations. DTex has raised US$70m in multiple funding rounds with investments from three significant tier one Silicon Valley venture capital firms. They have appointees from the US Department of Defense and the NSA, growing to nearly 100 engineers and data scientists across Silicon Valley and Adelaide.
Mohan is highly regarded as a thought leader in the global cybersecurity industry. He is passionate about Australian innovation and the capabilities of data scientists, security specialists and AI skills in Adelaide, and is highly active encouraging cybersecurity skills in schools, industry and academia. He also helped to establish the Australian Cyber Collaboration Centre (A3C).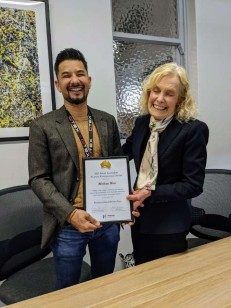 Photo: Mohan Koo and Susan Andrews
Susan Andrews, Chair of the SA Pearcey committee, commented:
Mohan Koo is an outstanding recipient based on the Pearcey Entrepreneur selection criteria of making a difference, taking a risk, and being an inspiration. His global tech achievements over more than 20 years and his entrepreneurial perseverance through tough times seemed remarkable. DTEX Systems is now widely recognised as one of the most trusted brands in the global cybersecurity arena, relied upon to protect the workforce, data and systems of the world's most critical infrastructure entities, businesses and government agencies. He has built a truly international security company and is a most worthy recipient of the 2021 South Australian Pearcey Entrepreneur Award.