2016 - 60 Years Of Computing In Victoria
14 June is an important date in Australian computing history and in particular for the Pearcey Foundation. It's the date CSIRAC was switched on at The University of Melbourne and began the first university computing facility in Australia.
So 2016 celebrates 60 years of computing in Victoria and The University of Melbourne hosted a series of events to mark the date. The Opening Reception on Tuesday 14 June at the Melbourne Museum had an official welcome by The Hon Philip Dalidakis, Minister for Small Business, Trade and Innovation. Data 61 and Melbourne Museum speakers shared their perspectives as did the Pearcey Foundation as a key partner.
Dr Peter Thorne recognised for his service
The University of Melbourne, School of Computing and Information Systems took the opportunity recognise Dr Peter Thorne for his commitment to preserving CSIRAC and Australia's computing history. Justin Zobel, Head of School presented a plaque. Peter provided the keynote at the Friday finale at the Computer History Forum(PDF, 2.4 MB) where the past and future were woven together at the final home of CSIRAC, the Melbourne Museum.
Women in IT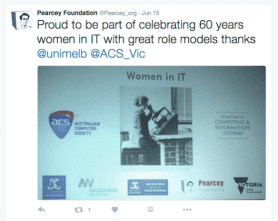 Photo: Celebrating 60 years of Women in IT
The Australian Computer Society hosted a Women in IT Lunch on the Thursday with Cecily Macdougall from the ACS will be our host, moderated by Karin Verspoor, PhD Associate Professor, Dept of Computing and Information Systems. which provided great role models for our sector with an impressive panel:
Mr Mark Johnson, Principal, Shine Technologies
Ms Cecily Macdougall, Victorian Branch Executive Committee Member, Australian Computer Society
Prof Liz Sonenberg, Pro-Vice Chancellor (Research Collaboration & Infrastructure), The University of Melbourne
Ms Neha Soni, Business Analyst, Deloitte Australia
Mrs Wendy Stops, Non Executive Director, Commonwealth Bank
Dr Leonie Walsh, Lead Scientist, Department of Economic Development, Jobs, Transport and Resources, State Government of Victoria
Pearcey Foundation Chair's Opening Reception Speech
Photo: Wayne Fitzsimmons speaking at the Opening Reception 14 June 2016
Watch an excerpt of the speech given by Wayne Fitzsimmons, Chairman of the Pearcey Foundation at the Opening Reception at the Melbourne Museum #Periscope: #CSIRAC 60 years of computing in Victoria or read the transcript below.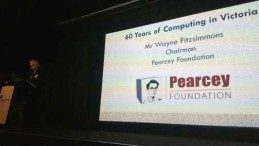 "I am delighted to be here this evening to share in this celebration of 60 years of computing in Victoria. June 1956 was a notable time for me personally. To a 12 year old boy living in Brisbane, Melbourne was the centre of the Universe with the Olympic Games about to commence. And Melbourne University was about to 'adopt' CSIRAC from the CSIRO and launch computing in Victoria

Our personal memories of those old enough to have been around at the time, probably reflect our society's attitudes and values - most Australians can relate to the Melbourne Olympics and have never heard of CSIRAC!

The Pearcey Foundation's raison d'être is, to a large extent, driven by this paradox. We Australians have been so successful in the world of sport, we often fail to recognise how successful we have been and continue to be in so many other fields of endeavour, internationally.

The Pearcey Foundation was founded in 1998 following the death of Dr Trevor Pearcey. Trevor, as you may know was the leader of the team at CSIRO who over 1947-49 period designed, built and set to work Australia's first stored program computer (and the world's fourth ever built) which we are standing in front of this evening. I would like to recognise Ian Dennis, our inaugural Chairman, who is with us here tonight, and thank him and our many volunteer committee members around Australia, some of whom are also here this evening.

CSIRAC and Pearcey are true iconic and pioneering figures in Australian history. The Pearcey Foundation commemorates Trevor Pearcey and his association with CSIRAC by awarding prizes each year in his name.

I wish to congratulate the University of Melbourne, CSIRO and the Australian Computer Society (represented here tonight by the Victorian Chairman Craig Horne) for ensuring this anniversary does not pass without notice. Also to the Melbourne Museum and the Victorian Government we say thank you for locating this unique electronic device here and ensuring the significance of ICT in sustaining Australia's diverse and highly successful economy, is not lost on the citizenry of Australia and our many international visitors.

The Pearcey Foundation's blue ribbon award is the Pearcey Medal, presented each year since 1998, to an Australian who has made a substantial lifelong contribution to the ICT sector. Whilst these Medallists may not be household names, let me give you just three to illustrate why this award is now considered by many as the most prestigious individual ICT award in Australia.

Trevor Robinson 1999 - a Victorian and close friend of Trevor Pearcey, Trevor Robinson set to work a Defence Signals code breaking computer and ultimately was a major player in the development of DIP, the famous 1950s Digital Impact Predictor, at the Woomera Rocket Range. As Australian CEO of Control Data, he also co-designed the CDC 3600 computer, and installed ten in CSIRO in the 1960s. 2Final draft 13-6-16

Lindsey Cattermole 2003 - a well-known Victorian entrepreneur who has been a distinguished and influential figure in the Australian ICT industry for thirty years, building one of the nation's largest and most successful software and services companies, Aspect Computing. She took a prominent role in promoting the industry through her leadership of national and international bodies.

Prof Murray Allan 2009 - Murray's name is synonymous with the design of hardware platforms in many of Australia's first digital computers covering ADA, the first fully transistorised machine designed in 1955, SNOCOM, and then in 1963, CIRRUS, a micro-programmed machine which was one of the world's first multi-user multi-programmed computers. Murray also worked on one of the world's first RISC machines during the late 60's.

Whilst these are very technical achievements, they illustrate how Australian scientists and entrepreneurs have remained at the forefront of the adoption of advanced computing technologies.

We also present each year, a national entrepreneur award selected from the seven Pearcey State Award winners. For example in 2011 here in Melbourne at the annual iAwards presentation, (which continues to be supported, I might add, by our Government here in Victoria), the Rasmussen brothers were recognised for creating Google Maps out of their garage in Sydney, another iconic name alongside WiFi invented again by CSIRO.

We use our awards program to, well blatantly, promote the ICT industry to Australia and Australians.

Clearly the role of ICT has evolved to be a major element of Australia's economy let alone Victoria's.I would go so far to say that ICT underpins pretty well everything we do including our major industries.

We, at the Pearcey Foundation, feel that our sector is not taken seriously by policy makers and legislators. This is no one else's problem but ours! For our part we have developed a plan to change the status quo. In July 2015, some 15 Pearcey stalwarts gathered at Swinburne University to develop a plan to create a new research body directed at increasing the value and success rate of research commercialisation. In this way we can demonstrate real industry-led leadership to Australia. We hope to show what alternative paths we might follow to successfully adapt to, and adopt, new and emerging technologies developed here or internationally.

I am especially excited tonight to announce the establishment of the Pearcey Institute, a not-forprofit tax-exempt accredited private research body. The PI will draw upon existing academic institutions, CSIRO, Industry Associations, CRCs, Industry Growth centres as well as industry expertise to collaborate on this broad high impact topic. Among other things, the Pearcey Institute plans to broker socio-economic research into the impacts of disruptive technologies in the Australian context.

The PI is building directly upon the work undertaken by the Centre for Innovative Industries Economic Research (CIIER) which since 2005 has undertaken numerous studies of the Australian ICT sector, for State and Federal Government, including the 2008-13 ACS Statistical Compendia. The body of research and data created at CIIER over ten years is now part of the PI's Intellectual Property. We are indebted to Ian Dennis for assisting the transition of CIIER into the Pearcey Institute.

Our first project commenced in March 2016 led by Professor Leon Stirling and Mr Colin Farrelly. The topic is quantifying the impact of Unmanned Aerial Vehicles (UAVs or drones maybe more familiar terms used to describe these robots). We also are examining several use case environments across Mining, Petroleum, Energy, Infrastructure, Agriculture, Health and possibly more. As well the PI is 3Final draft 13-6-16 looking at an economic review of a new IT supported cancer patient support project about to commence trials at Melbourne's St Vincent's Hospital. We are also supporting early career researchers with Ms Kelly Hutchinson's PhD project into Digital Social Innovation at the University of Melbourne. Finally we are seeking broad private and government support to undertake these research initiatives.

Watch this space!

Ladies and Gentlemen, tonight we are celebrating 60 years of computing in Victoria, right here in front of this iconic symbol of Australian ingenuity and success. We believe the creation of the PI is a practical realisation of a maturing Australian ICT sector's attitude to openly discussing how we, as a nation, can positively exploit the opportunities arising from emerging and potentially disruptive technologies. We are building upon Trevor Pearcey's 1949 bold initiative.

Rather than wring our hands when we are facing disruption to our society by new and relatively unknown technologies, we believe our society is well prepared, and has the capability, to address and resolve these challenges with a multi-disciplined approach. We can readily draw upon our indigenous expertise from the best qualified experts wherever they located are across our great nation - and all driven from Melbourne, Victoria!

Thank you again Justin and Leon for focussing all of our minds on the significance of this great milestone, not only for the University of Melbourne but more importantly for the State of Victoria and dare I say it….the whole of Australia. Thank you!"

Wayne Fitzsimmons, Chairman of the Pearcey Foundation
Further Reading
Melbourne Uni Commemorative Magazine - 60 Years of Computing in Victoria(PDF, 1.6 MB).
Melbourne Uni Newsroom - Celebrating 60 Years of Victorian Computing
ABC News - World's oldest computer: Melbourne University celebrates 60 years of CSIRAC
RRR News - 60 Years of Computers