2004 Tas Award
The 2004 Inaugural Tasmanian Pearcey Award presented to joint winners Chris Dalton & Anthony Scotney. The presentation was made by Lara Giddings, Tasmanian Minister for Economic Development and the Arts, at the Tasmanian ICT Industry Awards in Hobart, on the evening of 12th November 2004.
The award is given annually to a person early in their IT career who has demonstrated innovative and pioneering achievement and contribution to research and development. Both winners have demonstrated a commitment to IT Research and to pursuing the commercial application of that research.
For more information on the 2004 Tasmanian ICT Awards please click here.
Chris Dalton
Photo: Chris Dalton, joint winner 2004 Tasmanian State Pearcey Award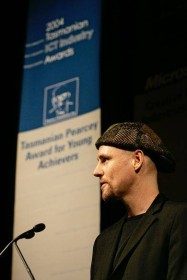 Chris Dalton, joint winner 2004 Tasmanian State Pearcey Award
Chris Dalton is founder and Managing Director of ALife Consulting. Since it's incorporation in 1998, ALife has brought a world-class product to market with the first enterprise license sale occurring in 2002.
With over 9 years of architecture/design experience using leading edge technologies, Chris brings high levels of project management, analysis and design implementation to his projects.
Chris undertakes responsibility for technology related decisions in conjunction with Business Architects to deliver innovative solutions for commercial and government clients.
Anthony Scotney
Photo: Anthony Scotney, joint winner 2004 Tasmanian State Pearcey Award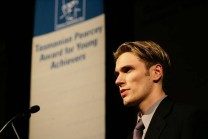 Anthony Scotney, founded JadeLiquid Software to develop unique components for the Java programming language. He designed and developed WebRenderer, a native rendering component for Java which overcomes a major deficiency in Java.
Anthony worked hard to build credibility with the company's target market - international blue chip companies. Part of this approach involved gaining the support of large reference organisations which would give credibility to the product. This led to the establishment of key partnerships with SUN, IBM and EDS.
Now 23, Anthony is CEO of a company that now has established an internationally recognised technology, has customers in 12 countries and is earning 98% of its revenue offshore.
Sponsors
The Tasmanian Pearcey Award for Young Achievers in IT is supported by the Intelligent Island Program. The Intelligent Island Program is funded by the Commonwealth Government from the partial sale of Telstra and is jointly managed by the Tasmanian Government through the Department of Economic Development.