2009 Qld Award
The 2009 Queensland Pearcey Award was presented to Mr Paul Gampe at a dinner on Wednesday 25 November 2009 at the Sebel & Citigate King George Square in Brisbane. The presentation was made by Mr Paul Russell, Director of Enabling Technologies at Queensland's Department of Employment, Economic Development and Innovation. Highly Commeneded Certifcates were also presented to Janine Garrett, Andrew Jessett and Andrew Eddie.
Guest speaker was Dr Peter Thorne, IT consultant and former Head of the Department of Computer Science at the University of Melbourne. His well illustrated talk entitled Trevor Pearcey's Legacy: from Eagle Farm to Melbourne Museum traced the 1949 development of CSIRAC in CSIRO's Radio Physics Lab to its final resting place at the Melbourne Museum.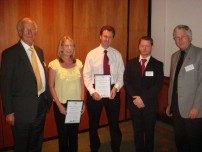 Photo: David Merson, Janine Garrett, Andrew Jessett, Paul Gampe and Wayne Fitzsimmons
This year's candidates also included:
Maree Adshead, MobileIP
Steve Dalton, Refactor
Laura Daniels, CITEC
Faith Rees, Readify
Alexander Gagel, Queensland Transport
Sponsor
The Pearcey Foundation would like to thank the Queensland Government for their sponsorship.
Photo: Qld Government Logo