2007 Qld Award
At the annual Pearcey Foundation Awards event held this year in Brisbane on the 1st of November 2007, Ms Tammy Halter was awarded the 2007 Pearcey State Award from fellow finalists Kirsty Garrett and Joanne Jacobs. The award was presented by Mr Peter Grant, CIO, Queensland State Government.
Tammy Halter
Tammy is founder CEO of Absolute Data Group which is a Brisbane-based software company focused on producing content technology solutions for its customers be they local or international.
At just twenty-six years of age, Tammy founded Halter Contracting, a training, consulting and technical support company. During the fifteen months of its operation, Tammy identified a niche marketing opportunity in the global ICT marketplace. Deciding to expand her business concept to respond accordingly, the result was Absolute Data Group Pty Ltd - producing content technology solutions that are now in use around the world.
Nine years later at 36 years of age, Tammy has helped the Brisbane-based company evolve into a globally-focused, business savvy software company with twelve full time staff, and realising an overall annual turnover of $2M.
Active in Standards Australia, Women in IT and a contributor to many online industry journals, this high energy women won from two other prominent women entrepreneurs Kirsty Garrett of Valintus and Joanne Jacobs of Joanne Jacobs Consulting.
The award was presented on 1st November 2007 along with the 2007 National Medal at an evening award dinner at the Sebel Hotel, King George Square, Brisbane.
The Queensland Pearcey State Award is given annually to a younger contributor to the ICT industry and who is a great role model to their peer group. Thanks to the continuing support of the Queensland Government, the annual event attracts applicants from a wide range of the next generation ICT professionals in Queensland. The Pearcey Foundation takes its name from Dr Trevor Pearcey who in 1949 led the team that designed and built Australia's first digital computer, CSIRAC, and which was in fact the world's fourth digital computer ever to be built.
2007 Queensland Pearcey Commendations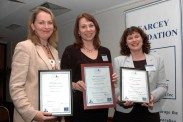 Photo: Kirsty Grant, Joanne Jacobs and Tammy Halter, finalists in 2007 Qld Pearcey State Award
The Queensland selection committee highly commended other two finalists: Kirsty Grant and Joanne Jacobs.
Sponsors