Pearcey Institute Executive Overview
The Pearcey Institute is an initiative to bring together industry, government, academia and investors to do socio-economic research focused on creating a globally competitive Australian technology sector.
Vision
A thriving Australia empowered by technology innovation and entrepreneurship.
Mission
Create, facilitate, foster and sustain an innovative, entrepreneurial, fair and productive Australia through research, policy advice and active collaboration.
Role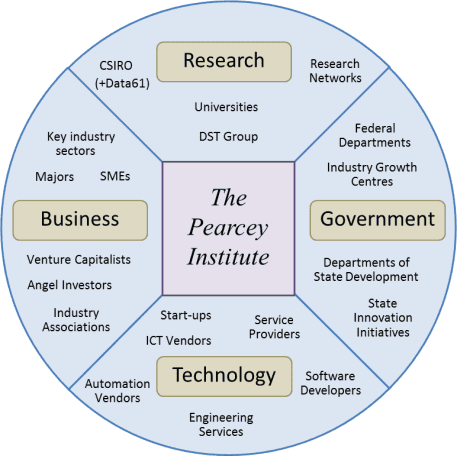 Conduct and sponsor research, facilitate communication, collaboration and diffusion to assure Australia's competitive position in a changing technology landscape. Work in partnership with governments, CSIRO, universities and corporate R&D organisations, to maximise the generation and commercialisation of globally competitive technologies.
Activities
Conduct economic assessments involving data collection, analysis and modelling of Australia's entrepreneurial technological competitive position and economic contribution.
Conduct and sponsor research to identify, promote and advise on optimal models for innovation, research, metrics, management of IP and commercialisation processes.
Build and manage a platform for facilitating research collaboration and commercialisation through networking and comprehensive data collection, measurements and analysis.
Develop and connect networks of researchers and investors comprised of individuals and organsiations in an open collaborative manner for more successful commercial outcomes.
Promote and support the wide variety of commercialisation incubators, hubs and events.
Recommend policy and investment initiatives to government, institutions and industry to achieve the vision.
Conduct events to facilitate and promote the aims of the institute
Corporate Structure
The Pearcey Institute will be funded by the research, technology, government and business sectors. Various structures are being considered, for example one modelled on "The Conversation": where the operating company, The Pearcey Institute, is proposed to be a not-for-profit research charity owned by The Pearcey Trust.
Stakeholders
Stakeholders include people and organisations from the research, business, government and technology sectors. The Research Networks and the Investor Networks will be sourced from across all of these sectors.
Photo: Networking

Networking
Economic research is a key focus of the Pearcey Institute, underpinning and supporting investors and innovators with data, analysis, process improvement and policy advice.
Open Innovation
Photo: Open Innovation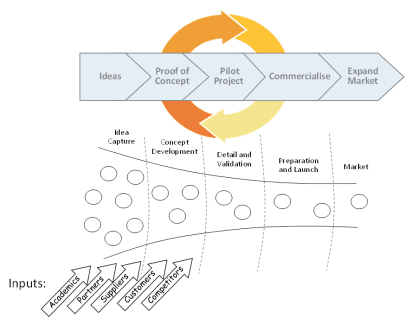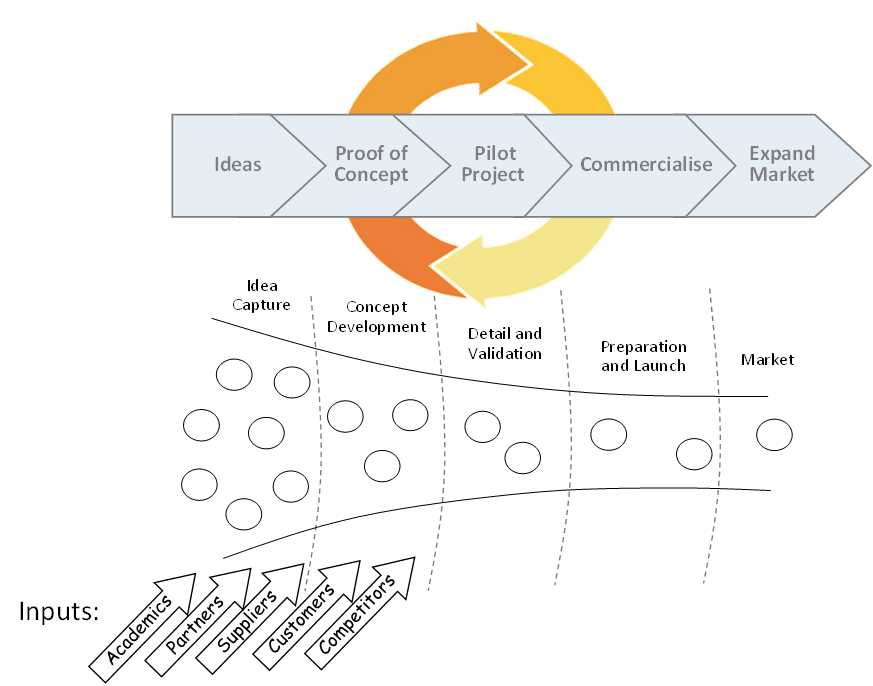 The Pearcey Institute will be a champion of Open Innovation, which acknowledges that early exposure to other researchers, partners, investors and markets will leverage greater resources, achieve greater returns and improve the prospects of long term success.
Value Propositions
Research Sector:
Higher visibility of research work being undertaken
Exposure of research work to commercial realities
Better understanding of technology and commercial readiness
Fewer research projects unintentionally duplicating work done elsewhere
Increased exposure to other sources of funding
Continual improvement of commercialisation processes
Business and Technology Sectors:
Higher visibility of opportunities
Earlier opportunities to engage in specific research and innovation activities
Opportunities to influence the direction of work
Fewer internal research projects unintentionally duplicating work done elsewhere
Higher confidence in technology and commercial readiness
Increased opportunities to join with other investors to increase funding and reduce risk
Government Sector:
Increased economic activity from more successful commercialisations (more jobs, more tax)
Leveraging government investment in research with increasing business investment
Better advice on disruptive technology directions leading to better policy outcomes
More efficient research sector spending government money more effectively
Increased profile of Australian based innovation attracting greater overseas investment
Investor Network (individuals):
Higher visibility of opportunities
Opportunities to influence the direction of work
Higher confidence in technology and commercial readiness
Increased opportunities to join with other investors to increase funding and reduce risk
Research Network (individuals):
Increase the profile of researchers and research work
Understand similar or competitive projects elsewhere
Opportunities for collaboration in areas of common interest
Increased opportunities for funding at lower overhead cost and faster cycle time
Origins
The proposal to establish the Pearcey Institute emerged from the work of Australia 3.0, a thought leadership project conducted annually in each of the last five years by the Pearcey Foundation in partnership with the Australian Computer Society, the Australian Information Industry Association, CSIRO and NICTA.
The Pearcey Foundation was created in 1998 to celebrate the life of Dr Trevor Pearcey who in 1949 led the team which built "CSIRAC", the world's fourth stored program computer. The Foundation celebrates achievements through three national awards including the Pearcey Medal and Hall of Fame as well as the Benson Entrepreneur Award, as well as the Pearcey State Awards for younger entrepreneurs.
Australia 3.0 is an annual event to bring together representatives from industry, government, research and academia to discuss the impact and the potential for transformation of the Australian economy by digital technologies.
More Information
Please contact us.