Trevor Pearcey Portrait
At a small reception held on 24th August 2011, at IDG's offices in North Sydney by Mr Davey Adams, current CEO of IDG Australia, officially passed to the Pearcey Foundation an important portrait of Dr Trevor Pearcey.
This fine painting, by Majella Barbe, now hangs temporarily in the Boardroom of the Australian Centre of Advanced Computing and Communications (AC3) in Australia Technology Park (ATP), Eveleigh NSW, thanks to the generosity of Dr Phil McCrea (CEO of AC3).
The Pearcey Foundation National Committee has sought and received input from interested parties about where the Pearcey portrait might be hung permanently. Currently we are examining the possibility of it forming part of the proposed Pearcey Museum.
Provenance of the Trevor Pearcey Portrait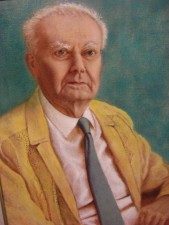 Photo: Pearcey Portrait by Majella Barbe
Artist: Majella Barbe, Sydney, Australia
Painted: 1998-99
Medium: Oil on Linen
In 1998 Don Kennedy, then CEO of IDG Australia, commissioned Ms Barbe to create three portraitures of well known figures in the ICT industry.
Dr Trevor Pearcey (1919-1998), amongst other things led the team that built the CSIRAC, Australia's first electronic programmable digital computer
Noel Bennett, well known journalist in the Australian ICT sector based in Sydney
Pat McGovern, Chairman and Founder of IDG, from Boston, Massachusetts , USA
Ms Barbe commenced with the Pearcey Portrait in the 1998-99 period shortly after Dr Pearcey had passed away. She completed the other two portraits sometime later. The painting was based on a black and white photograph that ComputerWorld staff had in their archives. ComputerWorld Australia was one of Australia's first weekly newspapers dedicated to the Information and Communications (ICT) sector and was owned by IDG International.
The portrait was hung in the boardroom of IDG in North Sydney through the early 2000 period. However, following the retirement of Don Kennedy and a change of office location, the portrait was stored in a cabinet in the office.
Through the good efforts of Len Rust, a National Committee member of the Pearcey Foundation, the painting was located by Mr Rust and handed over officially to the Pearcey Foundation on 24th August 2011, at IDG's offices in North Sydney by Mr Davy Adams, current CEO of IDG Australia.