2009 Csirac 60th Anniversary
The 60th Anniversary Celebration of CSIRAC was wheld at the Melbourne Museum, Nicholson St., Carlton, Victoria, Australia on Wednesday 18th November 2009.
Event Overview
Dr Patrick Greene, CEO of Museum Victoria and Director, Collections, Research and Exhibitions Dr Robin Hirst welcomed more than 80 guests at the Museum's Carlton enclave to celebrate 60 years of computing in Australia. The underrated significance of this icon of the post industrial revolution, was not lost on the audience drawn from the Australian ICT community involving senior members of the Australian Computer Society and the Pearcey foundation who joined with the Museum to create this most significant recognition event. Dr Trevor Pearcey, in whose name the Pearcey Foundation was created, led the team that designed and built CSIRAC in the late 1940's in Sydney.
Mr David Demant, the Senior Curator of the Information and Communication Collection at the museum has worked with Dr Peter Thorne and many others to ensure this computer has been available to public viewing since 2000. Full details on the exhibit are available on the Museum's website In addition Heritage Victoria has listed this, Australia's first stored program computer, on its Heritage Register. Considering the CSIRAC is now placed alongside the Eureka Flag on the Heritage Register, the significance of its role in building our great country is finally being recognised. The Heritage Award was presented by the newly appointed Director of Heritage Victoria, Mr Jim Gard'ner.
CSIRAC History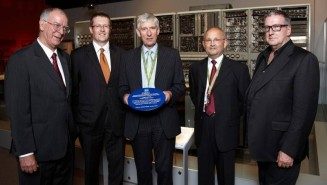 Photo: Receiving the Heritage Plaque - Dr Peter Thorne (Pearcey Foundation), Mr Jim Gard'ner (Heritage Victoria), Dr Patrick Greene (Melbourne Museum), Mr David Demant (Melbourne Museum), Dr Terry Cutler (CSIRO)
Dr Peter Thorne presented a brief history of how CSIRAC was created and ended up in the Museum. As the leader of a team of dedicated supporters committed to the restoration of CSIRAC, Peter spoke of the painstaking efforts to catalogue the software programs written, as well as those necessary to ensure the hardware was preserved. Peter answered the often asked question, why isn't the CSIRAC "fully restored and operational" - his answer: " With some 2000 valves, one almost needs a sub-station outside the museum to provide the electric power; more importantly the wiring insulation and the numerous capacitors are so old that the task would be a major reconstruction effort. So the decision was to leave it intact." Dr Thorne's speech is below.
The evening's guest speaker was Dr Terry Cutler, Deputy Chairman of CSIRO which was fitting given CSIRO was the responsible Government body for the creation of CSIRAC in the Radio Physics Division of CSIR. Dr Cutler compared CSIRAC as starting the computer revolution to CSIRO's recent invention and successful global commercialisation of their Wireless LAN chip implementation of the IEEE standard known as 802.11. His comment that "CSIRAC is also a beautiful past examples of impact - CSIRO leadership was the catalyst for the early development of computer science in university curricula and in applications development" challenged the audience to ensure Australia does not lose its technological capability and not only in ICT. The full text of Dr Cutler's speech is below.
CSIRAC is on permanent display at Museum Victoria, Carlton, an inner suburb of Melbourne in the State of Victoria, Australia.
Remarks by Dr Peter Thorne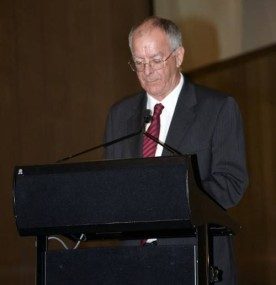 Photo: Dr Peter Thorne presenting a brief history of CSIRAC
The remarkable history of CSIRAC is one of conception, birth, retrenchment, reemployment, retirement and resurrection Conceived and produced at CSIRO Radiophysics in Sydney in the late 1940s, it was initially named the CSIR Mk1.
Mr Reg Ryan who is here tonight designed and built the mercury delay line memory - an innovative and ingenious system. Subsequently, after a flash of insight he doubled the computer's storage capacity without any major change to the hardware.
The computer ran its first test program in November 1949- The event we celebrate tonight. In 1950 it was the first computer to play music.
The computer was re-trenched from CSIRO in the mid 50s. It was loaded on a truck and sent south to the University of Melbourne. Still the only computer operating in Australia, it was renamed CSIRAC and commenced a new career providing a computer service to the university CSIRO and the community until it was retired from active duty in 1964.
In the 1980s the retired computer was taken from its retirement home in the museum store for an extended outing to Caulfield Institute now part of Monash University and then went back into retirement.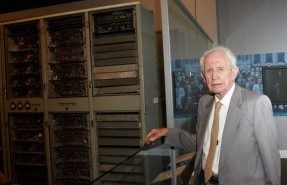 Photo: Mr Reg Ryan, who as a young engineer, designed the CSIRAC's memory at CSIRO Radiophysics in Sydney
In 1996 a team of us at the University of Melbourne resolved to resurrect the machine and to work with Museum Victoria to document, conserve, and exhibit it.
What has followed was a remarkable effort by Museum staff and CSIRAC pioneers and volunteers to ensure that the hardware and importantly the software, the circuit diagrams and associated collection items are identified, classified and recorded. David Demant and our history team still work on this task each week.
It is now recognised, locally and internationally, that CSIRAC is the only intact survivor of the handful of machines that launched the information age. It is an artefact of international significance. Robyn Williams of the ABC has identified it as one of his ten top museum exhibits in the world.
The decision by CSIRO to cease work on CSIR MK1 in 1954 has always been seen as controversial. However three facts are indisputable
The design and construction of a state of the art digital computer in Australia in the late 1940s was an outstanding achievement. It was a courageous step to even attempt it. However the technical competence of the CSIR Radiophysics staff enabled them to design and build from scratch a machine that had a fifteen year productive life.
CSIRO did not vacate the field of ICT when the computer came to Melbourne. Indeed it has continued to be a significant player in the field and no doubt Dr Cutler will tell you something of its recent achievements.
The entry of Australia into the digital age, just behind the UK and virtually neck and neck with USA got us into computing on the ground floor. Sixty years later information and communications technology is fundamental to our economy and our future. Fortunately, our computing professionals have continued to match, and frequently outpace, our international rivals, particularly in the software field.
The Pearcey Foundation named after the Designer of CSIRAC was formed to celebrate our achievements and the Australian Computer Society represents the professional men and the women who are still making it happen - 60 years on!
Remarks by Dr Terry Cutler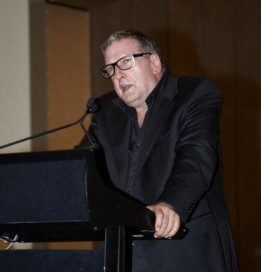 Photo: Dr Terry Cutler reviewing the significance of CSIRAC
Tonight we celebrate some special scientists, a milestone artefact, and an iconic institution. In so doing I also particularly want to congratulate the Pearcey Foundation, the Australian Computer Society, Melbourne Museum and Heritage Victoria for ensuring that this birthday is being recognised so splendidly.
Trevor Pearcey was not only a member of a small global elite who created the foundations of today's digital era but he was also one of that rarer cadre of people who were driven to such achievement through a bold vision of how technology could transform society. In 1948 he wrote:
"It is not inconceivable that an automatic encyclopaedic service, operated through the national teleprinter or telephone system, will one day exist"
Now think Google, or Wikipedia.
Tonight we might pause to think about technology breakthroughs that have completely changed our world. These machines of the 1940s have totally revolutionised our world. They created the digital environment of today that has been bringing about some of the greatest transformations to human society since the industrial revolution, if not more so.
Tonight gives me special pride, as being a Board member of CSIRO, that CSIRO then was a breakthrough leader in this field, and is so still today. CSIRAC is also a beautiful past example of impact - CSIRO leadership was the catalyst for the early development of computer science in university curricula and in applications development.
My one regret tonight is that John Deane, a member of the original team who worked with this machine is not here. This has been a special year for CSIRO. Over the past few months we have been celebrating CSIRO's technology leadership today with its wireless LAN patent which has become a global technology standard and platform. John Deane also worked on the wireless LAN as well as CSIRAC. What a way to bookend a career!
It is also instructive to recall that much of the capability platform for this global leadership has been provided by radio-physics, and this is turn was created by Australia's distinct global advantage in astronomy, being a huge Southern Hemisphere continent with lots of empty spaces with little radio interference. CSIRO's Wireless LAN patents originated from space research, and today John O'Sullivan, who recently received the Prime Minister's Science Prize for 2009 for his WLAN work, is back in space working on the Square Kilometre Array telescope which is the next frontier in radio-physics and computing: I have trouble getting my head around the sheer amount of raw data which will be generated from this project.
CSIRO has put the proceeds from its WLAN patent licensing proceeds into a special Science Endowment Fund. When Minister Carr launched this new Fund to help support science we would otherwise not be able to do, the launch was at the National Museum in Canberra, and he mentioned that he hoped the Museum might develop special permanent exhibits around the wireless LAN work. As we celebrate more CSIRAC birthdays, the significance of keeping this machine in working order and on display here becomes even more important, and I am really pleased that tonight's celebration recognises this. This is heritage to inspire our next generation of effort and, hopefully, many more Trevor Pearceys.