2010 National Pearcey Event
Event Overview
2010 National Pearcey Foundation Event was held as part of the World Computer Congress 2010 on Wednesday 22 September at the Brisbane Convention Centre in Brisbane, the capital city of Queensland.
The afternoon Roundtable debated "Publically-funded ICT R&D in Australia - where is it headed?" with Dr Peter Cebon from the Melbourne Business School as the Moderator. The format involved two sessions - Presentations followed by a debate using a novel procedure.
The evening Gala Dinner featured eminent speakers and the presentation of the 2010 Pearcey Awards
2010 Pearcey Medal presented by Senator Kate Lundy, Parliamentary Secretary Prime Minister & Cabinet
2010 Pearcey Oration delivered by Dr Megan Clark, CEO of CSIRO
2010 Pearcey Queensland State Award presented by Mr Robert Schwarten, Minister for Public Works & ICT, Queensland Government
Afternoon - Pearcey 2010 Roundtable Debate
The 2010 Pearcey Roundtable on Publicly funded R&D
The roundtable is designed to stimulate debate on the directions and emphasis that publicly funded R&D in Australia should take. It is moderated by Dr PeterCebon Senior Lecturer - Organisations & Innovation, Melbourne Business School.
Presentations
The first session involved the six prominent research leaders who gave their vision of the future direction of Australia's publicly funded ICT R&D institutions. All of the speakers have had extensive experience in industry, government or academic ICT research organisations (see biographies below).
Debate
The second session involved the six research leaders participating in four short debates on contemporary issues facing these institutions. The debates involved active audience participation. It was based loosely on parliamentary debating rules derived from the British House of Commons parliamentary procedure. The objective of this fast-paced panel debate session was to provide the audience with a light-hearted humorous conclusion to the Pearcey Round-table sessions. The panellists had the opportunity to express an opinion for or against on a topic that they may not otherwise normally speak about. For entertainment purposes the topics are somewhat controversial and it some panellists found themselves arguing for or against a view that they did not agree with.
Topic 1: Intellectual Property developed during publicly funded research should be owned by the public.
Topic 2: To achieve a Sustainable Australia, the Government must follow the lead of the European Union, who invested €500 million in ICT research to pioneer solutions for global challenges such as climate change.
Topic 3: Direct investment in universities is the best way for government and industry to achieve commercialisation of ICT R&D in Australia.
Topic 4: A bias towards agricultural and mining, not ICT, research and development is completely appropriate given Australia's abundant and diverse natural resources.
Each of the four debates ran for approximately 15 minutes. The moderator introduced the topic (1-2 mins) followed by each of the 6 panellists on the two teams having their right to reply (2mins). At the conclusion of each debate the moderator allowed the audience to participate by casting their vote for the winning team (1-2mins). At the end of the four debates the moderator presented the results of the audience voting.
Evening - Gala Dinner and Medal Presentation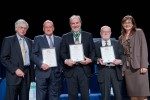 Photo: Wayne Fitzsimmons, Brian Finn AO, John Grant, Emeritus Professor Peter Poole, Senator Kate Lundy
The following words are those used by the Chairman of the Pearcey Foundation, Mr Wayne Fitzsimmons, when introducing Senator Kate Lundy who presented the 2010 Pearcey Medal and Hall of Fame entrants:
"Senator Lundy has been an active supporter for the ICT industry since she first entered federal politics in 1996. At times an outspoken advocate for ICT, she has an enlightened view of the role ICT plays in our nation. Recently she said, and I quote, "Information Technology and Telecommunications are critical determinants of our potential for growth, jobs, social equity and inclusion. They encapsulate both the infrastructure and tools with which we will be able to engage with each other, as citizens with government, as consumers with business, as voters with our elected representatives and as innovators with our peers". Senator Lundy is one of a select few federal politicians who is not only passionate about ICT but has sustained her commitment to the industry. On the 11th of September, this month, she was appointed Parliamentary Secretary for Immigration and Citizenship as well as Prime Minister and Cabinet as part of a minority Gillard-Labor government reshuffle of ministers. We are delighted that Senator Lundy could join us here tonight - fitting us into her busy schedule - visiting this Congress twice this week, in fact. I now invite her to address us prior to presenting this evening's National Pearcey Awards."
2010 Pearcey National Medal
Senator Lundy presented the 2010 National Medal to Mr John Grant.
2010 Pearcey Hall of Fame
Senator Lundy also presented the Pearcey 2010 Hall of Fame to Mr Brian Finn AO and Emeritus Professor Peter Poole.
2010 Pearcey Oration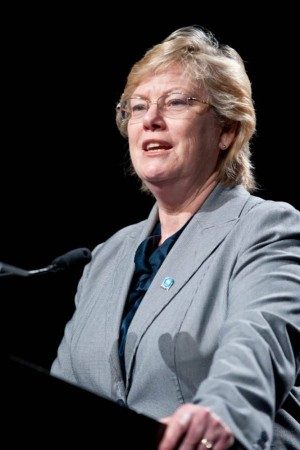 Photo: Dr Megan Clarke giving 2010 Pearcey Oration

Each year the Pearcey Foundation invites a distinguished Australian to present their views of their views regarding contemporary issues driving Australia. In 2010, we asked Dr Megan Clark, CEO of CSIRO, Australia's premier national R&D body, to deliver the oration.
Following is a summary of her speech of her speech by journalist Sylvia Pennington.
"When I want to look into the future, I go talk to the astronomers."
Delivering the 2010 Pearcey Oration, CSIRO chief executive Dr Megan Clark made a compelling argument for investing in blue skies research, irrespective of whether potential discoveries might lead to short term commercialisation and financial return. CSIRO's decision to back its radio astronomers in their quest to listen to "the whispering of black holes" back in the 1970s was still paying dividends today, Dr Clark said.
"This project laid the foundation for today's wireless LAN technology," she said. "Space is the ultimate wireless."
Dr Clark cited leadership of the Square Kilometre Array (SKA) project in Australia as an example of CSIRO's determination to remain in the vanguard of futuristic, international research in the twenty-first century. A 50,000km2 tract of Western Australia, one of the world's quietest and emptiest places, will be home to thousands of small antennae which will simulate a giant radio telescope; the world's largest. Designed to be an international research resource, the SKA will have ten times the resolution of the Hubble telescope and a discovery potential up to 10,000 times greater than present day instruments.
"It will be like taking a photograph of the head of a pin from 20 kilometres away," Dr Clark said.
Scientists from more than 20 countries have already booked 12 years worth of time on the SKA and CSIRO was excited by the opportunity for global collaboration which the project offered, she said. The SKA will demand an unprecedented level of high performance central computing power, with the telescope expected to generate more data in one hour than has previously been produced in the entire history of radio astronomy.
"There's no end in sight for the super-computer, as these sorts of applications demand more processing power, not less," Dr Clark said.
Other upcoming areas of "hotshot investment" for CSIRO include the use of technology to deliver more personalised services to end users. Dr Clark cited CSIRO's involvement in a super-project with Centrelink, the welfare umbrella agency which provides fortnightly services to a third of all Australians, as an example of this sort of service industry innovation.
"It's about the pulling together of mathematics, statistics and network services to identify the information, the trigger points and the traps that may stop the fall of more people into poverty."
Other areas where CSIRO had delivered a significant public benefit included a project to improve the efficiency of public hospitals in Queensland. While it had previously been believed that activity within emergency departments was random and unpredictable, complex scheduling and forecasting analysis by CSIRO had shown otherwise, Dr Clark said.
Being able to predict peaks and troughs of activity and allocate resources accordingly had saved some hospitals as much as $20,000 a day, she said. CSIRO's mission was to make sure that science was used to further the welfare of the Australian people, care for the environment and assist in the development of a sustainable future, Dr Clark said.
For a full transcript, see 2010 Pearcey Oration.
Dr Megan Clark is a member of the:
Prime Minister's Science, Engineering and Innovation Council
Automotive Industry Innovation Council
National Research Innovation Council
St Vincent's Hospital Foundation Board.
Dr Megan Clarke began her career as a mine geologist and subsequently worked in mineral exploration, mine geology, research and development management, venture capital and technical strategy areas with Western Mining Corporation for fifteen years. More recently she was Vice President Technology and prior to that Vice President, Health, Safety, Environment, Community and Sustainability with BHP Billiton. Dr Clark served on the Expert Panel for the Review of the National Innovation System.
Afternoon Panel Biographies
Moderator - Peter Cebon PhD, SM (MIT) BE (Civil) (Melb) Senior Lecturer - Organisations & Innovation, Melbourne Business School. Dr Peter Cebon is a highly experienced researcher, consultant and advisor in the fields of organisational design and innovation management. Prior to returning to Melbourne, Peter completed extensive research at MIT, Harvard, and the Swiss Federal Institute for Environmental Science and Technology. Recent innovation-related research projects include studies of organisational innovation to create safer and cleaner operations, studies of innovation in response to global warming, and a study evaluating and explaining the effectiveness of innovation efforts at twelve Australian companies. He is currently trying to understand the impact of boards of directors on corporate innovation performance. He intends, in the near future, to study the impact of the NBN on Australian businesses.
Dr David Skellern, CEO of National ICT Australia (NICTA), is an ICT entrepreneur with a background in scientific research, industrial R&D and engineering education. He was formerly chair of Electronics at Macquarie University and co-founder of Radiata, the Australian company responsible for the world's first IEEE 802.11a chip-set. Following Radiata's acquisition by Cisco Systems, Dr Skellern became technical director of Cisco's wireless networking business unit. He has been CEO of NICTA since 2005.
Dr Alex Zelinsky is group executive of Information Sciences at CSIRO. He is also: a member of the Australian government's IT Industry Council; an Adjunct Professor at the ANU; and a member of the NSW Government's NBN Taskforce. He is vice president of the Industrial Activities board of the IEEE's Robotics and Automation Society and is an advisor to the ARC Centre of EXcellence for Visions Science and the ARC Centre of Excellence for Autonomous Systems.
Dr Mary O'Kane is NSW's chief scientist and scientific engineer. She is a former vice chancellor of the University of Adelaide and has served on the Australian Research Council, the CRC Council and the board of CSIRO. Dr O'Kane runs her own consulting business, advising governments, universities and the private sector on innovation, research and education. Mary was a member of the panel conducting Australia's National Innovation Systems review in 2008 and as part of which she was also responsible for a major review of the CRC program.
Dr Craig Mudge is managing partner of Pacific Challenge, a consulting firm with affiliates in the US, Australia and NZ. He founded CSIRO's VLSI program and was CEO of spin-off company Austek Microsystems Ltd, where innovative logic chips and the world's first single-chip cache for the PC were developed. He was formerly Professor of Computer Science at Flinders University, director of the CSIRO-Flinders Joint Research Centre, Professor of Innovation at Macquarie University and director of the Computer Science Lab at Xerox PARC in the US. Chairman of the national working group on cloud computing in the Australian Academy of Technological Science and Engineering he recently founded the University of Adelaide's eScience Centre, enabled by cloud computing.
Professor Simon Kaplan is Executive Dean of the Faculty of Information Technology at Queensland University of Technology (QUT). Prior to his outstanding academic career in Australia, Simon was the principal designer and implementer of a range of Enterprise Resource Planning tools for the SME marketplace out of Cape Town, South Africa. Simon has extensive experience as an expert witness in ICT patent and contractual disputes as well as serving on several ACM and IEEE committees.
Professor Dave Thomas is the founder and chairman of Bedarra Research Labs which specialises in emerging software technologies. He is an adjunct professor at QUT and Carleton University in Canada. He formerly founded and was CEO of Object Technology International, now IBM OTI Labs and played a major role in setting IBM's open source agenda with Eclipse.org. He has worked extensively with the Distributed Systems Technology Centre CRC in Brisbane. He continues to be a strong advocate for Australian innovation and is founder of the YOW! Australia International Developer Conference, the Australian portion of the popular and successful international JAOO Conference series