2014 In Review
Senator Kate Lundy to retire from politics
28 Nov 2014: Senator Kate Lundy, representing the ACT for the last 19 years, announced this week that she intends to retire from the Senate at the next election. Kate has been a champion of the ICT sector for many years and in fact is the one continuous voice for our sector in the Australian Parliament. We are sorry to see her go. On the 29th August Kate presented the Pearcey Oration at the 2014 national iAwards luncheon in Melbourne (her speech can be seen here).
In an interview with Paris Cowan of the iTnews this week, Senator Lundy commented that
"….. I think (the ICT) industry still struggles to tell its story, particularly because it is such a diverse sector. It is largely made up of small businesses that don't necessarily have the ballast of big firms, and can struggle to get political recognition." Kate also nominated open government leader Pia Waugh, rural broadband champion George Fong, and former ACS president Tom Worthington as some of those who had inspired her to be involved with the industry, while praising the work of industry bodies the AIIA, ACS and Pearcey Foundation."
The Pearcey Foundation salutes and thanks Senator Lundy for her untiring support of the ICT sector and, in particular, her sustained commitment to supporting our Foundation, amongst many industry bodies. We wish her well in her next career step in which she undoubtedly will make her mark in the most positive sense.
2014 NSW Pearcey Awards
6 Nov 2014: The 2014 NSW Tech Entrepreneur of the Year Awards were presented at NSW Parliament on 6 Nov 2014 by the Hon Dominic Perrottet, NSW Minister for Finance and Services, on behalf of the Pearcey Foundation, with the pinnacle awards going to: Ben Richardson and Dave Greiner, founders of Campaign Monitor and Tim Power, managing director for 3P Learning. Student Pitching Competition Winners were Sean Pollock $2000, Ishaan Varshney $1000 and Thomas Headland $500. See Press Release - NSW Technology Entrepreneur of the Year Awards
2014 Australia 3.0
Over 3 months from June-August, 300+ yammer-ites, 32 stream committee members, 25+ partner organisations, 13 organisers and 4 stream leaders explored the hot topics. Consulting with industry experts, public sector executives, vertical specialists, problem solvers, researchers and business owners they have been posing questions, running down leads, sharing insights to catalyse ideas. Thanks to their commitment and collaboration to focus the 2014 Australia 3.0 on action not just talk.Australia 3.0 Further information
"This year Australia 3.0 forum was NOT a talk-fest, it was a DO-fest where 200+ problem solvers met in Melbourne 28-29 August to turn these ideas into collaborative action." Wayne Fitzsimmons, Chair, Australia 3.0
A3.0 Government Services Challenge: Data as an enabler improving Government Services
A3.0 Health Challenge: What happens when the patient is in charge?
A3.0 Mining Challenge: How Australia can innovate for mining sustainability
A3.0 Infrastructure Challenge: infraHack: re-imagining how we use our infrastructure
2014 iAwards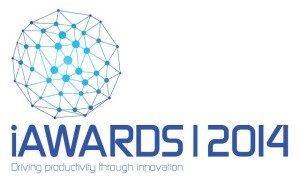 Photo: iAwards 2014 logo
The Pearcey Foundation as an iAwards Host Partner alongside ACS and AIIA and all of us involved in the ICT industry encouraged active involvement in the iAwards events each year. In particular we were looking for engagement with the younger members of our diverse and fragmented ICT sector. This engagement can be through making a professional application into the many different award categories. This comprehensive program for 2014 culminated in the 2014 iAwards national events in Melbourne 28-29 August.
The Hills Young Innovator Award was a unique showcase for those under 25 to show their tech passion. Delivered by Pearcey Foundation members Rick Harvey and Kelly Hutchinson alongside Danielle Neale it saw 31 nominations across 3 categories of data, cloud and mobile. 15 finalists were mentored and then pitched their solution to judges with winner taking $5,000 in each cateogry and the overall Young Innovator of the Year an extra $10,000.
About the iAwards
The iAwards honours both companies at the cutting edge of technology innovation as well as leading professionals across the ICT industry. Most importantly, the iAwards recognises the achievements of home-grown Australian innovators.
The key goal of the iAwards is to discover, recognise and reward the ICT innovations that have the potential to, or are already having a positive impact on the community - at home, in the office and on a global scale. The iAwards also recognises the achievements made and value added by ICT professionals, CIOs and innovators.
The Pearcey Foundation joined the AIIA and the ACS in 2012 to create the first truly national ICT awards program. Two representatives of each Host Partner sit on the iAwards Steering Committee and manage the annual program. In 2014 Wayne Fitzsimmons and Rick Harvey represent the Pearcey Foundation.
2014 Pearcey Oration
The 2014 Pearcey Oration was delivered by Senator Kate Lundy, Senator representing the ACT, as part of the Friday 29 August national iAwards program. Senator Lundy spoke as part of the lunchtime activities shared by some 300 delegates to Australia 3.0, MasterClass and the Hills Yong Innovators pitching competition. The lunch was hosted by Ms Kathy Coultas, Director, Technology Industries, Department of State Development, Business, and Innovation, State Government of Victoria.
Senator Lundy is uniquely placed to observe the development of the ICT sector for the last 20 years and painted a vision of how the ICT sector can position itself to me a major player in the national scene over the next 20 years.
2014 Australia 3.0
Collaboration in the ICT sector or across Australian society generally, has always been challenging - our so called individualism runs deep! Or does it? Well on Thursday and Friday (28/29 August 2014), five major technology organisations joined forces to run the 2014 iAwards at Melbourne's Convention Centre. Two of Australia's leading ICT research bodies, National ICT Australia (NICTA) and CSIRO (several divisions are involved), collaborated with the sector's three premium technology bodies, AIIA, the ACS and the Pearcey Foundation. The five conducted not only Australia's largest national technology awards program (operating in all states culminating in the national event) but also Australia 3.0, a multi stream national digital innovation summit covering the innovative use of technology in improving our nation's competitiveness. The four verticals supported by the major industry bodies were:
Infrastructure - Tackling real problems using data to help resolve burning issues in transport and other infrastructure, how we better run our cities and to help us invent the services of the future;
Health - what happens if the patient is in charge? Inspiring innovative stakeholders to develop a Health Innovation Hub that can create sustainable new ways in delivering healthcare;
Government Services - Identifying sustainable new approaches to public service innovation through a Government Services Innovation Hub connecting digital, data and democracy;
Mining - Recognising new approaches to improving mining productivity and sustainability outcomes post the recent 'mining boom';
Federal Minister for Small Business Bruce Billson opened the Friday session in a Q&A Panel discussion on competitiveness and innovation. Parliamentary Secretary for Communications Paul Fletcher closed the Friday sessions shortly before speaking at NICTA's 'Showcase' where many of their outstanding research projects were be on show. As well a national pitching competition from Hills Young Innovators Award 15 finalists under 25's doing their thing in front a group of successful entrepreneurs as judges; all iAwards finalists were given practical insights into growing their businesses and succeeding internationally by a team of successful entrepreneurs sharing their personal experiences in a MasterClass. Attendees at MasterClass and Australia3.0, along with the Young Innovators finalists, all heard Senator Kate Lundy deliver the 2014 Pearcey Oration. All these activities were run in parallel and in close proximity to each other at the Convention Centre culminating on the Friday evening Gala Dinner where the best of the best were acknowledged by Hon Paul Fletcher, Minister Assisting the Minister for Communications.
Prof. Mary O'Kane named 2014 Pearcey Medalist
29 August 2014 - At the 2014 iAwards Gala dinner held at Melbourne's Convention Centre, near 750 guests saw Prof. Mary O'Kane awarded the 2014 Pearcey Medal. Dr Bob Frater AO and Peter Vogel were elevated to the Pearcey Hall of Fame. John de Margheriti, ACT, was awarded the 2014 Benson Entrepreneur Award. Full details are available on the Awards page.
Brenda Aynsley recognised with Order of Australia
Brenda Aynsley awarded Order of Australia in the General Division on the 2014 Australia Day Honours list.
Brenda is well known to the Pearcey Foundation members since her early involvement with Pearcey as South Australia President from 2006 to 2012. Brenda has been prominent in the ICT sector for many years and was elected Australian Computer Society president at a meeting of the ACS congress in November 2013 succeeding Dr Nick Tate who is one of two ACS Representatives on the 2014 iAwards Steering Committee. Nick Tate made the observation, at the time of her election to ACS Presiden, that Brenda was an exceptional member of the ACS who had dedicated much of her time to the advancement of the ICT profession in South Australia and across the nation. The team at the Pearcey Foundation congratulate Brenda on being recognised in this way and look forward to collaborating with her and the ACS national team over the next two years.
News Bulletins on 2014 iAwards
Regular bulletins are being published during the course of 2014 on the key milestones and activities leading to the State iAwards and the national iAwards events. The national committee of the Pearcey Foundation encourages all of us involved in our incredibly diverse ICT industry to participate in our iAwards program. If you wish to be involved in any way please contact the Pearcey Foundation or the iAwards organisation on the various contact telephone numbers and email addresses distributed on our web pages.
State/Territory Winners announced The seven state iAwards events were held during June and July in 2014 in each State capital. Results are listed below. All of these winners form the group from which the 2014 Benson Entrepreneur of the Year will be selected by a team of judges drawn from right across Australia. The Benson Award will be presented on 29 August 2014 at the 2014 National iAwards event details of which are shown above.
The schedule of all the State iAwards events was as follows:
4 June 2014 Vic State iAwards at Storey Hall RMIT. Vic Pearcey Award winners for 2014 were Guy King and Bevan Clark
12 June 2014 Qld State iAwards at Parliament House Brisbane. The Qld Pearcey Award winner was Andrew Jessett
17 June 2014 ACT State iAwards at The National Arboretum Canberra. The ACT Pearcey Award winner for 2014 was John de Margheriti
20 June 2014 WAiTTA State iAwards was held at the Perth Convention & Exhibition Centre. Winner was Paul Ostergaard
25 June 2014 NSW State iAwards was held at the Aerial Function Centre UTS. The 2014 NSW Pearcey Award winners were actually announced on 23 October 2013 at the NSW State Pearcey Awards event held at Parliament House. The winners were Simon Clausen & Naomi Simson
27 June 2014 SA State iAwards was held at the Adelaide Convention Centre on Friday 27 June 2014. Winner of the 2014 SA Pearcey Entrepreneur Award was Dr Henry Detmold.
3 July 2014 Tas State iAwards was held at the Henry Jones Art Hotel. Winner of the 2014 Tasmania Pearcey Entrepreneur Award was James Cuda.