2009 National Pearcey Event
Event Overview
On Thursday 1st October 2009, the National Pearcey Event was held at the Sofitel Melbourne on Collins.
Time: 2.45pm - 9.30pm
Location: La Trobe Ballroom, Sofitel Melbourne on Collins
25 Collins Street, Melbourne, Victoria, Australia.
Download Pearcey 2009 Event Flyer
The afternoon Roundtable (3 pm) entitled "NBN Platform for Economic Recovery" debated the impact of the newly announced National Broadband Network (NBN) initiative on the Australian economy. The Master of Ceremonies was Dr Peter Cebon from the Melbourne Business School.
Panel #1 - Gen X/Y Perspective
Panel #2 - Industry Perspective
The Cocktail Reception (6 pm) provided a chance network with the attendees, speakers and commentators. Over 200 ICT industry leaders and commentators are expected to attend.
The evening Gala Dinner (7pm) featured some eminent speakers and the 2009 Pearcey Awards
2009 Pearcey Oration(MP3, 20 MB) (by Robyn Williams)
2009 Pearcey Medal (keynote and medal presented by Rt Hon Senator Stephen Conroy)
2009 Pearcey Victorian State Award (presented by Mr Tony Lupton)
2009 Award Winners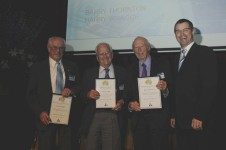 Photo: Harry Wragge, Murray Allen, Barry Thornton, Senator Stephen Conroy
At the Pearcey Award Dinner event held on the 1st of October 2009 in Melbourne several presentations were made.
Senator Steven Conroy presented the 2009 National Medal to Dr Murray Allen. He also inducted Mr Harry Wragge AO and Dr Barry Thornton to the Pearcey Hall of Fame.
Mr Tony Lupton, MP presented the 2009 Vic Award to Robert Murray.
Speakers
Senator Stephen Conroy, Federal Minister for Broadband, Communications, and Digital Economy - addressed the dinner and present the National Pearcey Medal
The Hon Tony Lupton, Cabinet Secretary of the Victorian Government presented the 2009 State Pearcey Award
Dr Peter Cebon, University of Melbourne Business School was the Master of Ceremonies for the event
Robyn Williams delivered the 2009 Pearcey Oration(MP3, 20 MB) Robyn is a journalist with the ABC and best known for his Science Show on Radio National. For more details on Robyn's background visit http://en.wikipedia.org/wiki/Robyn_Williams
Afternoon Program
The 2009 Pearcey Roundtable on ICT's role in Economic Recovery
The roundtable is designed to stimulate debate on the role of the NBN in driving economic recovery. The roundtable consists of 2 panel-led discussions on the economic impact of the NBN.
Format of afternoon:
2:45 pm Registration & Coffee
3:15 pm Introduction by Dr Peter Cebon of the Melb Business Scool and welcome by Mr Randall Straw, Deputy Secretary, Innovation and Technology, Department of Innovation, Industry and Regional Development
3:30 pm Panel 1 - Gen X/Y Perspective - chaired by James Tuckerman
Panel #1 consists of a younger and vocal group of ICT entrepreneurs who aren't afraid to challenge the thoughts of industry leaders and express strong opinions about where the ICT industry is heading.
- Dr Bill Petreski (AiG)
- Robert Murray (CEO, Firemint)
- Dion Appel (CEO, LifeLounge)
- Sarah Dods (Consultant)
- Jayant Baliga (NICTA)
- Fiona Teakle (RMIT, ACS)
4:30 pm Coffee Break & Networking
5:00 pm Panel 2 - An Industry Perspective - chaired by Dr Peter Cebon
Panel #2 consists of ICT industry leaders providing an industry perspective on this NBN proposal before the nation
- Ian Wells (ACS)
- John Grant (AIIA)
- Matt Dummett, (MMV, Science & Technology Policy)
- Kevin Morgan (Consultant)
- Dr Alex Zelinsky (CSIRO IT)
- Simon Curry (Consultant)
6:00 pm Cocktails and Networking
Evening Program
The 2009 National Pearcey Medal Dinner
The dinner celebrates the awarding of the 12th Pearcey Medal, Australia's most prestigious ICT Annual Award, to an individual who has made a truly outstanding contribution to Australia's ICT industry. Coincident with the Pearcey Medal was the annual Victorian Pearcey State Award, awarded to the most prominent emerging industry leader. Nominations for both awards closed 29th August. For further details and for previous award winners see Awards.
The Pearcey Medal was presented by Senator Stephen Conroy, Federal Minister for Broadband, Communications and the Digital Economy who also addressed the assembled guests. The Victorian Award was presented by Mr John Lenders MP, Victorian Minister for ICT and State Treasurer. Master of Ceremonies for the evening was Dr Peter Cebon of the Melbourne Business School.
Format of evening:
6.45pm Guests seated
7.00pm Entrees served
7.05pm Opening by Tony Lupton MP on behalf of Victorian Government
7.10pm Pearcey Oration presented by Robyn Williams
7.45pm Main course served
----
8.15pm Speech by Tony Lupton MP
Presentation of the 2009 Victorian Pearcey Award
8.25pm The State Award winner makes a brief speech of acceptance
8.30pm Desert served
----
8.55pm Speech by Chairman, Pearcey Foundation, Wayne Fitzsimmons
9.00pm Speech by Senator Conroy
9.25pm Presentation of the 2009 National Pearcey Medal
----
9.30pm Summary & thanks offered by MC
Principal Sponsors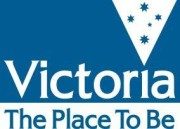 Sponsorship
Sponsor tables - $5500 (includes GST)
Table of 10 with company logo
Company Banner displayed on the night
Logo in program and evening slide show
Logo on website and in advertising materials
Named in media releases (following signup)
Corporate tables - $2400 (includes GST)
Table of 10 with company logo
Name in program
Speaker Biographies
Senator Stephen Conroy - Senator the Hon Stephen Conroy was appointed Minister for Broadband, Communications and the Digital Economy in December 2007. He is also Deputy Leader of the Government in the Senate. He was appointed as a Senator for Victoria for the Australian Labor Party in 1996. Previously he was an industrial officer and superannuation officer for the Transport Workers Union Victorian Branch from 1992 to 1996, a ministerial adviser to Victoria's Minister for Industry from 1990 to 1992 and an assistant adviser to the Speaker of the House of Representatives from 1988 to 1990. From 1986 to 1987, Stephen was an electorate officer for the federal Member for Canberra, consultant to the Minister for Science and Minister assisting the Minister for Industry, Technology and Commerce and electorate officer for the Minister for Home Affairs. He worked for the Metal Trades Industry Association from 1984 to 1986.
Tony Lupton MP - Tony Lupton has represented the electoral district of Prahran in Victoria's Legislative Assembly since 2002. He was appointed to the position of Cabinet Secretary in the Brumby Government in August 2007. Tony served as Parliamentary Secretary for Industry and Innovation from December 2006 until his promotion to Cabinet Secretary. Tony's role as Parliamentary Secretary included supporting implementation of the Government's Life Sciences Statement Healthy Futures; the Biotechnology Strategic Plan to make Victoria a top 5 global biotech hub by 2010; and programs to drive the growth, productivity and international competitiveness of Victorian industry. Prior to entering Parliament Mr Lupton was a self-employed barrister for 15 years, although he started his working life as an apprentice motor mechanic. He holds the degrees of Bachelor of Arts and Bachelor of Laws from Monash University.
Robyn Williams - Science journalist and broadcaster, Robyn Williams, presents Radio National's Science Show, Ockham's Razor and In Conversation. Although he graduated with a Bachelor of Science (Honours) in England, Robyn admits to spending as much time acting as studying. He has conducted countless interviews with scientists on ABC TV on programs such as Quantum and Catalyst, narrated the Nature of Australia series and appeared in World Safari with David Attenborough. Outside the ABC, Robyn has served in various capacities, including President of the Australian Museum Trust, Chairman of the Commission for the Future, and President of the Australian Science Communicators. In 1987, he was proclaimed a National Living Treasure. A Reuters Fellowship at Oxford University allowed him time to write his autobiography, And Now for Something Completely Different. He was a Visiting Fellow at Balliol College Oxford in 1995-96. Robyn has written more than 10 books, the latest being a novel, 2007: a true story waiting to happen.
Peter Cebon PhD, SM (MIT) BE (Civil) (Melb) Senior Lecturer - Organisations & Innovation, Melbourne Business School. Peter Cebon is a highly experienced researcher, consultant and advisor in the fields of organisational design and innovation management. Prior to returning to Melbourne, Peter completed extensive research at MIT, Harvard, and the Swiss Federal Institute for Environmental Science and Technology. Recent innovation-related research projects include studies of organisational innovation to create safer and cleaner operations, studies of innovation in response to global warming, and a study evaluating and explaining the effectiveness of innovation efforts at twelve Australian companies. He is currently trying to understand the impact of boards of directors on corporate innovation performance. He intends, in the near future, to study the impact of the NBN on Australian businesses.
Randall Straw - Deputy Secretary, Innovation and Technology, Department of Innovation, Industry and Regional Development (DIIRD) Randall was appointed Deputy Secretary, Innovation and Technology for DIIRD in early2008. His key responsibilities are the ICT and Science sectors, Beyond 2020 and Citizen Access. Prior to this role, Randall was Executive Director of Multimedia Victoria where he was responsible for the implementation of Victorian Government ICT policy and strategy. MMV's key consideration is the longer term ICT issues across the economy, with particular focus on the ICT and digital technology sectors, and telecommunications and broadband issues in support of Victoria's economic development. Randall has 28 years of experience in ICT policy, planning and implementation. During his career, Mr Straw has worked in senior management positions through several departments. He has been a strong supporter of the Pearcey Foundation since its inception in 1999.
Industry Panel Biographies
Moderator - Peter Cebon (bio above)
Ian Wells - Chairman of ACS Victoria Branch. Ian Wells has extensive consulting and senior management experience in large and medium scale IT environments over a diverse range of industries and companies. Ian has recently undertaken business and IT readiness assessments for the implementation of the State and Local Government's electronic planning applications strategy, and determining the business requirements for Southern Health's surgical clinical audit program. He is also a seasonal lecturer at three Australian universities, lecturing in professional ethics, international business management and IT strategy. Ian is a Fellow of the Australian Computer Society and is Chairman of the Victorian ACS State Board. He also has responsibility for the ACS Victoria CIO program. He has an MBA and is currently studying for a doctorate, researching ICT governance within company boards.
Kevin Morgan - Kevin has worked in telecommunications policy and regulation since the mid 1970's, first as an adviser to the Australian labor movement and since 1993 as an independent consultant. Kevin was a member of Kim Beazley's advisory panel that oversaw the introduction of competition in 1991 and advised the African National Congress before and after it won power in South Africa on telecommunications reform. As a consultant he has worked on licence bids in South Africa and Asia and advised the joint owners of Eircom the Irish National Telco on structural separation. He is regular contributor to the Age on telecommunications and writes for the industry newsletter Commsday. He is also undertaking a PhD on the 'Origins and implications of the Telstra Capita Strike 2006' which considers the issue of broadband investment in Australia.
Alex Zelinsky - BSc (Math Sciences), PhD (Univ of Sydney. Alex is Group Executive, Information Sciences, and Director, CSIRO Information and Communication Technologies (ICT) Centre. He is also a member of the CSIRO Executive Team. Under Dr Zelinsky's leadership CSIRO is developing world class technology platforms for sensor & sensor networks and computational & simulation science. These platforms are being applied to underpin cross-disciplinary research across the CSIRO - particularly in energy, health, agriculture, manufacturing and environment applications. The platforms have a strong engagement with the CSIRO National Research Flagships. Before joining CSIRO in July 2004 Dr Zelinsky was CEO and co-founder of Seeing Machines, a high-technology company dedicated to developing state of the art computer vision systems. Prior to founding Seeing Machines Dr Zelinsky was Professor of Systems Engineering at the Australian National University (1996-2001). Since joining CSIRO has Dr Zelinsky has focused on building the research capabilities of the ICT Centre to address Australian national challenges, and the commercialisation of CSIRO technology through SME engagement (including start-ups), technology licensing and global partnering.
John Grant - John is currently Chairman of the Australian Information Industry Association and is Chair of the Innovation Council on ICT recently set up by Senator Carr, Federal Minister for Innovation, Industry and Science. John has devoted many years to supporting the ICT industry both in Queensland and at a National level. His professional career started after qualifying with honours as a Bachelor of Engineering (Civil) in 1971 from the University of Queensland. After graduation, John worked at the Brisbane City Council and IBM before joining Powell, Clark and Associates, a 16 person software company (and the forerunner to Data#3). In 1995 he took a position as Director of Services at Data#3 and ultimately led the process of preparing and taking the company to a successful public listing on the ASX. John was appointed to the position of Managing Director of Data#3, effective 1st July 2004. It is also of note that John has been an outstanding sportsman representing Australia in Rugby League at the 1972 World Cup and Queensland between 1972 and 1975.
Simon Curry - Simon is a founding partner of Galbraith & Company and is Managing Partner of the Communications & Media Practice. With over twenty five years experience working in the ICT industry around the world he has in-depth insight into technological and business trends that will affect impact businesses in to the future. Prior to becoming a founding partner in Galbraith & Company, Simon spent a decade at Intel Corporation in a variety of management roles with a particular focus on the Communications, Utilities and Media sectors. Prior to joining Intel, Simon worked for a number of leading management consulting companies providing management consulting, strategic planning and implementation services to leading global telecommunication operators around the world. He also helped establish Tandem in APAC and has been involved in the establishment of two high-tech venture capital start-up companies both in US & Australia. Simon sits on the Advisory Boards of MAP Venture Partners and Melbourne University's Centre for Information Technology Research (CITR) and is Chair of The State Government of Victoria's MobilityVic.
Matthew Dummett - Matthew has over seventeen years of active involvement in communications and technology policy, encompassing university research, teaching and public administration. Matthew is currently the Acting Director Science & Technology Policy for Multimedia Victoria - which is within Department of Innovation, Industry and Regional Development. Since joining Multimedia Victoria in February 2002, Matthew has worked on a range of telecommunications, broadband and next generation network policy initiatives, including development of the Victorian Government's Broadband Framework and, more recently, the Victorian Government's response to the Commonwealth Government's National Broadband Network (NBN). Matthew completed a Masters by research in the School of Legal Studies at Latrobe University in 1997.
GenX/Y Panel Biographies
Moderator - James Tuckerman, CEO Anthill Magazine. James is a young man on a mission. Trained in law at the University of Melbourne, James commenced his career as a public relations consultant, providing services to clients such as Telstra, Holden, AAMI and JB Were. At the age of 26, James launched Anthill Magazine with $28,000 in personal savings and no experience in the publishing world. Now recognised as the leading magazine for entrepreneurs, Anthill has won the Publishers Association's annual award for Best Small Publisher for two years in a row.
Bill Petreski - Principal Advisor, Information & Communications Technology (ICT) Industry, Australian Industry Group (AiGroup). Based in Melbourne, Dr. Petreski is responsible for leading industry development with new strategies for the Ai Group. As Principal Advisor he consults with industry members to help them understand new and evolving technology and its impact on their business and workforce. He also consults with government departments, at both state and federal levels, on industry trends and strategies that will support the overall growth in Software & Services, Technology Hardware & Equipment and Telecommunications Services sectors which ultimately define the ICT Industry. Dr. Petreski received a postgraduate degree - Doctor of Philosophy (Ph.D.) in Physics(Fibre Communications) - in 1997 from Victoria University, in Melbourne, after completing a Bachelor of Applied Science (B.App.Sc.) in both Computer Science and Physics. His academic research had applications in fibre communications, advanced manufacturing, industrial sensing and biological & medical imaging.
Robert Murray - Founder and CEO Firemint. Robert has 16 years experience in the game development industry. As CEO of Firemint, he has expanded the studio to become a highly awarded company receiving recognition at the Australian Game Developers Conference, International Mobile Gaming Awards, Independent Games Festival and the Governor of Victoria's Export Awards. Robert oversaw the development of game projects including numerous triple-A licensed titles for international publishers, as well as Firemint's original iPhone titles. Robert was the original designer and developer of the studio's smash hit world-wide #1 iPhone game "Flight Control", and oversaw production of "Real Racing", widely acclaimed throughout the industry as by far the best iPhone racing game. Robert is also a Director Film Victoria and Director Game Developers Association of Australia.
Dion Appel - Founder and CEO Lifelounge Group. With a background in sport and business, Dion co-founded Infinite Management Solutions in 1997, a sports management and marketing agency dedicated to supporting young emerging sporting talent through Action Sport athletes and events worldwide. Dion coordinated the sale of Infinite Management Solutions to a publicly listed company on the UK Stock-exchange (FTSE) in November 2000. The need to partner and educate the corporate market on the growth and value to be gained through a relevant connection with young adult culture led to the birth of Lifelounge in June 1999. Lifelounge is a media and entertainment company that exclusively develops & delivers lifestyle content and professional marketing services to corporations of all sizes aimed at the under 30s market. Dion is also on the Board of Directors at the Australian Centre for the Moving Image (ACMI).
Sarah Dods - GAICD, PhD, BSc(hons) is an independent consultant with over 13 years of experience in optical communications, spanning technology, commercialisation, and start up ventures. Her most recent accomplishment was co-founding Monitoring Division Inc (mdi), a software company providing tools to enable real-time management of smart optical communications infrastructure, bringing down bandwidth costs. mdi was conceived at NICTA, Australia's centre of excellence in ICT, where Sarah was a Principal Researcher and one of the inventors of mdi's breakthrough optical monitoring technologies. She drove commercialisation of the technology, spinning out mdi with $2.85m in venture funding. As COO, she then successfully led mdi's Australian operations through to first sales and closing a second funding round. Sarah has co-authored more than 70 conference and journal papers, 3 patents and applications, and 10 magazine articles. She is a Senior Member of the IEEE and currently serves on the technical program committee for OFC.
Jayant Baliga - BEng (Hons), BSc is currently working towards a Ph.D. in electrical engineering at the University of Melbourne. The focus of his PhD is on the environmental and technological issues that will arise from the expansion of the Internet. This has included developing the first network-based model for energy consumption in the Internet, a new model of energy consumption in cloud computing and more recently algorithms for energy-efficient communications. The results of his research have been published in prestigious international journals, and he has presented at top tier conferences worldwide.
Fiona Teakle - Fiona is currently studying Business Information Systems at RMIT University and works part time for IBM. She received an ACS Foundation Scholarship in 2008 to undertake work experience at IBM. This has been extended for her to stay on part time while completing her studies. She is also the Victorian Young IT Chair for the Australian Computer Society.